Ralph Ellison in Progress
WARNING
You are viewing an older version of the Yalebooks website. Please visit out new website with more updated information and a better user experience: https://www.yalebooks.com
From "Invisible Man" to "Three Days Before the Shooting . . . "
Adam Bradley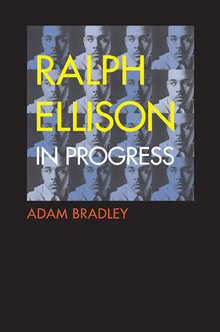 View Inside
Format:

Paper


Price:

$30.00
Also Available in:
Cloth
A major reassessment of Ralph Ellison's literary legacy that explores the mysteries surrounding his unfinished second novel

Ralph Ellison may be the preeminent African-American author of the twentieth century, though he published only one novel, 1952's Invisible Man. He enjoyed a highly successful career in American letters, publishing two collections of essays, teaching at several colleges and universities, and writing dozens of pieces for newspapers and magazines, yet Ellison never published the second novel he had been composing for more than forty years. A 1967 fire that destroyed some of his work accounts for only a small part of the novel's fate; the rest is revealed in the thousands of pages he left behind after his death in 1994, many of them collected for the first time in the recently published Three Days Before the Shooting . . . .
Ralph Ellison in Progress is the first book to survey the expansive geography of Ellison's unfinished novel while re-imaging the more familiar, but often misunderstood, territory of Invisible Man. It works from the premise that understanding Ellison's process of composition imparts important truths not only about the author himself but about race, writing, and American identity. Drawing on thousands of pages of Ellison's journals, typescripts, computer drafts, and handwritten notes, many never before studied, Adam Bradley argues for a shift in scholarly emphasis that moves a greater share of the weight of Ellison's literary legacy to the last forty years of his life and to the novel he left forever in progress.
Adam Bradley is associate professor of English at the University of Colorado, Boulder. He is coeditor of The Anthology of Rap (published by Yale University Press), coeditor of Ralph Ellison's unfinished second novel, Three Days Before the Shooting . . . , and the author of Book of Rhymes: The Poetics of Hip Hop. He lives in Colorado.
"[Bradley] argues that the work Ellison did in the second half of his life reveals even more about the writer's artistic agenda and ambition than Invisible Man does—and allows us to read that classic work with fresh eyes."— Jennifer Howard, Chronicle of Higher Education
"Ralph Ellison in Progress will quickly stand as the most important book on Ellison as a working writer, both for the case it makes in explanation of his notorious inability to finish his second novel and for tracing the long arc of his career from Invisible Man through the fascinating mass of manuscript materials posthumously published under the title Three Days Before the Shooting…."—Eric Sundquist, author of King's Dream
"Adam Bradley's brilliant work of literary archaeology delivers revelations that illuminate Ralph Ellison's life, philosophy, and fiction. If you have not read Ralph Ellison in Progress, you cannot say you understand the genius that guided this giant of American literature."—Dr. Charles Johnson, author of Middle Passage
"Perhaps the most discussed book in American literature is one that remained incomplete. Did Ralph Ellison's second novel remain unfinished because he used WordStar? Or did he keep writing the same passages over and over again like Jack Nicholson in "The Shining"? Like a literary detective, Adam Bradley explores all of the theories about what prevented Ellison from writing a follow up to Invisible Man. Another thing: Adam Bradley has made literary criticism interesting again."—Ishmael Reed, author of Barack Obama and the Jim Crow Media
"Armed with unparalleled access to, and knowledge of, Ellison's manuscripts, Adam Bradley delivers a major achievement. Ralph Ellison in Progress really is groundbreaking scholarship: there is nothing quite like it."—James A. Miller, author of Remembering Scottsboro: The Legacy of an Infamous Trial
"An original and groundbreaking argument that will—this is no mere hyperbole—transfigure Ellison scholarship and criticism as we know it."—David Yaffe, author of Fascinating Rhythm: Reading Jazz in American Writing
"Bradley's work projects new possibilities in Ellison scholarship in the context of the digital age. Whether, warts and all, unfinished as it is, Ellison's second novel is the 21st century's first candidate for the 'Great American Novel,' as Bradley asserts, will be hotly debated. There is plenty in Ralph Ellison in Progress to facilitate that debate."—Steven C. Tracy, The Review of English Studies
ISBN:
9780300171198
Publication Date:
January 17, 2012
256 pages, 5 1/4 x 8