Security Empire
WARNING
You are viewing an older version of the Yalebooks website. Please visit out new website with more updated information and a better user experience: https://www.yalebooks.com
The Secret Police in Communist Eastern Europe
Molly Pucci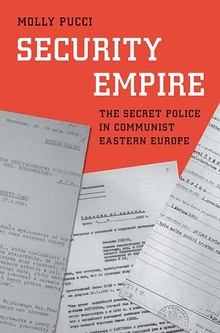 View Inside
Format:

Hardcover


Price:

$65.00
A compelling examination of the establishment of the secret police in Communist Poland, Czechoslovakia, and Eastern Germany

?This book examines the history of early secret police forces in Poland, Czechoslovakia, and East Germany in the aftermath of the Second World War. Molly Pucci delves into the ways their origins diverged from the original Soviet model based on differing interpretations of communism and local histories. She also illuminates the difference between veteran agents who fought in foreign wars and younger, more radical agents who combatted "enemies of communism" in the Stalinist terror in Eastern Europe.
Molly Pucci is assistant professor of twentieth-century European history at Trinity College Dublin. She was a Max Weber postdoctoral fellow at the European University Institute. Her doctoral dissertation was awarded the Radomír Luža Prize in Central European History in 2015.
"Security Empire presents an original and compelling picture of the Communist secret police. The book has neither heroes nor villains but instead reveals the very real people, with their attendant strengths, faults, and foibles, behind the mysterious and supposedly omniscient secret police." — Melissa Feinberg, Rutgers University
"Molly Pucci has managed the remarkable feat of choosing one of the most prominent topics in the field, and then producing a synoptic, cross-national account of the scope and scale that scholars and students have needed for decades, but that no one has dared (or been willing to put in the time) to produce."— Piotr H. Kosicki, University of Maryland at College Park
"In this wonderfully original and deeply researched book Molly Pucci offers a subtle comparison of state-building in Poland, Czechoslovakia, and eastern Germany in the post-war years, concentrating on the vital role of the secret police."—Steve Smith, Oxford University
"Based on a dizzying array of sources and languages and infused with the very words of former secret police agents, Molly Pucci's erudite account of three East European security services in the aftermath of World War II will long be the scholarly benchmark."—Gary Bruce, author of The Firm: The Inside Story of the Stasi
 
"This extraordinary book, extensively researched in three languages, shows how different secret police organizations arose in communist Poland, Czechoslovakia, and East Germany.  A tour de force!"—Katherine Verdery, My Life as a Spy: Investigations in a Secret Police File
 
"In a tour-de-force of research and reconceptualization, Molly Pucci shows the entangled history of the secret police in Communist Eastern Europe. Security Empire recontextualizes this history within its immediate postwar and local settings, offering up a new way of viewing transnational Stalinism."—Lynne Viola, author of Stalinist Perpetrators on Trial:" Scenes from the Great Terror in Soviet Ukraine
 
"Offers an impressive comparison of not only the development of secret security agencies in Eastern Europe, but also the consolidation of communist power."—Klára Pinerová, Journal of East Central European Studies
Winner of the Kulczycki Book Prize for Polish Studies, sponsored by ASEEES
Shortlisted for the Witold Pilecki International Book Award, Academic History Book category, sponsored by the Pilecki Institute
Co-recipient of the 2021 Oskar Halecki Polish History Award, sponsored by the Polish Institute of Arts and Sciences of America
Honorable Mention from the Women's Forum Prize, sponsored by the British Association for Slavonic and East European Studies
Winner of The Polly Corrigan Book Prize, sponsored by The King's Intelligence and Security Group, Intelligence and National Security (INS, Taylor & Francis), and the Women in Intelligence Network (WIN).
 
ISBN:
9780300242577
Publication Date:
July 14, 2020
392 pages, 6 1/8 x 9 1/4
16 b/w illus.