Dante and the Early Astronomer
WARNING
You are viewing an older version of the Yalebooks website. Please visit out new website with more updated information and a better user experience: https://www.yalebooks.com
Science, Adventure, and a Victorian Woman Who Opened the Heavens
Tracy Daugherty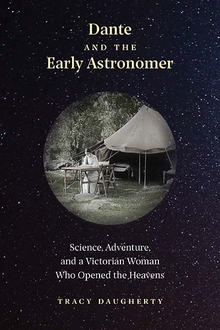 View Inside
Format:

Hardcover


Price:

$26.00
Explore the evolution of astronomy from Dante to Einstein, as seen through the eyes of trailblazing Victorian astronomer Mary Acworth Evershed
 
In 1910, Mary Acworth Evershed (1867–1949) sat on a hill in southern India staring at the moon as she grappled with apparent mistakes in Dante's Divine Comedy. Was Dante's astronomy unintelligible? Or was he, for a man of his time and place, as insightful as one could be about the sky?
 
As the twentieth century began, women who wished to become professional astronomers faced difficult cultural barriers, but Evershed joined the British Astronomical Association and, from an Indian observatory, became an experienced observer of sunspots, solar eclipses, and variable stars. From the perspective of one remarkable amateur astronomer, readers will see how ideas developed during Galileo's time evolved or were discarded in Newtonian conceptions of the cosmos and then recast in Einstein's theories. The result is a book about the history of science but also a poetic meditation on literature, science, and the evolution of ideas.
Tracy Daugherty is distinguished professor of English and creative writing emeritus at Oregon State University and the author of several acclaimed literary books, including the New York Times best-selling The Last LoveSong: A Biography of Joan Didion. Daugherty's work has appeared in the New Yorker, Vanity Fair, the Paris Review, and McSweeney's.
"An almost magical blend of Dante and of modern astronomical theory and a fascinating picture of one of the English popularizers of astronomy who bridged both the nineteenth and twentieth centuries."—Owen Gingerich, author of God's Planet
"A creative tale of time-travel that connects the obsessions of a brilliant young woman and her celestial love affair with the sublime poetry of Dante. Daugherty poignantly captures Mary Evershed's sense of excitement, persistence, and dedication to observational astronomy while tracing her extraordinary intercontinental life journey."—Priyamvada Natarajan, astrophysicist and author of Mapping the Heavens: The Radical Scientific Ideas That Reveal the Cosmos
"In Daugherty's wonderfully inclusive fusion of history, science, and literary criticism, the work of a most unusual woman comes alive in its true context. An entrancing read."—Andrea Barrett, author of Ship Fever
"Tracy Daugherty brings his keen skill as a fiction writer and a biographer to this inspiring tale of imaginative scholarship. He views Dante's celestial imagination through the lens of a little-known Victorian woman with a tremendous determination to understand the heavens. The result is an adventure story that brings together science and poetry, experimental inquiry and literary intuition. It left me marveling at the romance of the stars."—Edward Hirsch, author of Gabriel: A Poem
"Dante and the Early Astronomer left me with pages of notes filled with newly discovered facts and previously unconsidered concepts, as well as ideas for further thought, and half a dozen books to be sought out and read. It also left me with the knowledge of not only the existence of Ms. Evershed but a lively portrait of her life."—The Well-Read Naturalist 
"To my delight Tracy Daugherty — essayist, novelist, and biographer of Joseph Heller and Joan Didion — has uncovered a small gem within the history of astronomy. Along the way, readers become acquainted with the British romantics, Australian aboriginal astronomy, the folklore of India, and brief lessons on the sun's energy production and Einsteinian physics. . . . An eclectic and engaging look at the Victorian and Edwardian ages."—Marcia Bartusiak, Washington Post 
ISBN:
9780300239898
Publication Date:
April 23, 2019
232 pages, 5 1/2 x 8 1/4
27 b/w illus.