Flora Illustrata
WARNING
You are viewing an older version of the Yalebooks website. Please visit out new website with more updated information and a better user experience: https://www.yalebooks.com
Great Works from the LuEsther T. Mertz Library of The New York Botanical Garden
Edited by Susan M. Fraser and Vanessa Bezemer Sellers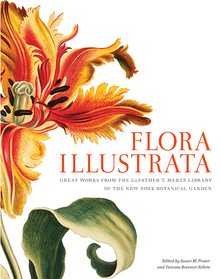 View Inside
Format:

Cloth


Price:

$50.00
An exquisitely illustrated volume in celebration of the world's foremost library of botanical works

The renowned LuEsther T. Mertz Library of The New York Botanical Garden counts among its holdings many of the most beautiful and pioneering botanical and horticultural works ever created. More than eight centuries of knowledge, from the twelfth century to the present, are represented in the library's collection of over one million items. In this sumptuously illustrated volume, international experts introduce us to some of the library's most fascinating works—exceedingly rare books, stunning botanical artworks, handwritten manuscripts, Renaissance herbals, nursery catalogs, explorers' notebooks, and more. The contributors hold these treasures up for close inspection and offer surprising insights into their histories and importance.
 
The diverse materials showcased in the volume reflect the creative efforts of eminent explorers, scientists, artists, publishers, and print makers. From the rare, illuminated pages of Pliny the Elder's Naturalis historia (1483), to the earliest book ever published on American insects (1797), to lovely etchings of the water gardens at Villa Pratolino in Florence (1600s), the Mertz Library holdings will inspire in readers a new appreciation for the extraordinary history of botany and its far-reaching connections to the worlds of science, books, art, and culture.


A co-publication with The New York Botanical Garden
Susan M. Fraser is director, the LuEsther T. Mertz Library, The New York Botanical Garden. She lives in New York City. Vanessa Bezemer Sellers is Humanities Research Coordinator at The New York Botanical Garden, and a landscape and garden historian.
"Equally a feast for the mind and the eyes."—Oliver Sacks
"The LuEsther T. Mertz Library is unquestionably one of the great treasures of the world. Flora Illustrata reveals with stunning scholarship the deeply intertwined history of plants, science, and humanity. Rich and fascinating beyond imagination and now accessible to anyone. A triumph of a book."—Thomas E. Lovejoy, George Mason University
"As a synthetic grouping, Flora Illustrata is an important and useful contribution. The essays are rich, and are accompanied by some wonderful illustrations. This is a lavish book, successful in its objectives, and useful to a wide audience."—Daniel Lewis, Huntington Library, Art Collections and Botanical Gardens
"An erudite and sumptuous exploration of the timeless fascination of people with plants, which along the way reveals the origins of one of the world's great botanical gardens."—Peter Crane, author of Ginkgo: The Tree That Time Forgot
"The LuEsther T. Mertz Library at the New York Botanical Garden is surely the greatest research botanical library in the world, a precious repository of knowledge from cultures all over the world and spanning from the 12th century to the 21st. Plants—from which we ultimately derive all of our food, building materials, and medicines—are also a source of great beauty and wonder. Flora Illustrata celebrates all this, and speaks of an intimate relationship between art and science. It is equally a feast for the mind and the eyes."—Oliver Sacks
"Flora Illustrata will inspire in readers an new appreciation for the extraordinary history of botany and its far-reaching connections to the worlds of science, books, art, and culture."—Journal of Antiques and Collectibles
"Flora Illustrata serves up a cornucopia of delights from the shelves of the magnificently named LuEsther T. Mertz Library . . . A fascinating miscellany and an inducement to read more on the topics, and a serious temptation to hop on a plane and visit the library, and gardens, in person."—Gardens Illustrated
"There are sumptuous illustrations and essays throughout that you'll want to return to again and again. It is, quite simply, a book you'll treasure forever."—Garden Design Online
"Flora Illustrata is a treat for the eyes."—Julie Lasky, New York Times
"Richly informative, visually stunning. . . . This enchanting collection is a comprehensive resource on the history, science, and art of botany, and an object of beauty in itself."—Publishers Weekly, Starred Review
"Both handsome and informative. . . . I only wish the book were even longer."—Dominique Browning, New York Times Book Review
"Bound to delight your favorite gardener."—Vogue
"Presents some of the most rigorous, as well as the strangest and most beautiful, forms of scientific investigation into plants and gardens . . . The botanists' and horticulturalists' arts are well represented here, as are the commerce of plants and the myriad expressions of European garden and estate design, but the focus remains on plant life, in all its exquisite and unsettling glory."—Landscape Architecture
"A gift sure to please the gardener who also is a history buff."—Star-Ledger
"Whether you read it as an enlightening study, use it to add pizzazz to your home's design or model your own garden on it using the classic layouts, Flora Illustrata will delight all who have an appreciation for flowers."—Romantic Homes
Winner of the 2015 American Horticultural Society's Book Award
Winner of the Council on Botanical and Horticultural Libraries Annual Literature Award for 2015
ISBN:
9780300196627
Publication Date:
November 25, 2014
Publishing Partner:
A co-publication with The New York Botanical Garden
320 pages, 9 x 11.5
279 color and b/w illus.