Minerva's French Sisters
WARNING
You are viewing an older version of the Yalebooks website. Please visit out new website with more updated information and a better user experience: https://www.yalebooks.com
Women of Science in Enlightenment France
Nina Rattner Gelbart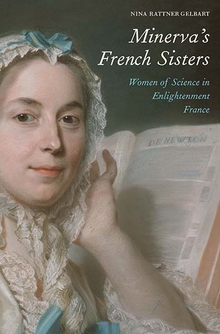 View Inside
Format:

Hardcover


Price:

$40.00
A fascinating collective biography of six female scientists in eighteenth-century France, whose stories were largely written out of history

This book presents the stories of six intrepid Frenchwomen of science in the Enlightenment whose accomplishments—though celebrated in their lifetimes--have been generally omitted from subsequent studies of their period: mathematician and philosopher Elisabeth Ferrand, astronomer Nicole Reine Lepaute, field naturalist Jeanne Barret, garden botanist and illustrator Madeleine Françoise Basseporte, anatomist and inventor Marie-Marguerite Biheron, and chemist Geneviève d'Arconville. By adjusting our lens, we can find them.
 
In a society where science was not yet an established profession for men, much less women, these six audacious and inspiring figures made their mark on their respective fields of science and on Enlightenment society, as they defied gender expectations and conventional norms. Their boldness and contributions to science were appreciated by such luminaries as Franklin, the philosophes, and many European monarchs. The book is written in an unorthodox style to match the women's breaking of boundaries.
Nina Rattner Gelbart is professor of history and Anita Johnson Wand Professor of Women's Studies at Occidental College. Her previous books include Feminine and Opposition Journalism in Old Regime France and The King's Midwife: A History and Mystery of Madame du Coudray.
"Of the 72 scientific names engraved on the Eiffel Tower, none is female. Omissions include the six Enlightenment women dubbed 'Minerva's sisters' by historian Nina Gelbart in her pioneering, evocative rescue."—Nature
"[A] book that brings to light the names, lives, and remarkable works of six women who have been too-long left unrecognized."—Johannes E. Riutta, Well-Read Naturalist
"Impressive."—Margaret Carlyle, Annals of Science
"Minerva's French Sisters will be a crucial addition to the scholarship on Enlightenment natural science and philosophy, greatly enhancing our knowledge and understanding of the contributions French women made to these fields."—Judith P. Zinsser, author of Emilie Du Châtelet: Daring Genius of the Enlightenment
"In this remarkable volume about remarkable women, Gelbart brilliantly locates six forgotten figures of the Enlightenment in private and public contexts."—Jeffrey Merrick, University of Wisconsin-Milwaukee
"Written with verve and panache, Minerva's French Sisters offers an  imaginative account of six French women's engagement with the chauvinist world of Enlightenment science. It is also a timely reminder of gender issues that are still with us."—Colin Jones, Queen Mary University of London
"From thousands of slivers of mostly second-hand evidence, Nina Gelbart recreates the little-known stories of Enlightenment women scientists and their celebrity milieu. A unique scholarly accomplishment, Minerva's French Sisters is also an imaginative and riveting history."—­­­­­­­­­­­­­­Bonnie G. Smith, author Women in World History since 1450
"Minerva's French Sisters collects the fascinating stories of six boundary-breaking women, who found their own paths to science in Enlightenment France. Their examples still shine today!"—Patrice Bret, Centre Alexandre Koyré, Paris
"This is a wonderful book, utterly engrossing as it enters into the lives of long-neglected women scientists, converses with them, and illuminates the Enlightenment world they negotiated."—Keith Michael Baker, Stanford University
"Minerva's French Sisters pairs imaginative reconstruction with meticulous archival research . . . Gelbart has indeed suc­ceeded in giving us a richly documented peek into the world of women's science in the French Enlightenment."—Lydia Barnett, French History
 
Awarded a Coup de Coeurs by the American Library in Paris
ISBN:
9780300252569
Publication Date:
May 11, 2021
360 pages, 6 1/8 x 9 1/4
19 b/w illus.