Roads Taken
WARNING
You are viewing an older version of the Yalebooks website. Please visit out new website with more updated information and a better user experience: https://www.yalebooks.com
The Great Jewish Migrations to the New World and the Peddlers Who Forged the Way
Hasia R. Diner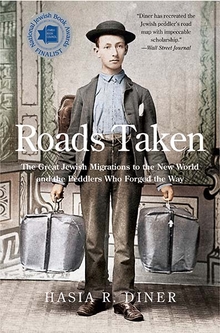 View Inside
Format:

Paper


Price:

$22.00
Also Available in:
Cloth
Finalist for the 2015 National Jewish Book Award--Celebrate 350 Award for American Jewish Studies

Between the late 1700s and the 1920s, nearly one-third of the world's Jews emigrated to new lands. Crossing borders and often oceans, they followed paths paved by intrepid peddlers who preceded them. This book is the first to tell the remarkable story of the Jewish men who put packs on their backs and traveled forth, house to house, farm to farm, mining camp to mining camp, to sell their goods to peoples across the world. Persistent and resourceful, these peddlers propelled a mass migration of Jewish families out of central and eastern Europe, north Africa, and the Ottoman Empire to destinations as far-flung as the United States, Great Britain, South Africa, and Latin America.
 
Hasia Diner tells the story of millions of discontented young Jewish men who sought opportunity abroad, leaving parents, wives, and sweethearts behind. Wherever they went, they learned unfamiliar languages and customs, endured loneliness, battled the elements, and proffered goods from the metropolis to people of the hinterlands. In the Irish Midlands, the Adirondacks of New York, the mining camps of New South Wales, and so many other places, these traveling men brought change—to themselves and the families who later followed, to the women whose homes and communities they entered, and ultimately to the geography of Jewish history.
Hasia R. Diner is Paul and Sylvia Steinberg Professor of American Jewish History and director, Goldstein-Goren Center for American Jewish History, New York University. Among her numerous books is We Remember with Reverence and Love: American Jews and the Myth of Silence after the Holocaust, a National Jewish Book Award winner. She lives in New York City.
"A richly wrought work of cultural and social history."—Tony Barber, Financial Times
"This landmark study will permanently change our conceptions of the modern Jewish experience and Jewish social and economic history."—Jonathan Karp, author of The Politics of Jewish Commerce: Economic Thought and Emancipation in Europe, 1638-1848
"In this marvelous account of a figure that was, until now, better  known in fiction and folk tales, Hasia Diner imaginatively takes us down some of the dusty roads through which Jewish peddlers hawked their wares.  She shows how work, culture, and religious belief are deeply entwined."—Walter A. Friedman, author of Birth of a Salesman: The Transformation of Selling in America
"This intensely-researched book about the underside of Jewish migration provides a rich account of how cross-cultural interactions arose as peddlers met their customers in frontier societies. Roads Taken is a commendable comparative history from below."—Robin Cohen, University of Oxford
 

"In Roads Taken, Hasia Diner is at her best, tackling a complex historical landscape and distilling it into a vivid, compelling story that will fascinate scholars and history buffs alike."—Sarah Abrevaya Stein, author of Plumes: Ostrich Feathers, Jews, and a Lost World of Global Commerce

"This impressive book establishes a new framework for studying modern Jewish migration and provides the first, all-encompassing narrative of Jewish peddlers. Roads Taken is a landmark study in Jewish History."—Tony Michels, author of A Fire in Their Hearts: Yiddish Socialists in New York
"A brilliant account of how the movement of peddlers to the "new world" —from Sweden and the British Isles to Southern Africa, the Americas, and Australasia—helped shape the Jewish diaspora, its economy, inter-group relations, and even the diffusion of consumer culture among their hosts."—José C. Moya, Barnard College
"A fascinating story and a different look at the Jewish immigrant experience."—Chicago Jewish Star
'Roads Taken is finely written'—Clive Sinclair, Jewish Chronicle.
"Diner convincingly argues that pedlars played a transformative role not only in the history of modern Jewry, but also in the cultures and the economies of the nations where they peddled.'"—Marni Davis, Times Higher Education Supplement
"It is a credit to Diner's skill at reconstructing the world of peddling that her material overflows her analytic framework, begging further questions and suggesting new directions. Indeed, historians of capitalism would learn from reading this book, as would historians of migration, ethnicity, and religion. Diner offers vivid, granular descriptions of peddlers' everyday practices and social interactions..."—Shari Rabin, Marginalia
'This original book shows that despite their humble origins, peddlers were agents of change who linked rural areas to the cosmopolitan big cities.'—Jewish Renaissance.

"In her comprehensive study . . . Hasia R. Diner, explores the peddler's journey as an aspirational pathway to opportunity. In so doing, she brings larger historical and economic perspectives to bear on the massive waves of immigration that, between the late 18th century and the 1920s, uprooted and scattered one third of world Jewry . . . Ms. Diner has recreated the Jewish peddler's road map with impeccable scholarship."—Wall Street Journal
"This is a book of extraordinary scholarship, rendered in elegant language that reveals to both an academic and a general readership a vital aspect of modern Jewish history–one that, like much of Jewish history, affected more than the Jews alone."—Commentary
"This study of the opportunities and challenges facing the Jewish peddler is written in a highly accessible style. Roads Taken belongs to a growing scholarly literature on Jews, capitalism, and the world of business."—Jewish Book Council
"Uplifting . . . Diner gives an absorbing account of how Jewish peddling modernised the lives of non-Jewish customers, such as housewives with nominally little power . . . Ultimately, Jewish peddlers not only encouraged consumption (for better or worse), but they actively subverted assumptions about race and gender."—History Today
"What renders the narrative particularly fresh and compelling is its sensitivity to the fundamental tension that lies at the heart of peddling: A bundle of contradictions, these men (and they were almost all men) were strangers who trafficked in intimacy. Crossing a threshold which, under ordinary circumstances, would be closed to them, they insinuated themselves into the lives of their customers. Peddlers stoked and satisfied a desire for possessions: mirrors, eyeglasses, buttons, picture frames, bedspreads, suspenders, and statues of the Virgin Mary . . . By highlighting the centrality of peddling to the modern Jewish experience, Diner's account prompts us to take the measure of its global reach."—Jewish Review of Books
"In Roads Taken: The Great Jewish Migration to the New World and the Peddlers Who Forged the Way, historian Hasia Diner weaves these forgotten stories into a powerful narrative about how these Jewish immigrants profoundly shaped the societies they entered, through the many doors on which they knocked. Over rough terrain, through excruciating heat and cold, and despite societal boundaries of class, color, and creed, Jewish peddlers entered the homes of their customers, and in doing so, altered the way that people interacted both economically and personally."—American Interest
"A highly accessible study of cultural, social and economic history."—Jewish Woman Magazine
"A masterful and original work of social, cultural and economic history told with astonishing clarity. This is the product of consummate, first-rate historian."— Steven J. Zipperstein, Stanford University

"Diner . . . provides an extraordinarily compelling discussion of the networks and the practices that enabled Jews to operate so successfully in commodity exchange . . . a trailblazing study."—Lila Corwin Berman, Journal of American History

"Hasia Diner's newest book. . . offers readers a wealth of new information and ways to think about how Jews moved throughout the New World.. . . . Anyone interested in Jewish studies, American religious history, immigration, and early American business practices will enjoy Roads Taken."—Anne M. Blankenship, Reading Religion
Finalist for the 2015 National Jewish Book Award in the category of American Jewish Studies.
ISBN:
9780300234398
Publication Date:
February 6, 2018
280 pages, x