Rooted Cosmopolitans
WARNING
You are viewing an older version of the Yalebooks website. Please visit out new website with more updated information and a better user experience: https://www.yalebooks.com
Jews and Human Rights in the Twentieth Century
James Loeffler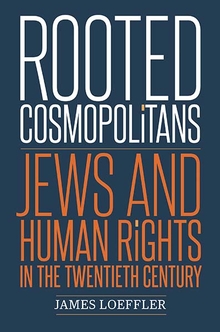 View Inside
Format:

Hardcover


Price:

$19.95
A stunningly original look at the forgotten Jewish political roots of contemporary international human rights, told through the moving stories of five key activists

The year 2018 marks the seventieth anniversary of two momentous events in twentieth-century history: the birth of the State of Israel and the creation of the Universal Declaration of Human Rights. Both remain tied together in the ongoing debates about the Israeli-Palestinian conflict, global antisemitism, and American foreign policy. Yet the surprising connections between Zionism and the origins of international human rights are completely unknown today. In this riveting account, James Loeffler explores this controversial history through the stories of five remarkable Jewish founders of international human rights, following them from the prewar shtetls of eastern Europe to the postwar United Nations, a journey that includes the Nuremberg and Eichmann trials, the founding of Amnesty International, and the UN resolution of 1975 labeling Zionism as racism. The result is a book that challenges long-held assumptions about the history of human rights and offers a startlingly new perspective on the roots of the Israeli-Palestinian conflict.
James Loeffler is associate professor of history and Jewish studies at the University of Virginia and former Robert A. Savitt Fellow at the Mandel Center for Advanced Holocaust Studies of the United States Holocaust Memorial Museum.
"This absorbingly narrated and brilliantly researched masterpiece reshapes Jewish and human rights history alike."—Samuel Moyn, author of The Last Utopia: Human Rights in History
"James Loeffler's pathbreaking research reconstructs the forgotten role of Jewish leaders in creating the architecture of human rights. Loeffler offers a nuanced account of the common origin of Zionism and human rights organizations—and of their increasingly tortured relationship. His story is an intellectually arresting but intensely human drama."—William A. Galston, Senior Fellow, The Brookings Institution
"Building on a trove of archival material, this extraordinary book challenges orthodoxies both on the right and on the left.  It has the potential to transform popular understandings of this critical period of history and is a must-read for anyone involved in Jewish communal life or human rights work."—Rabbi Jill Jacobs, Executive Director, T'ruah: The Rabbinic Call for Human Rights
"Rooted Cosmopolitans is intellectual history at its most admirable. It's daring in its ambitions to rewrite our received narratives about human rights and Zionism. Loeffler presses his arguments with unfamiliar characters and tells their fascinating stories with nuance, humanity, and verve."—Franklin Foer, author of World Without Mind: The Existential Threat of Big Tech
"A thorough, well-grounded, and often surprising history. . . . A revealing account of complex aspirations for global justice."—Kirkus Reviews
"'Human rights' has . . . become a collection of attitudes and sociological signifiers, a vague term to be dismissed by realists and swooned over by idealists. James Loeffler's book Rooted Cosmopolitans is a bracing and nuanced attempt to correct this—to restore a grave, complex, powerful idea by tracing it to the people, most of them Jews, who argued it into existence."—Martin Peretz, Wall Street Journal
"This superb book is a homage to visionary cosmopolitans dedicated to the creation of human rights in a world too often lacking in humanity."—Thane Rosenbaum, Washington Post
"James Loeffler focuses on a crucial part of the history of human rights, and one that earlier scholarship has neglected: the Jewish dimension. His study is of the first importance, not just for the history of human rights, but for understanding modern Jewish politics."—Adam Kirsch, Tablet
"Loeffler weaves together in vivid detail and captivating narrative the biographies of five figures whose careers traversed the trajectories of Zionist politics and internationalist commitment. . . . Loeffler's recovery of the Zionist roots of postwar international law sets the stage for the central argument of his book – a reinterpretation of the relationship between Zionism and human rights."—Gil Rubin, Los Angeles Review of Books
"There is indeed, as James Loeffler shows in Rooted Cosmopolitans, a strong historical link between European Jews and the struggle for human rights in the twentieth century."—David Shulman, New York Review of Books
"Loeffler . . . reclaims [the] lost world of Zionist internationalism, a moral asset illustrating the cosmopolitan nature of Jewish nationhood."—Colin Shindler, Jerusalem Post
"Uniformly absorbing portraits of significant Jewish figures navigating the turbulent events of 20th-century history. . . . Their lives . . . bear out Loeffler's seemingly counterintuitive thesis that several of the key figures in the international human rights movement were also Zionists who viewed the protection of Jews through the lens of international law, and the protection of Jews by means of a Jewish state, not as clashing but as complementary goals."—Elliott Abrams, Mosaic
"A work of striking scholarship and originality. . . . Rooted Cosmopolitans is not only an important and remarkable book of history; it's a timely reminder of the relationship between ideals and power."—Bob Goldfarb, Jewish Book Council
"Loeffler's masterful attempt to interpret [his subjects'] legal thinking against the backdrop of their personal circumstances makes for riveting reading and a fascinating work of history."—Doreen Lustig, European Journal of International Law Blog?
"Belongs on the shelf of anyone interested in human rights or modern Jewish political thought and history. [Loeffler] marshals remarkable archival research, literary grace, and philosophical insight to recover a forgotten chapter of history (several, actually) and make us think more deeply about political ethics, both Jewish and universal."—Yehudah Mirsky, The Jewish Review of Books 
"Loeffler's account of his subjects' collective action and achievement is original and compelling."—Berel Lang, Holocaust and Genocide Studies
Finalist for Jewish Book Council's 2018 Natan Book Award
Finalist for the 2019 PROSE awards, World History category
Recipient of the 2019 Dorothy Rosenberg Prize, sponsored by the American Historical Association
ISBN:
9780300217247
Publication Date:
May 4, 2018
384 pages, 6 1/8 x 9 1/4
22 b/w illus.