The Lions' Den
WARNING
You are viewing an older version of the Yalebooks website. Please visit out new website with more updated information and a better user experience: https://www.yalebooks.com
Zionism and the Left from Hannah Arendt to Noam Chomsky
Susie Linfield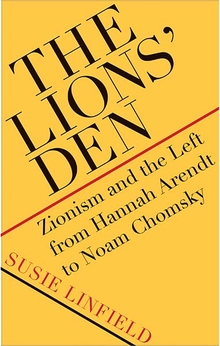 View Inside
Format:

Hardcover


Price:

$36.00
Also Available in:
Paper
A lively intellectual history that explores how prominent midcentury public intellectuals approached Zionism and then the State of Israel itself and its conflicts with the Arab world

In this lively intellectual history of the political Left, cultural critic Susie Linfield investigates how eight prominent twentieth-century intellectuals struggled with the philosophy of Zionism, and then with Israel and its conflicts with the Arab world. Constructed as a series of interrelated portraits that combine the personal and the political, the book includes philosophers, historians, journalists, and activists such as Hannah Arendt, Arthur Koestler, I. F. Stone, and Noam Chomsky. In their engagement with Zionism, these influential thinkers also wrestled with the twentieth century's most crucial political dilemmas: socialism, nationalism, democracy, colonialism, terrorism, and anti-Semitism. In other words, in probing Zionism, they confronted the very nature of modernity and the often catastrophic histories of our time. By examining these leftist intellectuals, Linfield also seeks to understand how the contemporary Left has become focused on anti-Zionism and how Israel itself has moved rightward.
Susie Linfield teaches cultural journalism at New York University. A former editor at the Washington Post and the Village Voice, she has written for a wide variety of publications including the New York Times,The Nation,Dissent, and the New Republic. Her previous book, The Cruel Radiance: Photography and Political Violence, was a finalist for the National Book Critics Circle Award.
"The Lions' Den is a brilliantly incisive commentary on eight intellectuals who wrote about the Israel/Palestine conflict. Susie Linfield is herself the ninth intellectual in this book, with a strong and persuasive position of her own."—Michael Walzer, author of A Foreign Policy for the Left
"You don't have to be enthralled by the Left, Judaism, or Zionism to enjoy this riveting book. Wherever you stand on the Israeli-Palestinian conflict, this is a must for devotees of fascinating, intriguing, exhilarating, and exciting debates."—Hussein Agha, coauthor of A Framework for a Palestinian National Security Doctrine
"Why have some of the brightest minds in the American and European Left been unable to understand Jewish nationalism? The Lions'Den is a fascinating, uniquely incisive inquiry into the limits of the intellectual Left as it tries to deal with the harsh realities of our world."—Zeev Sternhell, author of The Founding Myths of Israel: Nationalism, Socialism, and the Making of the Jewish State
"How has the stormy yet often devoted marriage of the Left and Zionism devolved into a minefield of acrimonious disputes? Susie Linfield approaches this polarizing subject with her customary brilliant vision and generous spirit. An original and essential contribution."—Ruth Franklin, author of A Thousand Darknesses: Lies and Truth in Holocaust Fiction
"The Lions' Den is an exemplary intellectual history that comes to grips with both the tragedy of Zionism and the way in which anti-Zionism became a touchstone for the global Left. It is scrupulous, unflinching, lucid, timely, and morally serious."—Todd Gitlin, author of The Sixties: Years of Hope, Days of Rage
 
"A stunningly cogent account of how Jewish nationalism has troubled leftist thought from the foundation of Israel until today."—David Mikics, Tablet
"The reader—any reader—will put this book down feeling grateful to have been in the company of a satisfying piece of prose applied to an immensely stimulating subject. The Lions' Den is clearly and unapologetically a polemic, of the kind that reminds us how rich and lively such writing can be."—Vivian Gornick, Moment 
"Informative, provocative and compelling."—Glenn C. Altschuler, The Forward 
"An astute study of how the political cauldron of the Middle East has generated fierce responses from the left. . . . A significant contribution to contemporary political discourse."—Kirkus Reviews, Starred Review
"Original . . .Interesting . . . Important . . . Urgent."—J.J. Goldberg, New York Times Book Review 
"Sometimes a book arrives at a necessary moment, a moment in which it can become part of the public conversation and help set the stage for political arguments to come. The Lions' Den is such a book. . . .The book's clarity and intellectual honesty will make it an especially useful and important resource for college students, faculty, and parents who are at the heart of the debate over Zionism and the left."—Jo-Ann Mort, Reform Judaism
"This delightfully smart book offers beautifully rendered insights. . . . Linfield has written a book that is shockingly heterodox."—Commentary
"Linfield does not merely give us an instructive gallery of political pathology; she also persuasively contemplates the whys and wherefores of Israel's transformation into the screen onto which the Left projects its own anxieties. Her examples disclose through negation how not to think about Israel at a time when unclear thinking is most relentlessly arrayed against it."—Benjamin Balint, Claremont Review of Books
"A lucid and lively work of intellectual history that recalls, honors and criticizes some of the foundational figures of the left....Anyone who frets about the left, whether they are for or against it, will learn something important by reading and heeding [Linfield's] book."—Jonathan Kirsch, Jewish Journal
"A well-researched and forcefully argued volume."—B. Smollet, Choice
"Beautifully written and penetrating. . . . A powerful book."—Joshua Muravchik, Mosaic
"Linfield explores her theme through the writing of a galaxy of intellectuals"– David Feldman, Financial Times
"Linfield's book is useful, interesting, extremely well written, and absolutely worthy of serious attention. Scholars need not agree with it. They ought, however, to read it."—Jack Jacobs, Middle East Journal
Named one of two Fall 2019 Natan Notable Books, sponsored by The Jewish Book Council  
 
ISBN:
9780300222982
Publication Date:
March 26, 2019
400 pages, 6 1/8 x 9 1/4