Reporting War
WARNING
You are viewing an older version of the Yalebooks website. Please visit out new website with more updated information and a better user experience: https://www.yalebooks.com
How Foreign Correspondents Risked Capture, Torture and Death to Cover World War II
Ray Moseley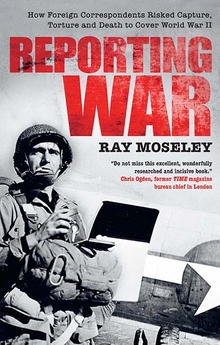 View Inside
Format:

Paper


Price:

$20.00
Also Available in:
Hardcover
Luminary journalists Ed Murrow, Martha Gellhorn, Walter Cronkite, and Clare Hollingworth were among the young reporters who chronicled World War II's daily horrors and triumphs for Western readers. In this fascinating book, Ray Moseley, himself a former foreign correspondent who encountered a number of these journalists in the course of his long career, mines the correspondents' writings to relate, in an exhilarating parallel narrative, the events across every theater—Europe, Pearl Harbor, North Africa, and Japan—as well as the lives of the courageous journalists who doggedly followed the action and the story, often while embedded in the Allied armies.

Moseley's broad and intimate history draws on newly unearthed material to offer a comprehensive account both of the war and the abundance of individual stories and overlooked experiences, including those of women and African-American journalists, which capture the drama as it was lived by reporters on the front lines of history.
Ray Moseley enjoyed a long career as a foreign, diplomatic, and chief European correspondent for the Chicago Tribune, stationed in London, Washington, Berlin, Rome, Cairo, Belgrade, Moscow, and Nairobi. He lives in London.
"A fascinating multinational saga, written with clarity and global perspective. . . . Do not miss this excellent, wonderfully researched and incisive book by one of America's most experienced and best foreign correspondents."—Chris Ogden, former Time magazine bureau chief in London
"Just when you thought there was no room for another book on World War II, Ray Moseley has assembled a masterful and highly readable compendium on war reporting in the heyday of print and radio. His encyclopedic research of every conceivable theater of operations is enlivened by insightful judgment gleaned from his own more recent experience as a veteran war correspondent."—Jonathan Randal, former Washington Post and New York Times foreign correspondent
"Reporting War is a fascinating book that should be read by aspiring war reporters and anyone who is interested in journalism. Twenty-first-century journalists have agonised about how fairly and well they can report when they're on an embed. Imagine how much harder it must have been as part of the Allied war machine on D-Day, or in the Western desert, or during the fall of Berlin, as millions fought and died for national survival and the future shape of the world. Perhaps those correspondents can be forgiven for being, at times, less than impartial.
    But modern journalists can learn a lot from the powers of description of these predecessors, generally radio correspondents who recorded on devices that did not allow for retakes. And the book is a reminder to all reporters that however good your story, you need to be able to file it on time if you want it to have any impact.
   Reporting War is also a brilliant collection of war stories, close encounters with death and destruction, tales of enterprise, rivalry, fear and bravery. You can imagine them being told for the first time over a whisky in some broken town."—Jeremy Bowen, BBC Middle East Editor
"Reading this book is an engrossing experience. Not only has Moseley dug deeply and assiduously in the archives to retrieve some treasures which might have remained hidden but he has also managed to keep humanity in focus."—Trevor Royle, Glasgow Herald
"Ray Moseley calls the Second World War the greatest news story of all time, and it is impossible to disagree… There is also heroism, and some brilliant writing, such as the description of Tokyo by George Weller of The Chicago Daily News as "an ashtray filled with the cigarette butts of buildings". —Lewis Jones, Sunday Telegraph
"[Reporting War] tells the stories of dozens of correspondents from the United States and Allied nations. Moseley's richly detailed narrative celebrates these men — and women — who put their lives on the line (and, all too often, lost them) to inform the folks back home about the day-to-day existence of infantrymen, slaughter on the beaches, bombers over Berlin, and concentration camp survivors. A deeply human and humane book, Reporting War is about fear and courage, competition for a scoop, pettiness and patriotism."—Glenn Altschuler, Tulsa World
"A thorough volume for journalism and World War II collections, and for readers interested in tales of bravery."—Library Journal
"A racy, star-studded compilation of anecdotes about the war's writers and broadcasters."
—Max Hastings, Sunday Times
"A racy, star-studded compilation of anecdotes about the war's writers and broadcasters."
—Max Hastings, Sunday Times
ISBN:
9780300234152
Publication Date:
March 27, 2018
440 pages, 6 1/8 x 9 1/4
24 b/w illus.