Digital World War
WARNING
You are viewing an older version of the Yalebooks website. Please visit out new website with more updated information and a better user experience: https://www.yalebooks.com
Islamists, Extremists, and the Fight for Cyber Supremacy
Haroon K. Ullah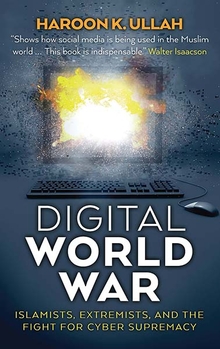 View Inside
Format:

Hardcover


Price:

$25.00
A seasoned diplomat with deep knowledge of Islamist politics and digital innovation draws the first clear picture of the unprecedented impact of online networks

Social media has dominated the discourse of recent events in the Muslim world—from the Arab Spring and its aftermath to ISIS's online recruitment. Yet the roles of social media in these events and the use of the dark web, hacking, and digital attacks have received little attention.

Haroon Ullah investigates the unprecedented impact of social media across the Middle East, North Africa, and South and Southeast Asia and demonstrates how it has profoundly changed relationships between regimes and peoples, and within populations—mostly, but not always, for the better. He considers its apparent inherently "democratic," anti-establishment revolutionary impact, as well as how religious conservatives and extremists have co-opted various platforms. He goes on to show how political parties, corporations, and governments have learned to exploit digital tools to target and mobilize audiences, to ultimately achieve power and status. Identifying key trends across the Muslim world, Ullah outlines what a proper understanding of social media can teach us about regional and international politics and diplomacy.
Haroon K. Ullah is Chief Strategy Officer for the Broadcasting Board of Governors. A former senior advisor to the U.S. Secretary of State, with a special portfolio on digital transmedia strategy and countering violent extremism, he is an award-winning author and Peabody TV Award recipient, an Adjunct Professor at Georgetown University, and a term member of the Council on Foreign Relations.
"This book is fascinating and also critically important. With great insight and expertise, Haroon Ullah shows how social media is being used in the Muslim world both to transform governments as well as recruit fighters to Islamist extremism. One of our most important challenges today is turning digital media into a force for good. The first step is to understand how it is being used, for good and for evil, in places like the Middle East. That's why this book is indispensable."—Walter Isaacson, is a writer, journalist, and the President and CEO of the Aspen Institute
"In a world growing more chaotic, Haroon Ullah is one of those rare people who can provide a new roadmap to understand the intersection of technology, marketing, and social media in the Muslim world. The first step to breaking the brand of extremists is to understand it. This book is a must-read for all."—Gary Briggs, Chief Marketing Officer, Facebook
"Islamic politics are rich and varied, but are typically reduced to ISIS, al-Qaeda, and the Muslim brotherhood. Digital World War draws a fascinating map of this political world by tracking street-fighting and brand-building on social media—a landscape of censorship and change. An illuminating read." —Anne-Marie Slaughter, President and CEO, New America
"In Digital World War, Haroon Ullah has proven himself to be one of those rare people who can identify patterns on the information battlefield and cogently illustrate what is at stake for future generations."—Jared Cohen, CEO of Jigsaw and author of The New York Times bestselling book The New Digital Age: Reshaping the Future of People, Nations and Business 
"Words are a weapon. Ullah breaks into the armory and delivers a must-read exposé on how social media is reshaping the Middle East."—James Jay Carafano, The Heritage Foundation
"Digital World War is a major contribution to how technology, in particular social media, is shaping and changing Islamist movements, from mainstream Islamist parties to violent jihadist organizations. Haroon Ullah writes clearly and concisely on this important phenomenon, which is reshaping the Muslim world in unexpected ways."—Peter Bergen, author of United States of Jihad: Investigating America's Homegrown Terrorists
 
"This extraordinarily important book could not be better timed, nor could it have a more credible author. Haroon Ullah has been, and remains, a key figure in disputing the cyber/information sphere, and waging digital conflict with those who would traffic in terror, disinformation, and hatred. He was one of the central figures in waging digital war against the so-called Islamic State. Marvelously researched, and splendidly written, Ullah has done us all a great service in writing this book. It was my honor to serve with him in this struggle, one in which he will be recognized as a leader for years to come."—John R. Allen, General, U.S. Marine Corps (Ret.), Former Special Presidential Envoy to the Global Coalition to Counter ISIL
 
"Through research, deep knowledge and one-of-a-kind experience, Haroon Ullah brings to life the fight for hearts and minds with digital and social media as a proxy. In a world that is more connected than ever before, Digital World War examines how information, tools and platforms are remaking the Muslim world. Everyone should read this book."—Jonathan Perelman, former VP at Buzzfeed Studios, Director of Digital at ICM Partners
 
"Haroon Ullah's visceral first-person story takes us across enemy lines on the emerging digital battlefield."—Nova Spivack, co-founder and CEO of Bottlenose
"We've badly needed someone to make sense of the countervailing forces of repression and revolt unleashed by Web 2.0 in Islamic countries. Thank goodness Ullah has done it. Few have his policy chops and expertise; fewer still can match his eloquence. The result is an absorbing account of the war of digital words being waged in Muslim Asia and Africa and what it portends for the region and the world."—Will McCants, author of The ISIS Apocalypse and Director of the Brookings Institution project on US Relations with the Islamic World
 
"Haroon Ullah has written a unique book, offering a panoramic view of 'digital rebels' across the Muslim world. Rather than focusing on young English-speaking liberals, Ullah shows us a dizzying and fascinating world where Islamist groups are fusing religion and cutting-edge technology to pursue their goals. Everyone who thought they knew about social media's role in revolt and rebellion should read Ullah's account."—Shadi Hamid, Senior Fellow, Brookings Institution and author of Islamic Exceptionalism: How the Struggle Over Islam is Reshaping the World 
 
"Haroon Ullah's book is a must-read for anyone who wants to understand the future of public diplomacy. The digital war going on right now for the hearts and minds of young people throughout the Muslim world is the single most critical battle for global peace."—Marc B. Nathanson, entrepreneur, investor, and philanthropist, former Chair of the US Broadcasting Board of Governors
 
"One of the best books this year. Haroon Ullah is a visionary and master storyteller. He has given us a roadmap to win this war."—Ben Silverman, CEO of Propagate, former co-chairman of NBC Entertainment and Universal Studios
 
"Digital World War unfolds like a novel, haunting and gripping. This is the new Homeland TV series."—Ahmos Hassan, CEO of Chariot Management
"[Ullah] reveals the sophistication and enthusiasm with which Islamists have exploited social media to proselytize, nurture new recruits, and spread propaganda or news of a coming demonstration. . . . The most powerful lesson Ullah draws—illustrated best by the example of Egypt in the years after the revolts of 2011—is that when it comes to seizing power, as opposed to merely expressing and stoking disaffection, the winners tend to be strong leaders with a clear purpose and an effective organization."—Lawrence D. Freedman, Foreign Affairs
"An important window into how nonviolent Islamist political parties and violent Islamist groups use social media and other technologies to connect with each other, mass audiences, and individuals without respect to national boundaries. . . . This book offers valuable insights for those tasked with countering them. . . . Recommended."—Choice
"An insightful study about the ongoing challenges from Islamists and extremists' embrace of technology."—Ryan Shaffer, Terrorism and Political Violence
ISBN:
9780300231106
Publication Date:
October 24, 2017
336 pages, 5 1/2 x 8 1/2
12 b/w illus.