Catholics on the Barricades
WARNING
You are viewing an older version of the Yalebooks website. Please visit out new website with more updated information and a better user experience: https://www.yalebooks.com
Poland, France, and "Revolution," 1891-1956
Piotr H. Kosicki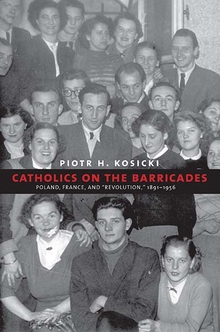 View Inside
Format:

Hardcover


Price:

$40.00
In Poland in the 1940s and '50s, a new kind of Catholic intended to remake European social and political life—not with guns, but French philosophy

This collective intellectual biography examines generations of deeply religious thinkers whose faith drove them into public life, including Karol Wojtyla, future Pope John Paul II, and Tadeusz Mazowiecki, the future prime minister who would dismantle Poland's Communist regime.
 
Seeking to change the way we understand the Catholic Church, World War II, the Cold War, and communism, this study centers on the idea of "revolution." It examines two crucial countries, France and Poland, while challenging conventional wisdom among historians and introducing innovations in periodization, geography, and methodology. Why has much of Eastern Europe gone back down the road of exclusionary nationalism and religious prejudice since the end of the Cold War? Piotr H. Kosicki helps to understand the crises of contemporary Europe by examining the intellectual world of Roman Catholicism in Poland and France between the Church's declaration of war on socialism in 1891 and the demise of Stalinism in 1956.
Piotr H. Kosicki is assistant professor of history at the University of Maryland. He has written for the Nation, the New Republic, and the Times Literary Supplement.
"An extraordinary scholarly contribution that is essential reading for all historians of twentieth century Europe."—Paul Hanebrink, Rutgers, The State University of New Jersey
"A fully realized exemplar of the new transnational European history, this breathtaking new book goes far beyond the impressive feat of crossing borders and uniting East and West. Piotr Kosicki tells a fascinating and unexpected story about the relation between Roman Catholicism and the search for the just society beyond liberal terms, and charts how that search faced impasse across the most turbulent decades of the twentieth century, while also pointing ahead to the end of communism. The results make for a memorable and stylish entry in political and intellectual history. In the depth of its research and the success of its narrative, "Catholics on the Barricades" is a superlative achievement."—Samuel Moyn, author of Christian Human Rights
"The depth of [Kosicki's] language skills is especially impressive. Very few historians of his generation have this kind of linguistic facility."—Marci Shore, author of Caviar and Ashes: A Warsaw Generation's Life and Death in Marxism, 1918-1968
 
"A well-argued and original book, grounded in extensive archival and personal interviews. It is meticulously researched, and the reasoning is careful and judicious. It is certain to be widely read by anyone interested in Catholic history, Polish history, or French history."—Brian Porter-Szücs, author of Faith and Fatherland: Modernity, Catholicism, and Poland
"Kosicki poses new questions and offers new answers. This is an important, path-breaking book."--Adam Michnik, Author of The Church and the Left and Letters from Freedom
 
"Absorbing and important. . . . [A] superb and timely story of how progressives across the continent endeavored to become allies in the struggle for peace and justice, and instead became prisoners of the 20th century."—John Connelly, Los Angeles Review of Books
"A detailed account of the French influence on Polish Catholicism in the first half of the 20th century. . . . This book will please specialists in 20th-century European Catholicism."—Publishers Weekly
"Kosicki's book is a work of transnational history. He traces the enormous impact of French Catholic prophets of 'personalism'—especially Emmanuel Mounier and Jacques Maritain—on Poland's Catholic intelligentsia. . . Kosicki not only stretches our view to Central Europe but reminds us of an immediate postwar leeway in which Catholic hopes and choices were not as limited or obvious as they would all too soon become."—Peter Steinfels, Commonweal
"Kosicki has written a fascinating, detailed book. . . . The story is one of tragedy, catharsis, remorse, and renewal."—Dennis J. Dunn, Slavic Review
"This ambitious, brilliant, and absorbing book is essential reading for anyone with a serious interest in twentieth-century European history and in the power of an idea, and its adherents, to affect and alter its course decisively… Kosicki writes with clarity, verve, and wit…making his richly researched and sourced monograph enjoyable as well as informative and enlightening."—Neal Pease, The Journal of Modern History
"[A] meticulously researched and methodologically innovative study of twentieth-century Catholicism"—Natalie Gasparowicz, H-Diplo Roundtable journal
"[A] particularly successful contribution to a subgenre of intellectual and political history constructed around a collective biography of a movement's key figures and the ideas, beliefs, and ideals that they embraced"—Rachel Johnson-White, H-Diplo Roundtable journal
"[T]hose interested in the history of modern Catholicism and modern European history are in Kosicki's debt. They will have to contend with Kosicki's rich and complex tale of Catholic theological engagement with socialism. One hopes that they can create new works that are as rigorous, expansive, and stimulating as Catholics on the Barricades."—Albert Wu, H-Diplo Roundtable journal
ISBN:
9780300225518
Publication Date:
January 9, 2018
424 pages, 6 1/8 x 9 1/4
13 b/w illus.