Marriage Equality
WARNING
You are viewing an older version of the Yalebooks website. Please visit out new website with more updated information and a better user experience: https://www.yalebooks.com
William N. Eskridge Jr. and Christopher R. Riano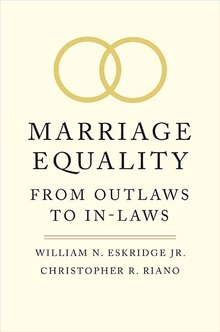 View Inside
Format:

Hardcover


Price:

$43.00
Winner of the 2021 ABA Silver Gavel Award: The definitive history of the marriage equality debate in the United States, praised by Library Journal as "beautifully and accessibly written. . . . An essential work."

"[A] magnum opus about the political and legal path to Obergefell."—Eric Cervini, New York Times Book Review

"[An] impressive survey of how far the gay rights movement has come."—Publishers Weekly

As a legal scholar who first argued in the early 1990s for a right to gay marriage, William N. Eskridge Jr. has been on the front lines of the debate over same‑sex marriage for decades. In this book, Eskridge and his coauthor, Christopher R. Riano, offer a panoramic and definitive history of America's marriage equality debate. The authors explore the deeply religious, rabidly political, frequently administrative, and pervasively constitutional features of the debate and consider all angles of its dramatic history. While giving a full account of the legal and political issues, the authors never lose sight of the personal stories of the people involved, or of the central place the right to marry holds in a person's ability to enjoy the dignity of full citizenship. This is not a triumphalist or one‑sided book but a thoughtful history of how the nation wrestled with an important question of moral and legal equality.
William N. Eskridge Jr. is the John A. Garver Professor of Jurisprudence at Yale Law School. Christopher R. Riano is the executive director of the Center for Civic Education and a lecturer in constitutional law and government at Columbia University.
"A comprehensive, thought-provoking, and compelling account of the fight for marriage equality in the United States. The authors deftly outline the history and ultimate downfall of marriage exclusion policies. A must read!"—Alphonso David, President of the Human Rights Campaign
"An extraordinary account of the nation's awakening to LGBTQ people and the struggle for marriage equality.  With portraits of participants on both sides, strategic revelations, and accessible analysis covering decades, we see how change happens and the challenges ahead."—Mary Bonauto, attorney at GLBTQ Legal Advocates & Defenders
"Eskridge and Riano provide the definitive account of one of the most important transformations in American history: how same-sex marriage became legal in the USA. Their insightful report is a classic."—Lynn D. Wardle, Professor of Law Emeritus, Brigham Young University
"This monumental account of all aspects of the marriage equality movement—judicial, legislative, political, and social—is scholarly while intensely personal, informed by interviews of committed couples, legislators, lawyers, judges."—Ronald M. George, Chief Justice of California (1996-2011)
"To win the freedom to marry, we needed a shared strategy, a sustained campaign, and a movement of many methodologies and players. Bursting with colorful unearthed details and kaleidoscopic, often divergent perspectives, Marriage Equality: From Outlaws to In-Laws richly portrays the multiplicity within that movement and the epic transformation we achieved in hearts and minds—and then the law."—Evan Wolfson, founder, Freedom to Marry
 
"Meticulously researched and compulsively readable, Marriage Equality: From Outlaws to In-Laws sketches the legal arc of the marriage equality debate without sacrificing the human elements that undergirded the movement. Eskridge and Riano have created an invaluable resource for scholars of constitutional law, family law, and social movements."—Melissa Murray, Frederick I. and Grace Stokes Professor of Law, NYU School of Law
"Magnanimity in victory is an even rarer virtue than generosity across differences, and the authors of this lively history have both. Whether you enthusiastically endorse gay marriage or, like me, do not, you will learn a great deal from this fine book."—Maggie Gallagher, author of Debating Same-Sex Marriage
"[A] comprehensive history of the battle for equal marriage rights in America. . . . LGBTQ allies and legal students will be rewarded by the impressive survey of how far the gay rights movement has come."—Publishers Weekly
"[A] magnum opus about the political and legal path to Obergefell."—Eric Cervini, New York Times Book Review
"A richly detailed, panoramic account of one of the most profound civil rights movements in history—the battle to achieve equality for the relationships of committed same-sex couples. . . . Marriage Equality does more than simply document facts in a story, it unpacks the deeper, complex account of the struggle and the humanity that informed this important battle for LGBTQ dignity and equal rights."—from the American Bar Association's 2021 Silver Gavel Award citation
Winner of the 2021 Silver Gavel Award, sponsored by the American Bar Association
ISBN:
9780300221817
Publication Date:
August 18, 2020
1040 pages, 6 1/8 x 9 1/4
24 b/w illus.