Origins of Order
WARNING
You are viewing an older version of the Yalebooks website. Please visit out new website with more updated information and a better user experience: https://www.yalebooks.com
Project and System in the American Legal Imagination
Paul W. Kahn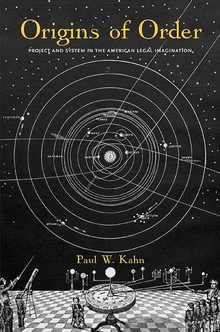 View Inside
Format:

Hardcover


Price:

$40.00
Also Available in:
Paper
An examination of how two fundamental concepts of order influence our ideas about sovereignty, citizenship, law, and history

Western accounts of natural and political order have deployed two basic ideas: project and system. In a project, order is produced by the intentional act of a subject; in a system, order is immanent in the world. In the former, order is made; in the latter, discovered.
 
Paul W. Kahn shows how project and system have long been at work in our theological and philosophical tradition. Against this background, Kahn explains the development of the modern legal imagination in the nineteenth century as a movement from project to system. Americans began the century imagining the constitutional order as their common project: a deliberate construction of We the People. They ended the century imagining that order is continuous with the common law: an immanent development of the principles of civilization. This imaginative shift affected ideas of legal text, sovereignty, citizenship, interpretation, history, and science.
Paul W. Kahn is Robert W. Winner Professor of Law and the Humanities and Director of the Orville H. Schell, Jr. Center for International Human Rights at Yale Law School. He is the author of many books, including Making the Case, Political Theology, The Cultural Study of Law, and The Reign of Law.
"In the tradition of philosophical anthropology, Paul Kahn reads important texts in U.S. constitutional history using the concepts of 'project'—reasoned design—and 'system'—emergent order. His wide-ranging analysis puts familiar material in a new and thought-provoking light."—Mark Tushnet, Harvard Law School
"Paul Kahn's contrast between law as deliberate political engineering and as immanent spontaneous order guides him through a fundamental—and stunningly original—reimagining of our constitutional history."—Robert W. Gordon, author of Taming the Past: Law in History and History in Law
"This latest book by one of our most truly profound and challenging thinkers about law offers consistently challenging reflections on different ways of approaching American law, particularly American constitutionalism. I can easily envision its becoming the basis of seminars and intense discussion."—Sanford Levinson, author of An Argument Open to All:  Reading The Federalist in the 21st  Century
"An eloquent exploration of two persistent, often conflicting alternatives that structure the American legal imaginary: project and system … a powerful and humane work of legal philosophy, legal history, and constitutional theory."—Jonathan Sheehan, author of Invisible Hands: Self-Organization and Enlightenment
"This is a difficult but intriguing work by a scholar of considerable eminence."—R. C. Cottrell, emeritus, California State University, Chico
Finalist in the PROSE Awards Legal Studies category, sponsored by the Association of American Publishers
ISBN:
9780300243413
Publication Date:
October 29, 2019
344 pages, 5 1/2 x 8 1/4