Founders as Fathers
WARNING
You are viewing an older version of the Yalebooks website. Please visit out new website with more updated information and a better user experience: https://www.yalebooks.com
The Private Lives and Politics of the American Revolutionaries
Lorri Glover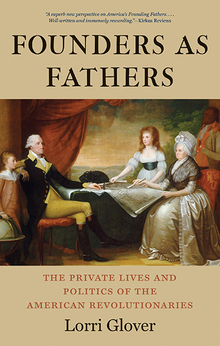 View Inside
Format:

Paper


Price:

$39.00
Also Available in:
Cloth
As the bold fathers of the American Revolution left behind their private lives to become public nation-builders, what happened to their families?

Surprisingly, no previous book has ever explored how family life shaped the political careers of America's great Founding Fathers—men like George Mason, Patrick Henry, George Washington, Thomas Jefferson, and James Madison. In this original and intimate portrait, historian Lorri Glover brings to life the vexing, joyful, arduous, and sometimes tragic experiences of the architects of the American Republic who, while building a nation, were also raising families.
 
The costs and consequences for the families of these Virginia leaders were great, Glover discovers: the Revolution remade family life no less than it reinvented political institutions. She describes the colonial households that nurtured future revolutionaries, follows the development of political and family values during the revolutionary years, and shines new light on the radically transformed world that was inherited by nineteenth-century descendants. Beautifully written and replete with fascinating detail, this groundbreaking book is the first to introduce us to the founders as fathers.
Lorri Glover is John Francis Bannon Endowed Chair, Department of History, Saint Louis University. She is author of four previous books on early American history, including The Shipwreck That Saved Jamestown. She lives in St. Louis, MO.
"With an inventive twist on the 'founding fathers' moniker historian Glover probes the link between family and politics. . . . A sophisticated history peppered with tidbits from the private sphere."—Publishers Weekly
"With a deft touch, Lorri Glover captures the domestic life and concerns of Virginia's Founders as they pass from colonial protesters to scions of the first families of the new nation's most important state. Wives and children share the spotlight in this excellently conceived study."—Joyce Appleby, author of Shores of Knowledge: New World Discoveries and the Scientific Imagination
"A lively, highly readable account of the competing loyalties of Virginia's founding fathers. George Mason, George Washington, Patrick Henry, Thomas Jefferson, and James Madison come alive as fathers of families and stewards of estates, struggling to balance their domestic responsibilities with the political demands of war, revolution, and national formation."—Kathleen M. Brown, University of Pennsylvania
"By exploring how the political careers and patriarchal roles of Virginia's Revolutionary leaders were inextricably linked, Lorri Glover tells a profoundly human story about the nation's beginnings."—Virginia DeJohn Anderson, author of Creatures of Empire: How Domestic Animals Transformed Early America
"With an inventive twist on the 'founding fathers' moniker historian Glover probes the link between family and politics. . . . It's a sophisticated history peppered with tidbits from the private sphere. . . . Fans of these influential men should delight in this inventive addition to the historical literature."—Publishers Weekly
"A superb new perspective on America's Founding Fathers. . . .Well-written and immensely rewarding, this important book will appeal to both scholars and general readers."—Kirkus Review
"Elegantly written and sparkling with keen insights, Lorri Glover's splendid book recasts our understanding of the American Revolution by revealing the surprising world in which the sons of liberty were fathers before they were founders—repeatedly forced to balance their deeply held responsibilities as parents with calls to lean in for independence and a new republic."—Jon Kukla, author of Mr. Jefferson's Women and A Wilderness So Immense: The Louisiana Purchase and the Destiny of America
"[Glover's] book—a model of suggestive and provocative scholarship—cross-polinates biography, political history, family history, and social history. Founders as Fathers should inspire further studies."—R.B. Bernstein, The Journal of American History
"Founders as Fathers is an outstanding book filled with many fine insights."—Phillip Hamilton, American Historical Review
"Glover's book is a welcome new perspective on the revolutionary generation in Virginia . . . it brings us to a closer approximation of the reality of these men's lives as well as their political motives."—Lisa Wilson, William and Mary Quarterly

ISBN:
9780300219746
Publication Date:
June 7, 2016
344 pages, 5 11/16 x 8 15/16
12 b/w illus.