Blameless
WARNING
You are viewing an older version of the Yalebooks website. Please visit out new website with more updated information and a better user experience: https://www.yalebooks.com
Claudio Magris; Translated from the Italian by Anne Milano Appel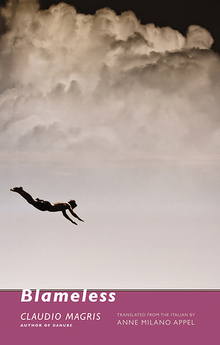 View Inside
Format:

Hardcover


Price:

$26.00
From one of Europe's most revered authors, a tale of one man's obsessive project to collect the instruments of death, evil, and humanity's darkest atrocities in order to oppose them

Claudio Magris's searing new novel ruthlessly confronts the human obsession with war and its savagery in every age and every country. His tale centers on a man whose maniacal devotion to the creation of a Museum of War involves both a horrible secret and the hope of redemption. Luisa Brooks, his museum's curator, a descendant of victims of Jewish exile and of black slavery, has a complex dilemma: will the collections she exhibits save humanity from repeating its tragic and violent past? Or might the display of articles of war actually valorize and memorialize evil atrocities?
 
 In Blameless Magris affirms his mastery of the novel form, interweaving multiple themes and traveling deftly through history. With a multitude of stories, the author investigates individual sorrow, the societal burden of justice aborted, and the ways in which memory and historical evidence are sabotaged or sometimes salvaged.
Claudio Magris, professor emeritus of modern German literature, University of Trieste, is a recipient of the Friedenspreis des Deutschen Buchhandels, the FIL Prize Guadalajara, and the Kafka Prize among scores of other literary awards. His best-selling novel Danube has been translated into twenty-eight languages. Anne Milano Appel, an award-winning translator, recently received the Italian Prose Translation Award.
"This marvelous, monumental novel is at once an act of recuperation and indictment; despite the book's title, Claudio Magris's unnamed protagonist, like Magris himself, knows where the blame lies for the countless crimes of the twentieth century."—John Banville, author of The Blue Guitar
"The American reader is privileged to be reached, finally, by this new masterwork of the great contemporary writer Claudio Magris, one of the most brilliant witnesses and creative chroniclers of our turbulent times. It's a great honor to recommend this new literary message coming from one of our most acclaimed European writers, a trustworthy and seductive artist, a lucid and original observer of the contradictions and conflicts and solitude of the modern man. The book should be a dear and precious partner for all lovers of literature and art, for the acute debate around our common destiny in turbulent times. A great, golden gift for the enviable community of Claudio Magris's admirers!"—Norman Manea, author of The Hooligan's Return
"Claudio Magris is a writer of many talents: a novelist, an essayist, a man of ideas, and a learned traveler, in the style of the great writers of the eighteenth century. Yet he is absolutely modern and each book he publishes assures us that he is one of the greatest writers of our time."—Mario Vargas Llosa, winner of the 2010 Nobel Prize for Literature
"Through an accumulation of devastating details . . . Magris examines war as a universal force that pervades history and the very specific horror that enveloped his home city of Trieste after WWII. . . . Like war itself, this novel reveals its ineffable mysteries though it resists being understood too easily."—Kirkus Reviews
"[A] richly enjoyable writer . . . The prose gallops but demands that you read it slowly and thoughtfully, the author's intelligence being resistant to summary."—Allan Massie, Wall Street Journal
"What [Blameless] takes on to accomplish is a staggering revision of how we see ourselves and the future . . . and just in the nick of time. We need this book very badly."—Michael Silverblatt, Bookworm
"Admirers of Magris' contemporary classic Danube will recognize the headlong advance of his prose in Blameless—discursive, allusive, the tone flat or neutral, then the pitch—and the stakes—suddenly raised."—Ron Slate, On the Seawall
"[A] remarkable novel."—New Yorker
"The genius, the moral seriousness, of this book is that Magris is a realist and idealist at the same time: a realist about the constancy of war and an idealist about the need to oppose it. Meanwhile, the delicious vividness of his writing saves it from being preachy. . . . Periodically Magris is mentioned as a candidate for the Nobel Prize. He should get it."—Robert D. Kaplan, National Interest
"[A] gorgeous columbarium of a novel"—John Freeman, Boston Globe (Best Books of 2017)
"It's an attractive trait in Magris that he so obviously can't resist a good story . . . Blameless, wonderfully translated by Anne Milano Appel, succeeds as a prayer for mercy and reason in a world of torturers and whitewashers."—Neal Ascherson, New York Review of Books
"Reading this novel is an act of resilience and justice—just like writing it must have been for Magris. It is an invitation to us to re-appropriate historical memory. . . .  Magris turns our face toward the unknown. This is what great writers do. They push us into darkness. They know it is the only way for us to meet light."—Sara Fruner, Brick
ISBN:
9780300218480
Publication Date:
April 11, 2017
368 pages, 5 x 7-3/4