Losing an Enemy
WARNING
You are viewing an older version of the Yalebooks website. Please visit out new website with more updated information and a better user experience: https://www.yalebooks.com
Obama, Iran, and the Triumph of Diplomacy
Trita Parsi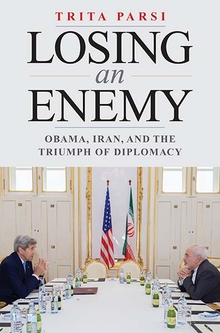 View Inside
Format:

Hardcover


Price:

$32.50
The definitive book on Obama's historic nuclear deal with Iran from the author of the Foreign Affairs Best Book on the Middle East in 2012

This timely book focuses on President Obama's deeply considered strategy toward Iran's nuclear program and reveals how the historic agreement of 2015 broke the persistent stalemate in negotiations that had blocked earlier efforts.

The deal accomplished two major feats in one stroke: it averted the threat of war with Iran and prevented the possibility of an Iranian nuclear bomb. Trita Parsi, a Middle East foreign policy expert who advised the Obama White House throughout the talks and had access to decision-makers and diplomats on the U.S. and Iranian sides alike, examines every facet of a triumph that could become as important and consequential as Nixon's rapprochement with China. Drawing from more than seventy-five in-depth interviews with key decision-makers, including Iran's Foreign Minister Javad Zarif and U.S. Secretary of State John Kerry, this is the first authoritative account of President Obama's signature foreign policy achievement.
Trita Parsi is president of the National Iranian American Council. He teaches at Johns Hopkins University and at the Edmund A. Walsh School of Foreign Service at Georgetown University and is the author of Treacherous Alliance: The Secret Dealings of Israel, Iran, and the United States, winner of the 2010 Grawemeyer Award for Ideas Improving World Order, and A Single Roll of the Dice: Obama's Diplomacy with Iran, which was named Best Book on the Middle East in 2012 by Foreign Affairs.
"Trita Parsi has written a spectacularly illuminating book, recounting in dazzling detail the complex events—both onstage and off—leading to the 'Iran nuclear deal.' Among its many virtues, Losing an Enemy emphasizes that the issues at stake extended far, far beyond the question of Iran's nuclear weapons program. This is and will remain for the foreseeable future the authoritative account of one of this century's pivotal developments."—Andrew J. Bacevich, author of America's War for the Greater Middle East: A Military History
"Trita Parsi has written a superb book on how the Iran nuclear deal was crafted. It is really an inside story, since he had amazing access throughout the process to the key actors in Iran, Israel, and the United States. It is clear from Losing an Enemy not only that it took a Herculean effort to reach a deal, but also that there are still powerful forces around in all three of those countries who want to undermine it as well as any prospect of improved relations between Tehran and Washington."—John J. Mearsheimer, R. Wendell Harrison Distinguished Service Professor of Political Science, University of Chicago
"Parsi, a Persian speaker and fine author in English, has done superb research, assembling fascinating accounts of the key events in the diplomatic solution to the Iran nuclear crisis. His book is insightful, readable and spellbinding—a must-read for anyone interested in this seminal subject."—Thomas R. Pickering, former US Under Secretary of State and Ambassador to Russia, the UN, India and Israel
"Losing an Enemy is a riveting account of the diplomacy behind Obama's nuclear deal with Iran, an issue that will continue to be at the forefront of American foreign policy as we enter the Trump era."—Francis Fukuyama, Senior Fellow, Stanford University
"Losing an Enemy is an inside look at one of President Obama's greatest legacies: his historic nuclear deal that transformed the United States and Iran from lethal enemies to paltry rivals. In this eloquently written book, Trita Parsi draws upon his exclusive access as an advisor to the Obama White House, his retelling of the events made all the more riveting by the high stakes that placed the United States dangerously close to yet another disastrous war. What emerges is an eye-opening analysis of one of the most pivotal victories of American foreign policy."—Reza Aslan, best-selling author of Zealot: The Life and Times of Jesus of Nazareth
"Rarely does the definitive account of a major diplomatic breakthrough appear so soon after the breakthrough itself. Losing an Enemy is the ultimate insider's account of the Iran deal, full of twists, reverses, double-crosses and political backstabbing. It gives us a magnificent example of how creative diplomacy can change the world."—Stephen Kinzer, best-selling author of All the Shah's Men
"An astute and generous portrayal of both sides of the negotiating table."—Kirkus Reviews
"[An] exceptionally well-written piece of reportage . . . The book's strength derives from Parsi's high level of access to key players on both sides. Parsi brings his unique vantage point to what will undoubtedly be the definitive account of Obama's signature foreign policy achievement."—Publishers Weekly
"Trita Parsi has written a great book about what remains the most outstanding diplomatic feat of the 21st century. . . . The book reads like a thriller, so high are the tensions that built up as obstacles to an agreement repeatedly arose. . . . An important book for anyone who wants to penetrate the intricacies of Middle East diplomacy and diplomacy in general."—Francois Nicoullaud, LobeLog
"The story of how dogged diplomacy and some good luck took us from that low point to a deal that few could have imagined is one worth telling. Trita Parsi, president of the National Iranian American Council, who had the advantage of access to high-level participants on both sides, tells it well in his new book, Losing an Enemy: Obama, Iran, and the Triumph of Diplomacy. Crucial events and decisions are traced in great detail, supported by an unusual wealth of on-the-record interviews."—Jessica T. Mathews, New York Review of Books
"A detailed and gripping account of the 22 months of negotiations over Iran's nuclear program that resulted in the 2015 deal."—John Waterbury, Foreign Affairs
"Powerful . . . Parsi has produced an exceptionally valuable if somewhat worrisome analysis on international efforts to reach [the Iran nuclear deal]."—W. Andrew Terrill, Middle East Journal
"Losing an Enemy does admirable justice to one of the few major diplomatic achievements of the last 17 years." —Peter Jenkins, Asian Affairs
ISBN:
9780300218169
Publication Date:
August 1, 2017
472 pages, 6-1/8 x 9-1/4