Hitler's Prisons
WARNING
You are viewing an older version of the Yalebooks website. Please visit out new website with more updated information and a better user experience: https://www.yalebooks.com
Legal Terror in Nazi Germany
Nikolaus Wachsmann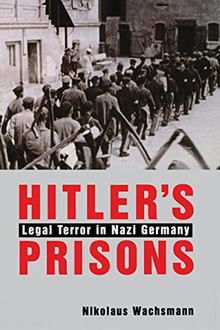 View Inside
Format:

Paper


Price:

$50.00
State prisons played an indispensable part in the terror of the Third Reich, incarcerating many hundreds of thousands of men and women during the Nazi era. This important book illuminates the previously unknown world of Nazi prisons, their victims, and the judicial and penal officials who built and operated this system of brutal legal terror.
Nikolaus Wachsmann describes the operation and function of legal terror in the Third Reich and brings Nazi prisons to life through the harrowing stories of individual inmates.
Drawing on a vast array of archival materials, he traces the series of changes in prison policies and practice that led eventually to racial terror, brutal violence, slave labor, starvation, and mass killings. Wachsmann demonstrates that "ordinary" legal officials were ready collaborators who helped to turn courts and prisons into key components in the Nazi web of terror. And he concludes with a discussion of the whitewash of the Nazi legal system in postwar West Germany.
Nikolaus Wachsmann is lecturer in modern European history at Sheffield University.
A selection of the History Book Club and the Military Book Club

"One of the most important books to be published on Nazi Germany in many years."—Richard J. Evans, University of Cambridge
"An outstanding piece of work—one of the best studies of the Third Reich to appear for a long time. No serious future work on the Nazi state will be able to by-pass this book."—Sir Ian Kershaw, author of Hitler: 1889-1936 Hubris and Hitler: 1936-1945 Nemesis
"[A] carefully researched and path-breaking book. . . . This outstanding study is well written and organized, based on extensive archival sources, and often brings Nazi prisons to life through the stories of individual inmates.  It will serve as the standard work on its subject."—Donald M. McKale, American Historical Review


"A work on Hitler's Germany that really delivers new knowledge and a fresh perspective is a rare achievement. Nikolaus Wachsmann's Hitler's Prisons is such a book. . . . Wachsmann has done an extremely thorough job of combin the archives, and one of the greatest benefits of his study is the sheer quantity of new knowledge about German prisons it brings to light. . . . Yet for all his detailed archival work, Wachsmann does not lose sight of the large questions. . . . The account is leavened by Wachsmann's graceful, in places passionate, writing, and his fine sardonic eye for the appalling absurdities of Nazi officialdom. And Wachsmann never falls prey to academic pedantry at the expense of the human power of his story. This is in many places an angry book. The reader is made to feel, and share, Wachsmann's repugnance not only for the barbarity of Hitler's prisons, but for the almost total lack of retribution of the guilty afterwards. A present-day reader will be hard put not to see more recent parallels—another reason why this fine book deserves the attention not only of specialists but of a wide general readership."—Benjamin Carter Hett, Central European History
"Well researched and broadly conceived. . . . An impressive work of legal scholarship that touches on just about every aspect of Nazi "legality" and illegality."—Lawrence D. Stokes, Dalhousie Review
"Nikolaus Wachsmann has written the definitive history of the prison system in Nazi Germany. Although previous studies and memoirs have investigated various aspects of this area, enough to fill Wachsmann's twenty-eight-page bibliography, this more than five-hundred-page volume—with its eighty pages of footnotes, illustrations, and charts—is a comprehensive and thorough study of German courts and prisons through the Weimar Republic and Nazi periods."—Arnold Krammer, Historian
"Building on innumerable studies of the Nazi legal system by eminent German, British and American scholars, Wachsmann has assiduously burrowed through a large number of German archivesto tell his gloomy and gory tale."—Michael Burleihg, Sunday Telegraph
"Encyclopedic in detail and carefully researched, Hitler's Prisons provides insight into a part of Nazi Germany that has been largely neglected by scholars. Combining detail of both the administrative policy and day-to-day operations of the prisons with short histories of specific inmates, the author presents not only a picture of the penal system, but also a personal glimplse into the horror of Nazi Germany. Hitler's Prisons is must reading for everyone wanting to understand Nazi Germany."—J.W. Thacker, Bowling Green Daily News
"Hitler's Prisons is a timely and welcome addition to the scholarship on Nazi Germany, and a book that genuinely deserves to be called original. … This is an exemplary study…[a] dynamic reading… Wachsmann tells a neglected history of Nazi inhumanity with sympathy but without sentimentality…offering an authoritative and sobering account of this hitherto barely acknowledged subject." - Jane Caplan, German History Journal
"Hitler's Prisons fills a gap in our knowledge of Nazi policies of repression and is undoubtedly fundamental to any understanding of them. … One of the greatest strengths of the volume is that it does not isolate the subject, and never loses sight of the broader political context. … Wachsmann's highly readable book is a profound study not only of Hitler's prisons but also of his policy in respect of 'community aliens'. It sheds new light on the role of the Third Reich's legal system in the context of the 'social hygiene' policy… Wachsmann's findings should be made accessible to a broader audience in Germany. It is to be hoped that a German edition of his book will be published soon." - Jürgen Zarusky, German Historical Institute Bulletin
"Impressive. . . . On the basis of prodigious archival research, Nikolaus Wachsmann persuasively argues that scholarly preoccupation with the crimes of the lawless organs of the Third Reich has tended to obscure the major role of Germany's regular law courts and penal institutions in imposing terrorist repression on the country. . . . Wachsmann's book must be added to those essential for an understanding of the extent to which Nazi repression and terror depended on the perversion of justice and the prostitution of judges and penal officials."—Henry Ashby Turner, Jr., Journal of Modern History
Co-winner of The Longman-History Today Awards 2004
Winner of the Gladstone Prize 2004 by the Royal Historical Society
ISBN:
9780300217292
Publication Date:
May 26, 2015
560 pages, 6 1/8 x 9 1/4
40 b/w illus.