The Essential Guide to Intellectual Property
WARNING
You are viewing an older version of the Yalebooks website. Please visit out new website with more updated information and a better user experience: https://www.yalebooks.com
Aram Sinnreich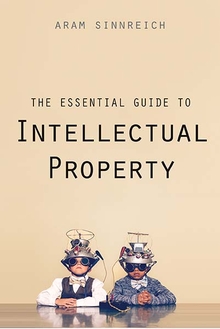 View Inside
Format:

Paper


Price:

$25.00
A broad introduction to the changing roles of intellectual property within society

Intellectual property is one of the most confusing—and widely used—dimensions of the law. By granting exclusive rights to publish, manufacture, copy, or distribute information and technology, IP laws shape our cultures, our industries, and our politics in countless ways, with consequences for everyone, including artists, inventors, entrepreneurs, and citizens at large. In this engaging, accessible study, Aram Sinnreich uncovers what's behind current debates and what the future holds for copyrights, patents, and trademarks.
Aram Sinnreich is associate professor and chair of communication studies at American University. His previous publications include The Piracy Crusade and Mashed Up.
"This book is impressively broad in its inclusion of the various social institutions and dynamics that shape intellectual property and its controversies."—Larisa Kingston Mann, Temple University
"Aram has brilliantly broken down all the germane issues of this very important topic—all in one compact volume. Highly recommended for anyone looking to get to the heart of what this is all about."—Pete Ganbarg, President, A&R, Atlantic Records
"Sinnreich masterfully—and entertainingly—shows that copyright, trademark, and patent policies aren't just for the lawyers, but matter for the future of culture, trade, international relations, technological innovation and, of course, the quality of memes."—Patricia Aufderheide, author of Reclaiming Fair Use: How to Put Balance Back in Copyright
"Aram Sinnreich has given us one of the best tools to analyze the dizzyingly intricate world of copyright law as applied to well... everything. The Essential Guide to Intellectual Property reveals the underlying complexity of how intellectual property issues underline all major issues of our digital era. It offers a critical intervention for our hyper-complex 21st Century data driven world. Incisive and illuminating."—Paul D. Miller, a.k.a. DJ Spooky
"The goal of any introduction should be to offer sufficient information to help readers understand the nature of a topic and sufficient insight to make readers want to find out more. Written in a lively and informal style, Sinnreich's The Essential Guide to Intellectual Property achieves both goals. Anyone embarking on the study of IP, and in particular copyright, would do well starting here."—Lionel Bently, University of Cambridge
"The Essential Guide to Intellectual Property is an engaging overview of key issues in intellectual property law and policy, from copyright and patent to emerging questions about cultural property and computer-generated creations."—Rebecca Tushnet, Harvard University
"Sinnreich is a brilliant scholar who excels at making complex issues easy to absorb. He set out to produce a people's guide to intellectual property and that's precisely what this book is: a thoughtful accounting of contemporary debates that compellingly invites newcomers and experts to appreciate present-day debates."—danah boyd, author of It's Complicated: The Social Lives of Networked Teens

 
"Engaging."—M. Herr, Choice
"[T]he book is precisely the kind of 'essential guide' you want for relative newcomers to a topic; it provides not only a mass of information about IP, but also an extensive bibliography . . . thus providing readers with a rich well of additional resources to visit."—MC Forelle, International Journal of Communication
"Professor Aram Sinnreich draws on his rich experience and research to provide clarity in The Essential Guide to Intellectual Property. . . .The author's focus deftly moves from clear, comprehensive overviews of intellectual property doctrine to pithy, entertaining details. Sinnreich's guide to intellectual property is, well, essential."—Harvard Law Review
ISBN:
9780300214420
Publication Date:
May 28, 2019
304 pages, 5 1/2 x 8 1/4
20 b/w illus.