The Morality of Consent
WARNING
You are viewing an older version of the Yalebooks website. Please visit out new website with more updated information and a better user experience: https://www.yalebooks.com
Alexander M. Bickel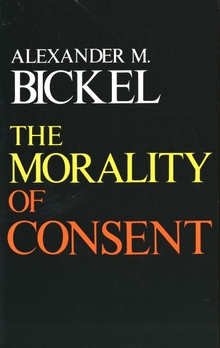 View Inside
Format:

Paper


Price:

$21.00
"This short but provocative volume… is a fitting testimony to the author's extraordinary, though tragically brief, career as a constitutional scholar, lawyer and teacher.  In just a hundred and a half literate pages, we are treated to vintage Bickel insight into every major political issue of the decade, from the civil rights movement, to the Warren Court, through the frenetic university upheavals, and—inevitably—to Watergate…. A tapestry woven by a master of subtle color and texture."—Alan M. Dershowitz, New York Times Book Review
"Presents the core of [Bickel's] legal and political philosophy…. In the five essays that compose this volume Bickel explores the relationship between morality and law, examining the role of the Constitution and Supreme Court in our political process, the nature of citizenship, the First Amendment, civil disobedience, and the moral authority of the intellectual…. All will be stimulated by Bickel's thoughtful message." –Perspective
"[Bickel] wrote with astonishing clarity.  It takes no legal training to understand his thinking about the law.  Nor does it take a willingness to agree with him.  All that's required of the reader of this important 'little' book is a concern that rivals Bickel's about the future of American society." –Newsweek
"An illuminating, often a moving book, with all of Professor Bickel's rare ability to bring law to life in vivid words."—Anthony Lewis
Alexander M. Bickel, Sterling Professor of Law at Yale Law School, taught at Yale from 1956 until his death in 1974. 
"Alexander Bickel's book is truly remarkable. Reading it was to me a most fascinating and enriching experience for these reasons: first, the book is characterized by his trenchant expressions, his penetrating insights, his devotion to our legal system, and his abhorrence of the theory that the First Amendment creates constitutional absolutes; and, second, it sets forth with complete intellectual integrity what one of America's ablest legal scholars and most profound philosophers thought about such controversial and timely subjects as conservatism, liberalism, the role of government, the separation of powers, and the function of the First Amendment."—Sam J. Ervin, Jr.
"In this posthumously published book Alexander Bickel presents the core of his legal and political philosophy. . . . All will be stimulated by Bickel's thoughtful message."—Perspective
"Before his untimely death in 1974, Bickel was one of the most cited and most controversial commentators on the American Constitution. This collection of his last lectures is not likely to change his position. His social liberalism and legal conservatism have seemed to many a contradiction, and this tension in his work is evident here. . . . An interesting, provocative essay that ought to be widely read."—Virginia Quarterly Review
"The book's provocative theses, put forth by an author with a distinguished career as a legal scholar and a sometimes constitutional practitioner, demand that anyone interested in contemporary judicial analysis read it."—California Law Review
"Bickel's work  may be the most important consideration of the American Constitution since Holmes replaced fixed private rights and public powers with a developing law kept up-to-date by the judicial process, itself attuned to a marketplace of ideas ensuring the progress of society. Alive with political reflection, free of obeisance to either conventional liberalism of conventional conservatism, The Morality of Consent advanced beyond the indecisive formalism besetting Frankfurter's 'balancing' according to the 'needs of society,' Wechsler's 'neutral principles,' and Bickel's own earlier works."—Robert Faulkner, The American Political Science Review.
"A very important book. Its arguments and insights ought to be made widely available."—Robert H. Bork, Solicitor General of the United States
"A brilliant collection of essays. His account, of modern legal history, flavored with his conservative philosophy, is among the best ever written."—Philadelphia Inquirer
"It is to the insights and perceptions of Edmund Burke that Bickel looks for restoration of reason and lucidity even while recognizing the place of the instinctual. And Bickel does it with extraordinary intellectual power enhanced by grace and style."—Philip B. Kurland
"This short but provocative volume . . . is a fitting testimony to the author's extraordinary, though tragically brief, career as a constitutional scholar, lawyer and teacher. In just a hundred and a half literate pages, we are treated to vintage Bickel insight into every major political issue of the decade, from the civil rights movement to the Warren Court, through the frenetic university upheavals and—inevitably—to Watergate. . . . A tapestry woven by a master of subtle color and texture."—Alan M. Dershowitz, New York Times Book Review
"[Bickel's] arguments are provocative, reminding us that the means must be moral in the quest for an end, no matter how true that end may seem to any one of us. . . . The Morality of Consent is a book that opens up new, fruitful perspectives to those concerned with the process of constitutional law."—Trial
"Presents the core of [Bickel's] legal and political philosophy. . . . In the five essays that compose this volume Bickel explores the relationship between morality and law, examining the role of the Constitution and Supreme Court in our political process, the nature of citizenship, the First Amendment, civil disobedience, and the moral authority of the intellectual. . . . All will be stimulated by Bickel's thoughtful message."—Perspective
"[Bickel] wrote with astonishing clarity. It takes no legal training to understand his thinking about the law. Nor does it take a willingness to agree with him. All that's required of the reader of this important 'little' book is a concern that rivals Bickel's about the future of American society."—Newsweek
"The Morality of Consent [is] a kind of intellectual testament, and indeed the slim and elegant book is a worthy panache of an integrity and genius."—St. Louis Post-Dispatch
"Arguing that 'liberal absolutism' led inevitably to the corruption of Watergate, this posthumous work by a distinguished constitutional conservative admonishes court and scholar alike to reassert the primacy of process and consent."—Foreign Affairs
"Beautifully written and rewarding for the general reader as well as for lawyers. . . . [A] sensitive and insightful discussion of the political process, citizenship, constitutional education, free speech, civil disobedience, and moral authority in the university. . . . Well worth reading."—Boston Sunday Globe
"Alexander Bickel's long-run objective, formulated explicitly shortly before his fatal illness was diagnosed, was nothing less than the re-creation of a conservative intellectual tradition that lapsed long ago in this country. . . . This slim volume, published posthumously, does not of course accomplish the re-creation of conservative intellectual tradition. It was not meant to. But it is a beginning and a noteworthy one because it sets some of the premises in place and displays the mode of thought appropriate to that tradition. . . . Insightful and provocative."—Robert Bork, New Republic
"Lucidly and forcefully re-states the dominant themes of [Bickel's] brilliant and lamentably abbreviated scholarly career. His consistent belief that the Warren Court had an ideology—electoral populism—and sought to impose it undemocratically upon society  is broadened into an attack upon  contemporary millenarian politics."—Library Journal
"An illuminating, often moving book, with all of Professor Bickel's rare ability to bring law to life in vivid words."—Anthony Lewis
"The Morality of Consent is replete with provocative and frequently controversial conclusions. Well written and easy to understand. Recommended for academic and law school libraries and also for public libraries frequented by serious readers on social issues."—Choice
Winner of the 1976 Silver Gavel Award of the American Bar Association
Chosen as one of the Notable Books of 1975 by the American Library Association
ISBN:
9780300021196
Publication Date:
September 10, 1977
166 pages, 5 x 8