Bloody Engagements
WARNING
You are viewing an older version of the Yalebooks website. Please visit out new website with more updated information and a better user experience: https://www.yalebooks.com
John R. Kelso's Civil War
John R. Kelso; Edited by Christopher Grasso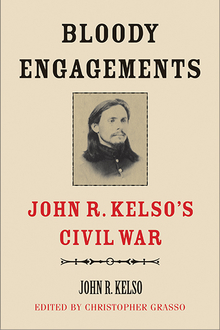 View Inside
Format:

Hardcover


Price:

$35.00
The first edited edition of a Union soldier's remarkable memoir, offering a rare perspective on guerrilla warfare and on the larger meanings of the Civil War

While tales of Confederate guerilla-outlaws abound, there are few scholarly accounts of the Union men who battled them. This edition of John R. Kelso's Civil War memoir presents a firsthand account of an ordinary man's extraordinary battlefield experiences along with his evolving interpretation of what the bloody struggle meant.
 
A former Methodist preacher and Missouri schoolteacher, Kelso served as a Union Army foot soldier, cavalry officer, guerilla fighter, and spy. Initially shaped by a belief in the Founding Fathers' republic and a disdain for the slave-holding aristocracy, Kelso became driven by revenge after pro-Southern neighbors stole his property, burned down his house, and drove his family and friends from their homes. Interweaving Kelso's compelling voice with historian Christopher Grasso's insightful commentary, this fascinating work charts the transformation of an everyday citizen into a man the Union hailed as a hero and Confederate sympathizers called a monster.
John R. Kelso (1831–1891) was a Missouri schoolteacher who served as a Union Army foot soldier, cavalry officer, and spy. Christopher Grasso is a professor of history at the College of William and Mary.
"Kelso is a talented writer in his own right, and he offers a gripping narrative of Civil War Missouri."—Aaron Astor, Maryville College

"The editor has done an excellent job of authenticating the text . . . an important contribution."—Louis S. Gerteis, University of Missouri-St. Louis

"John Russell Kelso's account of his Civil War experiences pulls readers into a violent, complex world of highly-charged politics, regular and irregular military action, and personal revenge. A staunch Unionist, Kelso participated in vicious guerrilla fighting in Missouri, earning praise from loyal citizens and condemnation as a war criminal from Rebels. His postwar disillusionment reminds us that victory in great wars is not always uncomplicated."—Gary W. Gallagher, author of The Union War

"This memoir offers a dramatic account of Missouri's own civil war within the larger national Civil War.  An intrepid Unionist and antislavery partisan, John Kelso became the scourge of Missouri Rebels in many violent encounters that he narrates in vigorous prose."— James M. McPherson, author of The War That Forged a Nation: Why the Civil War Still Matters

"Making meaning from memories, John Kelso's Civil War experiences come richly alive through his convictions, conflicts, rage, and ultimate bitterness. Christopher Grasso's learned editorial hand lends lavish context to this valuable volume."— Martha Hodes, author of Mourning Lincoln
"This firsthand narrative offers personal reflections on the troubling conflict posed by the war and its impact on life and family."—Library Journal, starred review
"Kelso's highly descriptive writings nevertheless offer valuable firsthand views of a host of lesser-known wartime events that occurred in Missouri and Arkansas."—Civil War Books and Authors
Bloody Engagements presents a life filled with drama, conflict, and no little sadness; its often breakneck pace and pungent observations make for lively reading. Grasso's fine introduction, superb editing, helpful chronology, and useful index greatly add to the value of John Kelso's memoir for researchers and general readers alike.—George C. Rable, Civil War Book Review
Winner of the 2018 A. M. Pate, Jr. Award in Civil War History, sponsored by The Fort Worth Civil War Round Table
ISBN:
9780300210965
Publication Date:
April 11, 2017
264 pages, 6 1/8 x 9 1/4
5 b/w illus.