Angels and Monsters
WARNING
You are viewing an older version of the Yalebooks website. Please visit out new website with more updated information and a better user experience: https://www.yalebooks.com
Male and Female Sopranos in the Story of Opera, 1600-1900
Richard Somerset-Ward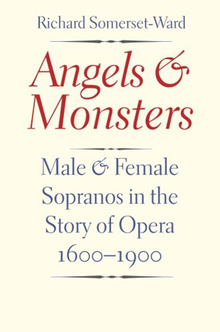 View Inside
Format:

Paper


Price:

$34.00
Also Available in:
Cloth
A riveting history of the early male and female sopranos for whom many of the greatest roles in opera were written

During its first two centuries, opera was dominated by sopranos. There were male sopranos, or castrati, whose supercharged voices (female vocal cords powered by male lungs) were capable of feats of vocalism that are hard to imagine today. And there were female sopranos, or prima donnas, whose long battle for social acceptance and top billing was crowned in the early nineteenth century when the castrati disappeared from the opera stage and left them supreme.

Whether they were male or female, these singers were amazing virtuosi, perhaps the greatest singers there have ever been—"angels." Unfortunately, some of them (and often the most famous) were also capable of behaving extremely badly, both on and off stage—"monsters." This book tells their colorful stories.

Besides providing fascinating anecdotes about some of those who graced and disgraced the operatic stage, Richard Somerset-Ward tells the story of their greatest glory—the singing tradition they founded and perfected, which we know as bel canto and which is still the backbone of operatic singing today.

Rich in musical, social, and cultural lore, Angels and Monsters illuminates a unique and vanished tradition and will be irresistible to opera lovers everywhere.
Richard Somerset-Ward, a senior fellow of the Benton Foundation in Washington, D.C., is also the author of The Story of Opera.
"Angels and Monsters is a must-read for all opera lovers. Somerset-Ward provides an expansive and engaging account of opera singers, some of whom acted like prima donnas, and some who just sang like them. A wonderful book and impossible to put down."—Beverly Sills, Chairman, The Metropolitan Opera
"A well-written and lively book that traces a particular tradition of operatic singing from its origins (with the origins of opera itself) to its conclusion at the end of the nineteenth century."—Joe Law, Book Review Editor, Opera Quarterly
"This was a fascinating source of historical reference and musical history which helped me put a lot of my repertoire into some sort of context. It's invaluable to know the traditions of the performance, as well as some insight into the personal lives of the artists of the day. It shows us that our art is indeed alive, thriving, and growing with modern relevance to this day!"—Susan Graham, Mezzo-soprano
"Richard Somerset-Ward's writing style, reflecting the energy and vitality of his subject, is refreshing and engaging. The effect is not unlike listening to a knowledgeable raconteur, although one who abruptly veers off in a new direction when reminded of something else. The pithy descriptions of operatic styles and musical terminology are well wroth the price of the book. This volume is highly recommended for opera survey courses, and should be required reading for every undergraduate music student who aspires to an operatic career. However it can also be enjoyed by any reader possessing a basic knowledge of musical terminology. . . . The annotated bibliography . . . provides a good introduction to the literature."—Timothy Roden, Historian

"Richard Somerset-Ward has chosen to take us through the history of the soprano voice from opera's beginning to the early 20th century. [He] provides a pleasant and rewarding journey. . . . Good and enlightening reading."—Patrick J. Smith, New York Sun
"Angels & Monsters is an entertaining, informative history of an art, and of the various manias and obsessions that gave rise to it. You don't have to know much about opera to find it fascinating. . . . This is cultural history that both illuminates and delights. For opera-lovers, this book will be catnip, but even those who don't love opera won't find that it's just spinach."—Charles Matthews, San Jose Mercury News
"Somerset-Ward combines scholarship and copious research with the ability to write elegantly and often wittily."—Michael Kennedy, Sunday Telegraph
"[A] fascinating and informative traversal through three centuries of vocal art."—Michael Shmith, The Age
ISBN:
9780300209792
Publication Date:
June 10, 2014
352 pages, 6 1/8 x 9 1/4
32 b/w illus.