The Brain
WARNING
You are viewing an older version of the Yalebooks website. Please visit out new website with more updated information and a better user experience: https://www.yalebooks.com
Big Bangs, Behaviors, and Beliefs
Rob DeSalle and Ian Tattersall; Illustrated by Patricia J. Wynne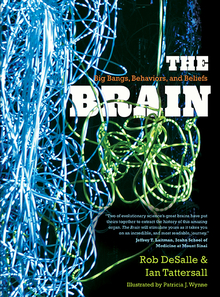 View Inside
Format:

Paper


Price:

$20.00
Also Available in:
Cloth
e-book
What evolutionary process could have resulted in the unique and amazing human brain? New research by neuroscientists, paleontologists, and others reveals startling answers.

 After several million years of jostling for ecological space, only one survivor from a host of hominid species remains standing: us. Human beings are extraordinary creatures, and it is the unprecedented human brain that makes them so. In this delightfully accessible book, the authors present the first full, step-by-step account of the evolution of the brain and nervous system.
Tapping the very latest findings in evolutionary biology, neuroscience, and molecular biology, Rob DeSalle and Ian Tattersall explain how the cognitive gulf that separates us from all other living creatures could have occurred. They discuss the development and uniqueness of human consciousness, how human and nonhuman brains work, the roles of different nerve cells, the importance of memory and language in brain functions, and much more. Our brains, they conclude, are the product of a lengthy and supremely untidy history—an evolutionary process of many zigs and zags—that has accidentally resulted in a splendidly eccentric and creative product.
Rob DeSalle is curator, Sackler Institute for Comparative Genomics, American Museum of Natural History, where he has curated several special exhibitions, including Brain: The Inside Story. Ian Tattersall is curator emeritus, Division of Anthropology, American Museum of Natural History, and with DeSalle co-curated the Hall of Human Origins at AMNH. The authors live in New York City.
"An engaging and complex examination of the development of the human brain throughout its evolutionary history."—Publishers Weekly
"Two of evolutionary science's great brains have put theirs together to extract the history of this amazing organ.  The Brain will stimulate yours as it takes you on an incredible, and most readable, journey."—Jeffrey T. Laitman, Distinguished Professor, Icahn School of Medicine at Mount Sinai
"Neuroscience is elegantly presented on human nature and evolution, particularly language, which the authors believe evolved only recently and which will provide some great controversial grist for early language adherents."—Ralph L. Holloway, Professor, Department of Anthropology, Columbia University
"This fascinating book places the human brain and its achievements in a rich evolutionary context."—Adam Zeman, author of A Portrait of the Brain
"In an elegant tour from the Big Bang to the present, DeSalle and Tattersall explain how nervous systems emerged from stardust, and how the human brain became the "superstar" of all nervous systems.  The book is comprehensive, engaging, and easy to understand.  The authors make it fun to think about the evolution of brains that can "think about thinking"!"—Dean Falk, author of The Fossil Chronicles: How Two Controversial Discoveries Changed Our View of Human Evolution
"The strength of The Brain is its broad coverage, providing tantalizing smatterings of many disparate areas of knowledge."— Tom Gundling, Department of Anthropology, William Paterson University
"In this intriguing book Rob DeSalle, a geneticist, and Ian Tattersall a paleoanthropologist, take us on a fascinating tour of brain evolution and probe the dimensions of the human mind that distinguish us from all other mammals. If you want a readable primer that explores how humans can "think about thinking," this engaging volume is for you."—Donald Johanson, co-author of Lucy: The Beginnings of Humankind, the 1981 winner of the National Book Award in science
"Given the enormity of their subject, DeSalle and Tattersall maintain an admirably consistent level of enthusiasm, but the fact remains that the brain—and this text—are incredibly complicated entities."—Publishers Weekly

Selected as a Choice Outstanding Academic 2012 Title for Psychology within the Social and Behavioral Sciences category.
ISBN:
9780300205725
Publication Date:
March 25, 2014
368 pages, 7 x 9
68 b/w illus.