The Conversion of Scandinavia
WARNING
You are viewing an older version of the Yalebooks website. Please visit out new website with more updated information and a better user experience: https://www.yalebooks.com
Vikings, Merchants, and Missionaries in the Remaking of Northern Europe
Anders Winroth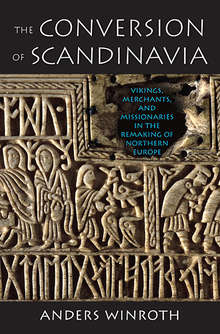 View Inside
Format:

Paper


Price:

$28.00
Also Available in:
Cloth
e-book
In this book a MacArthur Award-winning scholar argues for a radically new interpretation of the conversion of Scandinavia from paganism to Christianity in the early Middle Ages. Overturning the received narrative of Europe's military and religious conquest and colonization of the region, Anders Winroth contends that rather than acting as passive recipients, Scandinavians converted to Christianity because it was in individual chieftains' political, economic, and cultural interests to do so.
Through a painstaking analysis and historical reconstruction of both archeological and literary sources, and drawing on scholarly work that has been unavailable in English, Winroth opens up new avenues for studying European ascendency and the expansion of Christianity in the medieval period.
Anders Winroth, the Forst Family Professor of History at Yale, is the author of The Making of Gratian's "Decretum," for which he was awarded a MacArthur Fellowship in 2003.
"Winroth's is a fresh take on the Vikings, showing people with agency and voices. Sometimes violent, they preferred negotiation. Gift-getting and gift-giving drove their politics. When, in the centuries around 1000, Scandinavians opted into Europe, Christianity was a gift they chose."—Jinty Nelson, Professor Emerita, King's College London 
"This is a very significant contribution that stands out among the crowded field of Viking history. Admirably balancing the expected features of a survey work with a new orientation, Winroth does a superb job of uniting the history of the Norse in the East (Russia and the Byzantine and Arab world) with the history of the Scandinavian homeland and its expansion to the West."—Anthony Perron, Loyola Marymount University
"Historical writing does not get any better than this vivid, masterly and profoundly original account of a transformation not only fascinating in itself but of real and enduring importance in the shaping of Europe."—R.I. Moore, University of Newcastle upon Tyne
"Winroth takes us directly into the imaginative world of pre-Christian Scandinavia through its vivid poetry; and into the ambitions and sophistication of its leaders, through the most up-to-date archaeology. He rewrites the history of the coming of Christianity to Denmark, Norway, Sweden and Iceland. In doing this, he has added a new and challenging chapter to the well-known story of the birth of Christian Europe."—Peter Brown, Princeton University

"Winroth's latest publication is extremely organized and well-written. It is highly recommended for students of the Middle Ages, those interested in Viking culture or the power of conversion. This work would also be an excellent secondary source on an undergraduate syllabus relating to Church history. It is well-researched and sourced, containing over twenty pages of bibliographic material for further study."—Robert P. Russo, Catholic Books Review
"Winroth (Yale), an authority on medieval canon law, has penned a literate, intelligent synthesis of how economic change in Scandinavia during the Viking Age (780-1100) led to the reception of Christianity. . . . Scholars and students alike will read this work with profit. Excellent bibliography."—K.W. Harl, Choice
"Anders Winroth's The Conversion of Scandinavia provides much material to ponder as well as a great deal of information. His meticulous gathering of materials opens new avenues for consideration, while his thoughtful survey of the material will provide guidance for anyone interested in the topic and period."—Benjamin Hudson, The Journal of Medieval Religious Cultures 
"Winroth's writing flows easily, and his vivid descriptions of events and people make his story come alive."—Catholic Historical Review

"Challenging the stereotypical master narrative of zealous evangelicals and active missionaries converting an at best passive, at worst resistant, native heathen population, he [Winroth] is able to substitute a fascinating description of the distinctive political dynamics that characterised all of Western Europe after the barbarian invasions […]"—Patrick Madigan, Heythrop Journal
"Winroth has eminent insight into the wide-ranging research within different disciplines and discusses not least the written sources. […] He is well acquainted with the comprehensive and varied research and guides the reader to synthesizing conclusions and wider perspectives. […] Winroth has made a fine and stimulating synthesis of Viking Age Scandinavia and its place within European history."—Thomas Lindkvist, University of Gothenburg, The Journal of English and German Philology
Winner of the 2013 Gustav Ranis International Book Prize awarded by the MacMillan Center at Yale University.
ISBN:
9780300205534
Publication Date:
January 7, 2014
256 pages, 6 1/8 x 9 1/4
24 b/w illus.