A Voice Still Heard
WARNING
You are viewing an older version of the Yalebooks website. Please visit out new website with more updated information and a better user experience: https://www.yalebooks.com
Selected Essays of Irving Howe
Edited by Nina Howe; Foreword by Morris Dickstein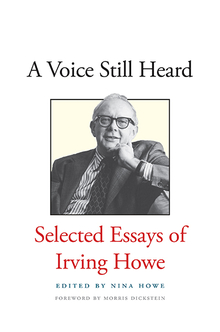 View Inside
Format:

Cloth


Price:

$71.00
An indispensable collection of one of America's most outspoken and original critics of the second half of the twentieth century

Man of letters, political critic, public intellectual, Irving Howe was one of America's most exemplary and embattled writers. Since his death in 1993 at age 72, Howe's work and his personal example of commitment to high principle, both literary and political, have had a vigorous afterlife. This posthumous and capacious collection includes twenty-six essays that originally appeared in such publications as the New York Review of Books, the New Republic, and the Nation. Taken together, they reveal the depth and breadth of Howe's enthusiasms and range over politics, literature, Judaism, and the tumults of American society.
 
A Voice Still Heard is essential to the understanding of the passionate and skeptical spirit of this lucid writer. The book forms a bridge between the two parallel enterprises of culture and politics. It shows how politics justifies itself by culture, and how the latter prompts the former. Howe's voice is ever sharp, relentless, often scathingly funny, revealing Howe as that rarest of critics—a real reader and writer, one whose clarity of style is a result of his disciplined and candid mind.
Social and literary critic Irving Howe (1920–1993) was a MacArthur Fellow, and a National Book Award winner, and was considered to be one of the great Jewish intellectuals of his time. Nina Howe is Concordia University Research Chair in Education and a member of the university's Faculty of Arts and Science. She lives in Montreal.
"Irving Howe was a critic of literature, politics, and society, unmatched in his time for diversity of strength. A generous power of admiration runs through all his writing like a hidden melody." —DAVID BROMWICH
"Irving Howe exemplified the intellectual vocation consummately. He was the only American intellectual of his era who wrote about literature and politics, sensibility and justice, with equal authority. In a lifetime at the typewriter he never wrote a phony word. And he knew how to champion causes and complexities at the same time -- an exceedingly rare accomplishment. A Voice Still Heard is a necessary book: here is how it should be done. These masterful essays are the work of an exacting mind and a noble heart." —LEON WIESELTIER
"It is the rare writer who can bring together critical consciousness with political conscience.  Howe's essays show us what original, penetrating thinking might still look like today." —ROCHELLE GURSTEIN
"It is a great pleasure to immerse oneself in the work of one of the greatest American essayists of the 20th century. As historian, man of letters, and radical critic of political folly, Irving Howe makes as much sense in our time as he did in his."—MICHAEL KAZIN
"In an era of tweets, hype and jargonized monographs A Voice Still Heard  offers the opposite,  some of Irving Howe's bracing, straightforward and classic essays that are essential reading for the literati.  Return to Howe and find a literary critic who was unafraid of politics and sweeping generalizations. Long Live Irving Howe!" —RUSSELL JACOBY

"Irving Howe argued the world across decades. In this marvelously insightful set of essays, astutely selected to give a generous taste of his ranging and restive intelligence from the 1950s to the 1990s, Howe's abiding concerns in politics, literature, and Jewish history are a model to the reader today of incisive critical engagement. In A Voice Still Heard, Howe's is a voice that is impossible to forget, and one that replays the careful listener in volumes." — ERIC BANKS

"This splendid selection of Irving Howe's essays and reviews reminds us of the intelligence and insight of all his work. But there is something else on display here, which was of great importance to him and to the many friends who loved and admired him: his partisanship. Irving was a member of the party of justice and equality, and everything he wrote expresses that commitment."—MICHAEL WALZER
"With the light of his unfailing moral and literary intelligence, Irving Howe fashioned a way through a blighted age, its delusional hopes and literary achievements, illuminating everything he saw.  These shining, frequently moving essays even instruct the reader who disagrees with this or that judgment."—TODD GITLIN
"This important collection allows a new generation of readers to hear Howe's uncompromising voice."—Kirkus Reviews
"If young leftists aren't reading Howe, they ought to be."—Adam Kirsch, Times Literary Supplement
'Irving Howe's A Voice Still Heard: Selected Essays reminds us of the void this great critic left in Anglophone commentary . . .'—Pankaj Mishra, The Guardian

"A Voice Still Heard appears at a relatively inert moment in American intellectual life, and, therefore, at just the right time."?Franklin Foer, The New York Times Book Review
"[A] wonderful new collection."?David Marcus, The New Republic
"Howe's criticism was marked with both intensity and integrity. Reading him today shows how far the intellectual world has fallen."?The New York Times Book Review, Editor's Choice selection
"Howe's is a voice that ought to still be heard – and in this collection we may bear privileged witness to the gathering power of that voice over the course of its long development."?Robert Minto, Open Letters Monthly
ISBN:
9780300203660
Publication Date:
October 28, 2014
416 pages, 6 1/8 x 9 1/4
6 b/w illus.