The Buddha in the Machine
Art, Technology, and the Meeting of East and West
R. John Williams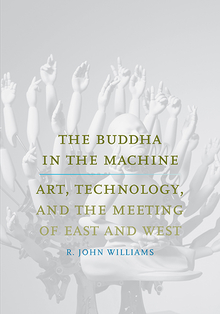 View Inside
Format:

Cloth


Price:

$50.00
The famous 1893 Chicago World's Fair celebrated the dawn of corporate capitalism and a new Machine Age with an exhibit of the world's largest engine. Yet the noise was so great, visitors ran out of the Machinery Hall to retreat to the peace and quiet of the Japanese pavilion's Buddhist temples and lotus ponds. Thus began over a century of the West's turn toward an Asian aesthetic as an antidote to modern technology.

From the turn-of-the-century Columbian Exhibition to the latest Zen-inspired designs of Apple, Inc., R. John Williams charts the history of our embrace of Eastern ideals of beauty to counter our fear of the rise of modern technological systems. In a dazzling work of synthesis, Williams examines Asian influences on book design and department store marketing, the commercial fiction of Jack London, the poetic technique of Ezra Pound, the popularity of Charlie Chan movies, the architecture of Frank Lloyd Wright, and the design of the latest high-tech gadgets. Williams demonstrates how, rather than retreating from modernity, writers, artists, and inventors turned to traditional Eastern technê as a therapeutic means of living with—but never abandoning—Western technology.
R. John Williams is assistant professor of English at Yale University, teaching courses in literature, film, and media studies.
"With a rare combination of scholarly patience and writerly panache, Williams has provided a new and indispensable account of the Western fascination with the Far East. More precisely, he demonstrates how utterly constitutive Asia-as-technê has been to the promotion of our contemporary technological cultures. Eye-opening, first page to last."—Bill Brown, University of Chicago 

"Williams' beautifully illustrated monograph offers a compelling re-envisioning of the wide arc of late-nineteenth and twentieth century American modernist culture, and accords fresh and persuasive readings to the canonical and popular figures who turned to Japanese and Chinese aesthetic practices to break from their machinic obsessions."—Donald Pease, Dartmouth University
"Williams's genre-hopping archaeology of Asia-as-technê not only brings a crucial component of our ongoing technological imaginary to light, but presents a thoroughly satisfying—dare I say it?—'East/West' balance of piercing analysis and resonating pattern recognition."—Erik Davis, author of TechGnosis: Myth, Magic, and Mysticism in the Age of Information
"In this far-reaching yet highly readable book, R. John Williams resets the conversation on what is American Orientalism, brilliantly showing how our longstanding anxieties about the machine-in-the-garden have been answered by utopian fantasies of the buddha-in-the-machine."—Colleen Lye, author of America's Asia: Racial Form and American Literature, 1893-1945
"Buddha in the Machine is nothing short of a reimagining of a field. A radical reorientation of literary and cultural studies, Williams's work reveals why Buddhism (from modernist poetics to global capitalist logic) matters for all scholars hoping to understand or respond to the 'technical' challenges of cultural studies in the Pacific Era."—Jonathan Stalling, author of Poetics of Emptiness: Transformations of Asian Thought in American Poetry 
"John Williams has written an extraordinary, beautiful, intelligent book, one of the best things I've read in years."—Eric Hayot, author of The Hypothetical Mandarin
"Richly engaging. . . . Apart from its distinct contribution to the transnational turn in American studies, The Buddha in the Machine introduces a sophisticated framework for analyzing ethnic­ity and technology."—Rachel McBride Lindsey, American Studies
Winner of the 2012 Samuel and Ronnie Heyman Prize for Outstanding Scholarly Publication.
Winner of the 2015 American Comparative Literature Association's Harry Levin Prize.
ISBN:
9780300194470
Publication Date:
June 24, 2014
368 pages, 7 x 10
121 color + 147 b/w illus.