Peggy Guggenheim
WARNING
You are viewing an older version of the Yalebooks website. Please visit out new website with more updated information and a better user experience: https://www.yalebooks.com
Francine Prose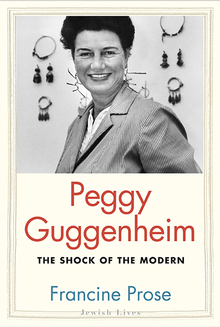 View Inside
Format:

Cloth


Price:

$26.00
Also Available in:
Paper
From the prizewinning Jewish Lives series, a "vibrant" (New Yorker) portrait of the colorful, irrepressible, and iconoclastic American collector who fearlessly advanced the cause of modern art

"A whirlwind tour in a compact, peppy car through the tumultuous life of the most famous patron of modern art."—Prudence Peiffer, Artforum

One of twentieth-century America's most influential patrons of the arts, Peggy Guggenheim (1898–1979) brought to wide public attention the work of such modern masters as Jackson Pollock and Man Ray. In her time, there was no stronger advocate for the groundbreaking and the avant-garde. Her midtown gallery was the acknowledged center of the postwar New York art scene, and her museum on the Grand Canal in Venice remains one of the world's great collections of modern art. Yet as renowned as she was for the art and artists she so tirelessly championed, Guggenheim was equally famous for her unconventional personal life, and for her ironic, playful desire to shock.
 
Acclaimed best-selling author Francine Prose offers a singular reading of Guggenheim's life that will enthrall enthusiasts of twentieth-century art, as well as anyone interested in American and European culture and the interrelationships between them. The lively and insightful narrative follows Guggenheim through virtually every aspect of her extraordinary life, from her unique collecting habits and paradigm-changing discoveries, to her celebrity friendships, failed marriages, and scandalous affairs, and Prose delivers a colorful portrait of a defiantly uncompromising woman who maintained a powerful upper hand in a male-dominated world. Prose also explores the ways in which Guggenheim's image was filtered through the lens of insidious antisemitism.

About Jewish Lives: 

Jewish Lives is a prizewinning series of interpretative biography designed to explore the many facets of Jewish identity. Individual volumes illuminate the imprint of Jewish figures upon literature, religion, philosophy, politics, cultural and economic life, and the arts and sciences. Subjects are paired with authors to elicit lively, deeply informed books that explore the range and depth of the Jewish experience from antiquity to the present.

In 2014, the Jewish Book Council named Jewish Lives the winner of its Jewish Book of the Year Award, the first series ever to receive this award.

More praise for Jewish Lives:

"Excellent." –New York Times

"Exemplary." –Wall Street Journal

"Distinguished." –New Yorker

"Superb." –The Guardian
New York Times best-selling author and National Book Award finalist Francine Prose has written more than twenty works of fiction and nonfiction, including Caravaggio and Reading Like a Writer.
"A whirlwind tour in a compact, peppy car through the tumultuous life of the most famous patron of modern art."—Prudence Peiffer, Artforum
"Prose . . . is determined not to miss either the strangeness or the marvelousness of her subject. Guggenheim, that 'intelligent, determined woman,' will no longer be quite so easily dismissed after Prose's incisive book. Unlucky in so much else, Peggy Guggenheim is certainly fortunate in her generous and bighearted biographer."—Christopher Benfey, New York Review of Books
"An adroit and lively portrait."—Kirkus Reviews
"Lively, complex, and inclined to shock, Guggenheim (1898–1979), the modern art collector, emerges as the embodiment of the age in Prose's judicious biography."—Publishers Weekly
"Prose skillfully blends the events of Guggenheim's experience with details about the 20th-century art scene, all in a vivid setting of time and place. Her depictions of key artists, family members, husbands, and others are distinctive in their complexity of character and contribute to a deeper understanding of the personal and professional facets of this enigmatic woman. . . . This finely researched and well-written work honestly examines the often disturbing world of an acclaimed figure."—Library Journal
"This is a smart and entertaining book about the life of a woman who is difficult to get a handle on . . . Prose is subtle about the ins and outs of Guggenheim's behavior As a novelist herself, she does not pass judgment but attempts to let us see the selfish, hurtful ( her daughter a suicide) but also generous manner in which Guggenheim literally swung her way through life."—Svetlana Alpers, Key Reporter
"With fresh insights and illuminating details, Prose vividly tells the poignant and remarkable story of this complex, combative, and passionate art champion and innovator, who weathered misogyny, anti-Semitism, betrayal, and her own demons to help build an audience for modern art."—Donna Seaman, Booklist
"This excellent short biography appears in Yale's 'Jewish Lives' series, and Prose is a subtle and attentive chronicler. . . "—Kathryn Hughes, Guardian
"By describing fairly the limits of her wealth, and the nous with which she spent it, Prose does justice to this great modern Maecenas."—Iona McLaren, Daily Telegraph
"This succinct biography of one of the last century's greatest collectors is an elegantly written account of the difficult and controversial life of Peggy Guggenheim."—Marina Vaizey, Art Newspaper
"Prose has in an accessible and interesting fashion drawn our attention to Peggy Guggenheim's independence, brilliance, and willing[ness] to put herself out there for the cause in a world dominated by both anti-Semitism . . . and male chauvinism."—Robert F. Barsky, AmeriQuests
In 2014 the Jewish Book Council awarded the Jewish Book of the Year honor to the Jewish Lives series—the first time in its history that a series was so honored—in recognition of its achievements thus far and its forthcoming contributions for years to come.

ISBN:
9780300203486
Publication Date:
September 29, 2015
240 pages, 5-3/4 x 8-1/4
12 b/w illus.