Hayim Nahman Bialik
WARNING
You are viewing an older version of the Yalebooks website. Please visit out new website with more updated information and a better user experience: https://www.yalebooks.com
Avner Holtzman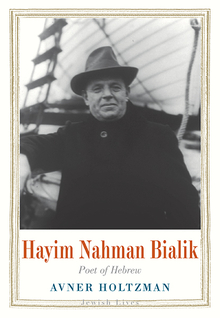 View Inside
Format:

Hardcover


Price:

$26.00
From the prizewinning Jewish Lives series, a moving inquiry into the dramatic life, epic success, and ultimate tragedy of the great Hebrew poet Hayim Nahman Bialik

"An excellent study of the varied vicissitudes of Bialik's life and work and of his self-willed transition from the supreme poet of Hebrew to the champion of all writing in Hebrew. A valuable resource for those interested in Hebrew poetry, Jewish literature, or the history of Russian Jewry."—Choice
National Jewish Book Award finalist in the category of Biography, Autobiography and Memoir
By the time he was twenty-eight, Hayim Nahman Bialik was already considered the National Hebrew Poet. He had only published a single collection, but his deeply personal poetry established a profound link between the secular and the traditional that would become paramount to a national Jewish identity in the twentieth century. When he died unexpectedly in 1934, the outpouring of grief was unprecedented, confirming him as a father figure for the Zionist movement in Palestine, and around the world.  
Using extensive research and elegant readings of Bialik's poems, Avner Holtzman investigates the poet's dramatic life, complex personality, beloved verse, and continued popularity. This clear-eyed and thorough biography explores how Bialik overcame intense personal struggles to become a charismatic literary leader at the core of modern Hebrew culture.
About Jewish Lives: 
Jewish Lives is a prizewinning series of interpretative biography designed to explore the many facets of Jewish identity. Individual volumes illuminate the imprint of Jewish figures upon literature, religion, philosophy, politics, cultural and economic life, and the arts and sciences. Subjects are paired with authors to elicit lively, deeply informed books that explore the range and depth of the Jewish experience from antiquity to the present.
In 2014, the Jewish Book Council named Jewish Lives the winner of its Jewish Book of the Year Award, the first series ever to receive this award.
More praise for Jewish Lives:
"Excellent" –New York Times
"Exemplary" –Wall Street Journal
"Distinguished" –New Yorker
"Superb" –The Guardian
Avner Holtzman is professor of Hebrew Literature and former head of the Katz Institute for Research in Hebrew Literature at Tel Aviv University. He is author or editor of more than fifty books.
"This is a remarkable story, superbly told, of an orphan, who gave generations of children something to sing about; an unrequited lover, who reclaimed Hebrew as the language of love; and of a tortured, modern poet, who returned prophecy to Israel."—David G. Roskies, The Jewish Theological Seminary
"Avner Holtzman guides us with authority and elegance through the major points in the life of the foremost modern Hebrew poet, and provides answers to the puzzles surrounding his poetry, personality, and the immense influence he exerted on his contemporaries and future generations."—Shachar Pinsker, author of Literary Passports: The Making of Modernism: Hebrew Fiction in Europe

"The work of a remarkable Israeli scholar whose exquisite aesthetic sensibility combines with a positivist sense of historical accuracy and detail."—William Cutter, Professor Emeritus of Hebrew Literature, Hebrew Union College-Jewish Institute of Religion
"A careful chronology of [Bialik's] turbulent life . . . A clear and concise biography."—ArtsFuse
"Well-researched."—Washington Jewish Week
"No one better embodies this renaissance [of Hebrew]  than H.N. Bialik (1873-1934), the poet who stood at the vanguard of the migration of Hebrew literature from mute dormancy in Eastern Europe to articulate maturity in the land of Israel. In Hayim Nahman Bialik: Poet of Hebrew, Avner Holtzman . . . gives a captivating account of how Bialik's poetry was amplified by a 'rich orchestration of citations from, references to, and resonances of a wealth of Jewish sources, spanning the Hebrew Bible, the Mishnah, and the Jewish prayer book.'"—Benjamin Balint, Wall Street Journal
"I thought that I knew a fair amount about the so-called 'Hebrew national poet,' but this book has enabled me to see Bialik from a whole new perspective . . . If you read this biography, you will encounter a Bialik who was much more complex than the one we learned about as children, and you will meet a Bialik who left behind not only a rich legacy of writings, but an unfinished task that we are called upon to continue."—Rabbi Jack Reimer, Jewish News Service
"An excellent study of the varied vicissitudes of Bialik's life and work and of his self-willed transition from the supreme poet of Hebrew to the champion of all writing in Hebrew. A valuable resource for those interested in Hebrew poetry, Jewish literature, or the history of Russian Jewry."—Choice
National Jewish Book Award finalist in the category of Biography, Autobiography and Memoir
ISBN:
9780300200669
Publication Date:
February 21, 2017
264 pages, 5 3/4 x 8 1/4"
1 b/w illus.