The Hooligan's Return
WARNING
You are viewing an older version of the Yalebooks website. Please visit out new website with more updated information and a better user experience: https://www.yalebooks.com
Norman Manea; Translated by Angela Jianu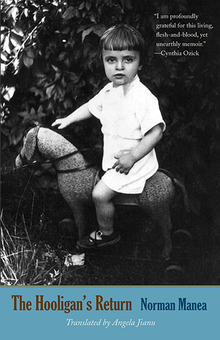 View Inside
Format:

PB-with Flaps


Price:

$20.00
Romanian exile Norman Manea's internationally acclaimed memoir/novel, now available to English-language readers

At the center of The Hooligan's Return is the author himself, always an outcast, on a bleak lifelong journey through Nazism and communism to exile in America. But while Norman Manea's book is in many ways a memoir, it is also a deeply imaginative work, traversing time and place, life and literature, dream and reality, past and present. Autobiographical events merge with historic elements, always connecting the individual with the collective destiny. Manea speaks of the bloodiest time of the twentieth century and of the emergence afterward of a global, competitive, and sometimes cynical modern society.
Both a harrowing memoir and an ambitious epic project, The Hooligan's Return achieves a subtle internal harmony as anxiety evolves into a delicate irony and a burlesque fantasy. Beautifully written and brilliantly conceived, this is the work of a writer with an acute understanding of the vast human potential for both evil and kindness, obedience and integrity.
Norman Manea is Francis Flournoy Professor of European Culture and writer-in-residence at Bard College. Deported from his native Romania to a Ukrainian concentration camp during World War Two, he was again forced to leave Romania in 1986, no longer safe under an intolerant Communist dictatorship. Since arriving in the West he has received many important awards, including, in 2016, Romania's highest distinction, the the Presidential Order "The Romanian Star" in the highest level, of Great Officer. His work has been translated into more than twenty languages. He lives in New York City.
Angela Jianu is a translator and historian. She teaches at University of Warwick, UK.

"I am profoundly grateful for this living, flesh-and-blood, yet unearthly memoir."—Cynthia Ozick
"An extraordinary book"—Larissa MacFarquhar, The New Yorker
"A genuinely great book, an entire teeming life seized and made permanent."—Robert Boyers, The New Republic
"The 'sad country, full of humour' that was, and still is, Romania has had no finer and percipient chronicler of its sorrows and absurdities. . . . He is one of an immensely humane and intelligent stature."—Paul Bailey, Times Literary Supplement
"Mature, difficult, and rich in irony and paradox . . . The Hooligan's Return peels back the facile like a pelt. It is a performance both excruciating and ferociously controlled. The result may well rank among the finest memoirs in a generation."—Mark Slouka, The San Francisco Chronicle
"It is that kaleidoscopic excursion into recent  and remote yesterdays that forms the bulk of The Hooligan's Return, peopled with many touching moments and characters. All is recounted with the caustic dexterity and lyrical power we would expect from the accomplished novelist who gave us Compulsory Happiness and The Black Envelope."—Ariel Dorfman, The New York Times Book Review
"A fascinating, beguiling record of the almost incredible events that can transpire in one life, especially if that life is lived in twentieth-century Eastern Europe. The Hooligan's Return operates on so many levels that finally it eludes all classifications and reveals itself as art."—Francine Prose
 "A distinguished writer whose vision of totalitarianism is closer to Kafka's cloudy menace, universal, and yet internalized, than to Orwell's brass tacks . . . the artistry of the implication, the intensity of what can seem a dream state, draws us imperceptibly through a half-lighted window for lack of the door."—Richard Eder, The New York Times
"This world of ours, in his view, is a place where the ridiculous reigns supreme over all human life and tortures everyone without respite, and therefore it cannot be ignored because it's not about to ignore any of us. . . . He has in mind all those, including himself, who were left to pay the fool in one of history's many traveling circuses."—Charles Simic, The New York Review of Books
"Norman Manea's The Hooligan's Return, translated by Angela Jianu, is the first British edition of this superb memoir by one of Romania's greatest writers, now living in the US. Manea manages to be down-to-earth and at the same time magical in summoning up the surreal realities of life under the fascists, first, and then the unspeakable Ceausesucs."—John Banville, The New Statesman
Awarded Prix Médicis Etranger 2006
ISBN:
9780300197808
Publication Date:
October 22, 2013
400 pages, 5 x 7 3/4