The Music Libel Against the Jews
WARNING
You are viewing an older version of the Yalebooks website. Please visit out new website with more updated information and a better user experience: https://www.yalebooks.com
Ruth HaCohen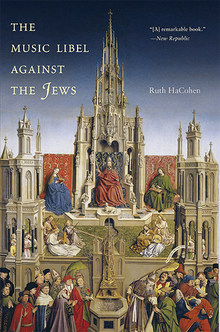 View Inside
Format:

Paper


Price:

$50.00
Also Available in:
Cloth
e-book
This deeply imaginative and wide-ranging book shows how, since the first centuries of the Christian era, gentiles have associated Jews with noise. Ruth HaCohen focuses her study on a "musical libel"—a variation on the Passion story that recurs in various forms and cultures in which an innocent Christian boy is killed by a Jew in order to silence his "harmonious musicality." In paying close attention to how and where this libel surfaces, HaCohen covers a wide swath of western cultural history, showing how entrenched aesthetic-theological assumptions have persistently defined European culture and its internal moral and political orientations.
Ruth HaCohen combines in her comprehensive analysis the perspectives of musicology, literary criticism,  philosophy, psychology, and anthropology, tracing the tensions between Jewish "noise" and idealized Christian "harmony" and their artistic manifestations from the high Middle Ages through Nazi Germany and beyond. She concludes her book with a passionate and moving argument for humanizing contemporary soundspaces.
Ruth HaCohen is Arthur Rubinstein Professor of Musicology at Hebrew University of Jerusalem.
Visit the Music Libel Against the Jews blog for the musical examples cited in the book and more!
"This book is path-breaking in the construct of its subject, brilliant in its theoretical framework, and original in its insight and use of diverse avenues of historical inquiry--music history, the history of anti-Semitism, the history of Jewish thought, and the interrelationship between politics and culture."—Leon Botstein, President of Bard College
"This is that rare book that combines historical sweep with a powerful thesis.  Ranging across multiple fields of inquiry (music, theology, literary criticism, aesthetics), it produces fresh revelations about the many figures it discusses along the way--among them J.S. Bach, Adam Smith, Lessing, Felix Mendelson, George Eliot, Wagner, and Schoenberg.  You don't have to be a musicologist to recognize the force of these bracing
arguments."—James Chandler, The University of Chicago
"Enormously creative and wide-ranging, this book's many modes-autobiographical, musical, literary, philosophical, historical-and vast chronological and disciplinary sweep make it a treasure of insights and interpretations. This is a book we will all be learning from for a long time."—David Nirenberg, The University of Chicago
"A brilliant, wide-ranging study of the uses and abuses of music in religious and political conflicts. Covering diverse musical traditions and media [Ruth] HaCohen provides an arresting critical account of centuries of Christian rejection of Jewish music as noise, and the responses to it."—Lydia Goehr, Columbia University
"Vocal Fictions of Noise and Harmony shows brilliantly how the drive to isolate Jews from Christians not only accompanies but in fact depends on the forced bifurcation of their aural worlds. Ruth HaCohen has written a revelatory book, an analytical and humane achievement that identifies her as the George Eliot of musicology."—Michael P. Steinberg, Brown University
 "[A] Remarkable book…Ruth HaCohen's words teach us a great deal."—David Nirenberg, The New Republic
"Groundbreaking."—James Loeffler, The New Republic
"[T]he book is well written, well indexed…should be a valuable addition to collections that deal with relations of Jews and non-Jews, as well as with music and religious life and sensibilities."—Religious Studies Review
"[The Music Libel against the Jews] stands on its own as a towering scholarly achievement. It will set the stage for a renewed intellectual focus on the aesthetics of Jewishness inside the sonic history of Western culture."—James Loeffler, University of Virginia
Winner of the Otto Kinkeldey Award for the most distinguished book in musicology published in 2012 given by the American Musicological Society.
Ruth HaCohen's Music Libel Against the Jews is the winner of the 2012 Polonsky First Prize in the research category for creativity and originality in the humanistic disciplines. The Polonsky Prizes are given to faculty at The Hebrew University.
Shortlisted for the 2012 Academy of Religion Book Awards in the Historical Study of Religion category.
ISBN:
9780300194777
Publication Date:
July 16, 2013
532 pages, 6 1/8 x 9 1/4
80 b/w + 9 color illus.