Another Country
WARNING
You are viewing an older version of the Yalebooks website. Please visit out new website with more updated information and a better user experience: https://www.yalebooks.com
German Intellectuals, Unification, and National Identity
Jan-Werner Müller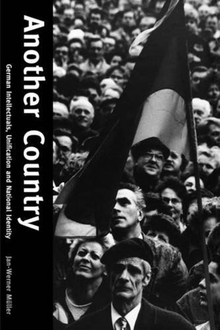 View Inside
Format:

Paper


Price:

$32.00
Also Available in:
Cloth
How did German intellectuals react to unification and how have they conceived the country's national identity and its new international position? This important book not only examines changing notions of nationhood and their complicated relationship to the Nazi past but also charts the wider history of the development of German political thought since World War II—while critically reflecting on some of the continuing blind spots among German writers and thinkers.

Jan-Werner Müller explains why many intellectuals reacted so defensively to unification and why unification plunged the Left in particular into a major crisis that is yet to be overcome. He analyzes the responses of Günter Grass, Jürgen Habermas, and others of the so-called skeptical generation, who broke with the tradition of the illiberal interwar intellectuals and reinvented themselves as a "democratic elite" who sought to transform political culture after the war—and tried to do so again after 1989. He discusses the German idea of "constitutional patriotism" as well as the antinationalism of the "generation of 1968," and provides the first full-scale analysis of Germany's "New Right." Written clearly and elegantly, the book assesses the acrimonious debates about the future of the nation-state and public memory in Germany and offers more general reflections on the role intellectuals can play in post-totalitarian societies.

Jan-Werner Müller is a fellow of All Souls College, Oxford, and has recently held a senior visiting fellowship at the Remarque Institute at New York University.

"The process of German reunification concealed a subterranean struggle for "cultural hegemony" among Germany's intellectual mandarins: Günter Grass, Jürgen Habermas, Karl Heinz Bohrer, and the antidemocratic German New Right. Jan-Werner Müller recounts this fascinating story with insight, imagination, and verve. His account is indispensable reading for anyone concerned with the contemporary peregrinations of the 'German ideology.'"—Richard Wolin, Distinguished Professor of History at the Graduate Center, City University of New York
"Müeller's important book gives us a useful roadmap for following the route that German intellectuals have taken in their quest for solutions."—Robert G. Moeller, American Historical Review
"[A] valuable study,…it will delight well-read graduate students and faculty engaging in the study and debate of these issues. It should become a benchmark for analysis of the intellectual vitality of the German Republic."—Choice
"This lucid and empathetic account examines West German intellectuals and their role in the debates over reunification and national identity."—Stanley Hoffman, Foreign Affairs
"Jan-Werner Müller's Another Country, on the other hand, provides a wonderfully lucid account, not only of Habermas's reactions to the strains of German reunification but of the relation between Habermas's views and those of his critics and allies."—Alan Ryan, New York Review of Books
. . . . [A] wonderfully lucid account. . . . of Habermas's reactions [and]. . . . the relation between Habermas's views and those of his critics and allies.
"Fascinating. . . . This ambitious book will provide food for thought for anyone concerned with the history of democracy in Germany since World War II, the role of public intellectuals in modern Europe, or the problematic status of national identity and citizenship in our supposedly post-national, global times."—Virginia Quarterly Review
[A] penetrating study of the German debates about unification. . . . A German-born historian who teaches at Oxford and a contributor to German papers, Mr. Muller is well placed to examine the curious mix of disbelief, denial and downright hysteria with which German intellectuals greeted the unification of their country. . . . [A] rich book."—Mark Lilla, Wall Street Journal











ISBN:
9780300190731
Publication Date:
October 1, 2000
322 pages, 6 1/8 x 9 1/4