The Spanish Civil War, the Soviet Union, and Communism
WARNING
You are viewing an older version of the Yalebooks website. Please visit out new website with more updated information and a better user experience: https://www.yalebooks.com
Stanley G. Payne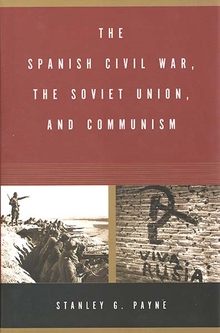 View Inside
Format:

Paper


Price:

$40.00
Also Available in:
Cloth
In this compelling book Stanley G. Payne offers the first comprehensive narrative of Soviet and Communist intervention in the revolution and civil war in Spain. He documents in unprecedented detail Soviet strategies, Comintern activities, and the role of the Communist party in Spain from the early 1930s to the end of the civil war in 1939.
Drawing on a very broad range of Soviet and Spanish primary sources, including many only recently available, Payne changes our understanding of Soviet and Communist intentions in Spain, of Stalin's decision to intervene in the Spanish war, of the widely accepted characterization of the conflict as the struggle of fascism against democracy, and of the claim that Spain's war constituted the opening round of World War II. The author arrives at a new view of the Spanish Civil War and concludes not only that the Democratic Republic had many undemocratic components but also that the position of the Communist party was by no means counterrevolutionary.
Stanley G. Payne is Hilldale-Jaume Vicens Vives Professor of History at the University of Wisconsin-Madison and the author of fourteen books.
A selection of the Conservative Book Club and the History Book Club

"Stanley Payne offers us the most masterful, judicious, and up-to-date treatment of Communism in Spain in the 1930s. And he makes a broader contribution to the history of Communism through his many remarkable political insights."—Michael Seidman, University of North Carolina at Wilmington
"With its thorough account of Spanish politics, this work will be welcomed by students and scholars of the Spanish Civil War as well as of Soviet foreign policy."—Victor Rosenberg, History: Reviews of New Books
"A complex and rich work, and certainly the best that has yet been produced on the Spanish Civil War."—New York Military Affairs Symposium Review
"Stanley G. Payne is the most important of English-speaking writers on the Spanish Civil War. His new book stands as the authoritative analytical work in English on that conflict. . . . No ordinary review can do justice to the importance of Mr. Payne's profoundly articulate and thought-provoking new book. . . . He has masterfully established the truth about the Spanish Civil War—that Stalin had his own agenda in the war, and that it had little or nothing to do with either Spanish history, the ideals of Spanish people, or democracy as we understand it."—Stephen Schwartz, The New York Sun
"There will never be a last word written about the Spanish Civil War, but Stanley G. Payne's encyclopedic volume . . . comes about as near to the last word as possible."—Arnold Beichman, The Washington Times
"Payne's book is a lucid and important reassessment of the great myth that the Spanish struggle was one of 'democracy versus fascism'."—Antony Beevor, Times Literary Supplement
"I cannot remotely do justice to Professor Payne's book in so brief a review. I constantly include his works in my bibliographies. He brings important data, writes clearly, and makes the best case that can be made for the conservative forces in Spain in the 1930s. . . . I highly recommend Payne's work to all readers interested in the Spanish Civil War, and also those of his admired mentor Burnett Bolloten."—Gabriel Jackson, The Journal of Military History
". . . It will prove to be a valuable addition to any syllabus for a seminar on Spanish civil war historiography."—William J. Chase, Slavic Review
"Packed with new information and supported by ample notes. . . . A first-class job of research."—Robert H. Whealy, The Historian
Winner of 2005 Marshall Shulman Book Prize, awarded each year by the American Association for the Advancement of Slavic Studies for an outstanding monograph dealing with the international relations, foreign policy, or foreign policy decision making of any of the states of the former Soviet Union or Eastern Europe
ISBN:
9780300178326
Publication Date:
April 15, 2011
418 pages, 6 x 9