Friendship in the Hebrew Bible
WARNING
You are viewing an older version of the Yalebooks website. Please visit out new website with more updated information and a better user experience: https://www.yalebooks.com
Saul M. Olyan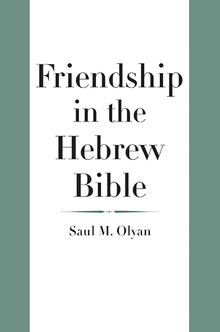 View Inside
Format:

Hardcover


Price:

$50.00
The first comprehensive study of friendship in the Hebrew Bible  

Friendship, though a topic of considerable humanistic and cross disciplinary interest in contemporary scholarship, has been largely ignored by scholars of the Hebrew Bible, possibly because of its complexity and elusiveness. Filling a significant gap in our knowledge and understanding of biblical texts, Saul M. Olyan provides this original, accessible analysis of a key form of social relationship. In this thorough and compelling assessment, Olyan analyzes a wide range of texts, including prose narratives, prophetic materials, psalms, pre-Hellenistic wisdom collections, and the Hellenistic-era wisdom book Ben Sira. This in-depth, contextually sensitive, and theoretically engaged study explores how the expectations of friends and family members overlap and differ, examining, among other things, characteristics that make the friend a distinct social actor; failed friendship; and friendships in narratives such as those of Ruth and Naomi, and Jonathan and David. Olyan presents a comprehensive look at what constitutes friendship in the Hebrew Bible.
Saul M. Olyan is the Samuel Ungerleider Jr. Professor of Judaic Studies and Professor of Religious Studies at Brown University, where he has taught since 1992. His books include Social Inequality in the World of the Text: The Significance of Ritual and Social Distinctions in the Hebrew Bible, Disability in the Hebrew Bible: Interpreting Mental and Physical Differences, and Biblical Mourning: Ritual and Social Dimensions.
"Saul Olyan has written a truly original work that not only opens up a new area in biblical studies, but creates a full-blown synthesis of the socio-literary field of biblical friendship."— Ronald Hendel, University of California, Berkeley
"Saul Olyan is one of the world's most consistently insightful scholars of the Hebrew Bible. Here he offers a study of friendship that will prove a helpful companion for anyone curious about what biblical texts reveal about the history of human relationships."—Steven Weitzman, University of Pennsylvania
"A learned yet affecting study of a much-overlooked topic by a world-class scholar.  Olyan brilliantly demonstrates how in the Hebrew Bible family and friends (and to a lesser extent, treaty partners) manifest similar behaviors. This comprehensive survey will become the standard work on the subject."—Mark S. Smith, Princeton Theological Seminary

"Through an insightful and sensitive reading of the vocabulary of friendship along with an astute analysis of its function in a variety of biblical passages, Olyan illuminates with striking clarity this important but oft-ignored concept."—Carol Meyers, Duke University
"Another groundbreaking study from one of the finest scholars in the field of biblical studies. With Olyan as our expert guide, we learn to rethink our assumptions not only about the biblical texts but also about what it means to be human."—Jacob L. Wright, Emory University

"Saul Olyan's book, masterfully investigated, is the first serious and comprehensive study of friendship in the Bible, a topic that has mostly been ignored by specialists. It offers new and unexpected insights and makes an important contribution to contemporary cross-cultural theories about friendship. A must read for students and scholars of the Bible."—Thomas Römer, Collège de France and University of Lausanne (Switzerland)
"[A]ccessible, concise, and nuanced . . . Friendship is a helpful resource for those interested in the topic of friendship in Antiquity, and what the Hebrew Bible in particular contributes to that picture."—Steven Schweitzer, Reading Religion
"A highly original and unquestionably important contribution to the growing literature on friendship."—Paul J. Wadell, Journal of the College Theology Society
"This long-awaited book reveals Saul Olyan at his best."—Jan Dietrich, Review of Biblical Literature
"Perceptive and intelligent . . . a model of clarity"—Gregory Mobley, AJS Review
"[Olyan] clearly shows that there is a fairly constant view of friendship across time and genres in the Hebrew Bible. The terse model of friendship in the wisdom literature takes on a complex, refined nature." —David M. Smiley, Bulletin for Biblical Research
"This book is a rich compilation of resources that merits close study and attentiveness."—Walter Brueggemann, Interpretation
ISBN:
9780300182682
Publication Date:
January 10, 2017
208 pages, 6 1/8 x 9 1/4