Modernist America
WARNING
You are viewing an older version of the Yalebooks website. Please visit out new website with more updated information and a better user experience: https://www.yalebooks.com
Art, Music, Movies, and the Globalization of American Culture
Richard Pells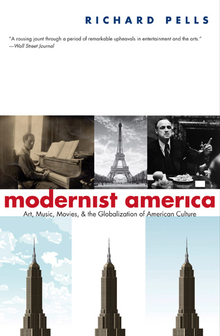 View Inside
Format:

Paper


Price:

$53.00
Also Available in:
Cloth
e-book
A revelatory new take on the long-held belief that America has dominated world culture

America's global cultural impact is largely seen as one-sided, with critics claiming that it has undermined other countries' languages and traditions. But contrary to popular belief, the cultural relationship between the United States and the world has been reciprocal, says Richard Pells. The United States not only plays a large role in shaping international entertainment and tastes, it is also a consumer of foreign intellectual and artistic influences.
Pells reveals how the American artists, novelists, composers, jazz musicians, and filmmakers who were part of the Modernist movement were greatly influenced by outside ideas and techniques. People across the globe found familiarities in American entertainment, resulting in a universal culture that has dominated the twentieth and twenty-first centuries and fulfilled the aim of the Modernist movement—to make the modern world seem more intelligible.
Modernist America brilliantly explains why George Gershwin's music, Cole Porter's lyrics, Jackson Pollock's paintings, Bob Fosse's choreography, Marlon Brando's acting, and Orson Welles's storytelling were so influential, and why these and other artists and entertainers simultaneously represent both an American and a modern global culture.
Richard Pells is professor of history emeritus at the University of Texas at Austin. He lives in Austin, TX.
"[T]here is much to enjoy here . . . a rousing jaunt through a period of remarkable upheavals in entertainment and the arts."—The Wall Street Journal
"Debates over high and low art, and the avant-garde vs. popular culture, rage throughout this absorbing volume."—Publishers Weekly
"Richard Pells's book leaps, lunges, gallops, and, once in a while, pirouettes its way toward something very close toa unified field theory of twentieth-century American culture."—Gene Seymour, Bookforum
"Pells has written a capacious, original, even compelling book...there is nothing like this in print."—Daniel Horowitz, Smith College
"Richard Pells was one of the first scholars to teach us the importance of looking beyond national boundaries in writing the history of American culture.  Now he has valuably extended that lesson in this rich, accessible study of modernism's transatlantic reach."—Joan Shelley Rubin, University of Rochester
"In his cosmopolitan study of American modernism, Richard Pells reveals the open borders for artistic work. With his impressive command of several art forms, high and popular, he illuminates the transnational circuitry of artistic borrowing and innovation."—Thomas Bender, author of New York Intellect
"Pells writes with grace and accessibility about big ideas, and he's a master of synthesizing disparate materials and figures, from Frank Lloyd Wright to Miles Davis to Robert Altman. This is among the most lively multidisciplinary arts studies I've ever read, especially in its focus on cross-pollination between the U.S. and other parts of the world." –Chris Vognar, Dallas Morning News Arts Blog
"An education in American modernism, this is also well-researched, thought-provoking, and uplifting analytical commentary on its cultural sources and universal influence."—Carol J. Binkowski, Library Journal, starred review
"Pells makes for a fine guide to the 20th century. His book is worth reading for the section on Hemingway alone – and for the blinding insight that the tics and twitches of Travis Bickle and Clyde Barrow and the other crazies of the American new wave owe a lot to Vivien Leigh's Blanche DuBois."—Christopher Bray, The Observer
"At times the account is revelatory, as it is poignant: the legions of fans who greeted the dazed band leader Benny Goodman on his arrival in Los Angeles in 1935, where, unbeknown to Goodman, due to the three hour time difference, his moderately successful late night radio slot in New York had become a weekly prime-time smash. The book is full of such gems."—Nick Liptrot, History Today
"By showing that American modernism emerged as part of an international artistic movement, Richard Pells provides an important contribution to the growing scholarly literature on the globalization of American culture."—Elaine Tyler May, author of  America and the Pill: A History of Promise, Peril and Liberation
"Pells serves as an engagingly interesting and learned guide . . . Pells' reading of American art, music, and movies is at its freshest and is most destabilizing of the easy generalities that we wrap around the products of American culture." —Daniel T. Rodgers, Reviews in American History
"[Pells'] book crackles with intellectual energy and showcases a formidable body of knowledge that leaps across all kinds of barriers. . . . Pells tackles big ideas in prose clear and accessible enough to make you forget you're reading an academic text. He can talk John Wayne and Igor Stravinsky. You could say he's a pretty modern guy." —Chris Vognar, Dallas Morning News
ISBN:
9780300181739
Publication Date:
June 12, 2012
512 pages, 6 1/8 x 9 1/4