Prisoners, Lovers, and Spies
WARNING
You are viewing an older version of the Yalebooks website. Please visit out new website with more updated information and a better user experience: https://www.yalebooks.com
The Story of Invisible Ink from Herodotus to al-Qaeda
Kristie Macrakis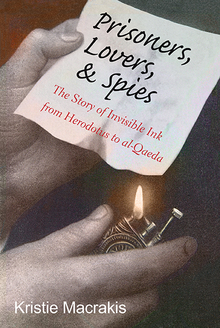 View Inside
Format:

Cloth


Price:

$27.50
Also Available in:
Paper
Out of Print
The first history of invisible ink revealed through thrilling stories about scoundrels and heroes and their ingenious methods for concealing messages.

Prisoners, Lovers, and Spies is a book about concealing and revealing secret communications. It is the first history of invisible writing, uncovered through stories about scoundrels and heroes. Spies were imprisoned or murdered, adultery unmasked, and battles lost because of faulty or intercepted secret communications. Yet, successfully hidden writing helped save lives, win battles, and ensure privacy; occasionally it even changed the course of history.

Kristie Macrakis combines a storyteller's sense of drama with a historian's respect for evidence in this page-turning history of intrigue and espionage, love and war, magic and secrecy. From the piazzas of ancient Rome to the spy capitals of the Cold War, Macrakis's global history reveals the drama and importance of invisible ink. From Ovid's advice to use milk for illicit love notes, to John Gerard's dramatic escape from the Tower of London aided by orange juice ink messages, to al-Qaeda's hidden instructions in pornographic movies, this book presents spellbinding stories of secret messaging that chart its evolution in sophistication and its impact on history. An appendix includes fun kitchen chemistry recipes for readers to try out at home.
Kristie Macrakis, the author or editor of five books, is professor of history, technology, and society at the Georgia Institute of Technology. Her other books include Surviving the Swastika and Seduced by Secrets. She lives in Atlanta, GA.
"For every person who experimented with secret inks in our youth, at last we have a splendidly written history of how these inks were developed and the role they played in history. As a bonus, in the Appendix is a useful guide to secret inks and 'kitchen chemistry experiments,' where the reader will find the secret formulas and instructions needed to make your messages disappear... and appear again! I enthusiastically recommend this book!"—H. Keith Melton, coauthor (with Robert Wallace) of Spycraft: The Secret History of the CIA's Spytechs, from Communism to al-Qaeda
"Prisoners, Lovers, and Spies is a thorough and interesting historical look at the origin and evolution of 'secret' or 'invisible' writing. The book is written in a very reader friendly, accessible style, making it suitable for a broad audience. The brief historical vignettes of individuals such as Kurt Frederick Ludwig and Madame Maria de Victorica and their use of invisible ink are light, breezy, and easily digested."—Allen Hornblum, author of Acres of Skin and The Invisible Harry Gold
"Kristie Macrakis here reveals long-hidden secrets of invisible ink, microdots, and other ways spies, lovers, generals, businessmen, and ordinary folk have concealed messages they didn't want others to read.  No one else has ever done this so well and so fully.  A tour de force!"—David Kahn, author of The Codebreakers
"Kristie Macrakis's fascinating, pathbreaking book shows how secret writing was developed by both lovers and spies (an exotic combination in the history of covert communication). Though nowadays widely regarded as child's play, in the world wars and Cold War of the twentieth century, secret writing remained, as Macrakis vividly demonstrates, a deeply serious business."—Christopher Andrew, Cambridge University
"Prisoners, Lovers & Spies captivates with its tales of early secret communication."—Suzy Spencer, KirkusReviews.com
"An utterly fascinating account . . . the author knows her territory. Read this book."—Joseph C. Goulden, Washington Times
"[Macrakis's] enthusiasm and appetite for her subject are infectious. She has produced a useful contribution to intelligence history, concluding with references to contemporary techniques such as DNA microdots in bacteria, unlocked by antibiotics, and some simple traditional SW recipes for the curious or the desperately secret."—Alan Judd, Literary Review
"Kristie Macrakis's Prisoners, Lovers & Spies is subtitled The Story of Invisible Ink from Herodotus to al-Qaeda, and this curious accoutrement of the spy's trade provides an immensely diverting overview of secret  and hidden writing, from lovers making clandestine assignations to Mata Hari providing information for her paymasters ad to details of terrorist operations hidden in pornography."—Barry Forshaw, Independent
"Kristie Macrakis's gripping study of secret writing in its hidden or invisible form is chiefly a history of espionage techniques, or what John le Carre used to call tradecraft."—Roger Lewis, Daily Mail
"Kristie Macrakis, an American historian of secrecy, has chosen a subject full of colour and humour."—Oliver Moody, Times
"A beguilingly informative and sweeping survey of hidden communication."—Nigel Jones, Spectator

"This book is packed with new information and written in an easy-flowing style."—Igor Lukes, Journal of Modern History

ISBN:
9780300179255
Publication Date:
March 25, 2014
392 pages, 5-1/2 x 8-1/4
32 b/w illus.