The Good Rich and What They Cost Us
WARNING
You are viewing an older version of the Yalebooks website. Please visit out new website with more updated information and a better user experience: https://www.yalebooks.com
Robert F. Dalzell, Jr.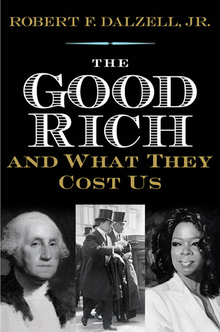 View Inside
Format:

Cloth


Price:

$56.00
Also Available in:
e-book
Is it possible for a democracy to include a tiny group of citizens who are vastly richer than the rest of us? What does that do to our cherished ideal of democratic equality?

This timely and provocative book addresses a great paradox at the core of the American Dream: a passionate belief in the principles of democracy combined with an equally passionate celebration of wealth. Americans treasure an open, equal society, yet we also admire those fortunate few who amass riches on a scale that undermines social equality. In today's era of "too big to fail" investment banks, "vulture capitalist" hedge fund managers, Internet fortunes, and a growing concern over inequality in American life, should we cling to both parts of the paradox? Can we?
To understand the problems that vast individual fortunes pose for democratic values, Robert Dalzell presents an intriguing cast of wealthy individuals from colonial times to the present, including George Washington, one of the richest Americans of his day, the "robber baron" John D. Rockefeller, and Oprah Winfrey, for all of whom extreme wealth is inextricably tied to social concerns. In the process Dalzell uncovers the sources of our contradictory feelings toward the very rich, how they have sought to be perceived as "the good rich," and the reality behind the widespread notion that wealth and generosity go hand in hand in America. Finally, in a thoughtful and balanced conclusion, the author explores the cost of our long-standing attitudes toward the rich.
Robert F. Dalzell, Jr., is Frederick Rudolph Professor of American History, Williams College. His previous books include The House the Rockefellers Built and Enterprising Elite. He divides his time among Williamstown, MA, New York City, and Sweden, ME.
"Among its many virtues, the book's timely message should have an impact on the current debate over wealth and inequality. . . . I much admire the author's ability to tell stories that force us to reconsider what wealth means without resorting to moral or Marxist outrage."—Mark Lytle, Bard College
"A fascinating and timely study."—Gordon S. Wood, Brown University   
 "This is an elegiac meditation, at once panoramic and intimate, on the paradox of great wealth in a democratic society.  As we grope our way through a second Gilded Age, Dalzell's book reminds us that we are living again a very old American story."—Joseph J. Ellis, author of Founding Brothers
"A timely reminder that money is neither good nor evil, but its uses reveal a lot about a person's choices and values."—Kirkus
ISBN:
9780300175592
Publication Date:
January 8, 2013
208 pages, 6 1/8 x 9 1/4
23 b/w illus.