Blood and Mistletoe
WARNING
You are viewing an older version of the Yalebooks website. Please visit out new website with more updated information and a better user experience: https://www.yalebooks.com
The History of the Druids in Britain
Ronald Hutton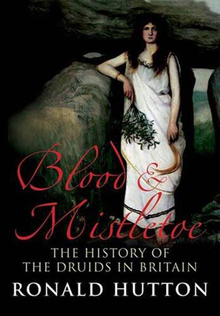 View Inside
Format:

Paper


Price:

$37.00
Also Available in:
Cloth
Paper
Crushed by the Romans in the first century A.D., the ancient Druids of Britain left almost no reliable evidence behind. Because of this, historian Ronald Hutton shows, succeeding British generations have been free to reimagine, reinterpret, and reinvent the Druids. Hutton's captivating book is the first to encompass two thousand years of Druid history and to explore the evolution of English, Scottish, and Welsh attitudes toward the forever ambiguous figures of the ancient Celtic world.
Druids have been remembered at different times as patriots, scientists, philosophers, or priests. Sometimes portrayed as corrupt, bloodthirsty, or ignorant, they were also seen as fomenters of rebellion. Hutton charts how the Druids have been written in and out of history, archaeology, and the public consciousness for some 500 years, with particular focus on the romantic period, when Druids completely dominated notions of British prehistory. Sparkling with legends and images, filled with new perspectives on ancient and modern times, this book is a fascinating cultural study of Druids as catalysts in British history.
Ronald Hutton is professor of history, University of Bristol, and the author of many books including Witches, Druids, and King Arthur and Debates in Stuart History. He lives in Bristol, UK.
"Written with great verve, this is a sparkling account of how the Druids were reinvented over the last four centuries."— Jeremy Black, BBC History Magazine
"Blood and Mistletoe is undoubtedly the most extensive and systematic account of its subject ever written . . . essential for any scholar interested in the way ideas about Druids have developed over the past 300 years."—William Whyte, Times Literary Supplement
"This is an ably researched and well-written book . . . Blood and Mistletoe is the saga of a miraculous transformation."—Peter Ackroyd, The Times
"All the difficult and contentious answers are now assembled in Ronald Hutton's erudite, humane and compelling study."—Rosemary Hill, Sunday Times
"My only regret is that although it extends to a quarter of a million words, it is not a few score thousand longer."—Tom Shippey, London Review of Books
"Should be a copy of this important, occasionally sensational and highly entertaining book in every Welsh library . . . Hutton's scholarship is not only breathtakingly thorough but also ruthlessly critical."—Timothy Mowl, Times Higher Education Supplement
"A vast, enthralling history of a mysterious cult."—The Independent
". . .engaging, learned, evenhanded, and abundantly rewarding book. . . .This is a substantial piece of work."—John Carey, Europe: Early Modern and Modern
`[A] densely erudite yet splendidly readable book... Worth reading.' — Michael Ostling, History Today,
"A magisterial and eminently readable account of the druids and how they have been continually reinvented over the last three hundred years by visionaries, political radicals, angry academics and downright fraudsters. Recommended reading for anyone who has driven down the A303 late at night, slowed down as they approached Stonehenge and wondered for a moment if the original druids really did process round those gigantic stones wreathed in mistletoe and clutching blood-stained knives!" - Tony Robinson
"Lucid, open-minded, encyclopaedic and yet still fascinating - almost perfect history if such a thing were possible." - Terry Jones
"Everything that is known about the druids plus everything that is known about knowing about them! Ronald Hutton uses the quest for the druids as a mirror of how Europeans have seen themselves through the last thousand years. It's an enormous undertaking performed with even-handedness and a sense of joy in history." - Terry Jones
"A tour-de-force."—Penny Billington, Druidry.org
"Beautifully written, lucidly argued, carefully illustrated, comprehensive. A scholarly delight."—Dr. Adam Stout, Reviews in History
"This is a book that every Druid ought to read."—Druidnetwork.com
Shortlisted for the 2009 Katherine Briggs Folklore Award
ISBN:
9780300170856
Publication Date:
May 24, 2011
528 pages, 6.02 x 9.21
32 b/w illus.