Sin
WARNING
You are viewing an older version of the Yalebooks website. Please visit out new website with more updated information and a better user experience: https://www.yalebooks.com
Gary A. Anderson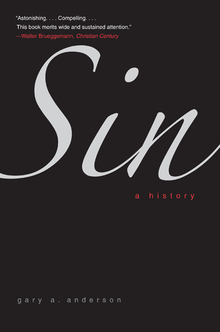 View Inside
Format:

Paper


Price:

$22.00
Also Available in:
Cloth
What is sin? Is it simply wrongdoing? Why do its effects linger over time? In this sensitive, imaginative, and original work, Gary Anderson shows how changing conceptions of sin and forgiveness lay at the very heart of the biblical tradition. Spanning nearly two thousand years, the book brilliantly demonstrates how sin, once conceived of as a physical burden, becomes, over time, eclipsed by economic metaphors. Transformed from a weight that an individual carried, sin becomes a debt that must be repaid in order to be redeemed in God's eyes.
Anderson shows how this ancient Jewish revolution in thought shaped the way the Christian church understood the death and resurrection of Jesus and eventually led to the development of various penitential disciplines, deeds of charity, and even papal indulgences. In so doing it reveals how these changing notions of sin provided a spur for the Protestant Reformation.
Broad in scope while still exceptionally attentive to detail, this ambitious and profound book unveils one of the most seismic shifts that occurred in religious belief and practice, deepening our understanding of one of the most fundamental aspects of human experience.
Gary A. Anderson is professor of Old Testament/Hebrew Bible in the Department of Theology at the University of Notre Dame.
"In this highly original study, Gary Anderson draws on a cornucopia of sources (biblical, patristic, rabbinic) to show how different metaphors, e.g. a weight on one's back or a debt to be paid, have shaped the development of Jewish and Christian understandings of sin. Though Anderson ranges far and wide, he never loses sight of the big picture."—Robert Louis Wilken, University of Virginia
"Anderson is developing a new approach to biblical theology, by probing the root metaphors for theological ideas, and tracing their interpretation in postbiblical Judaism and Christianity. This book is important not only for the history of sin, but also for the central theological idea of atonement. An important and original book."—John J. Collins, Holmes Professor of Old Testament, Yale University
"An extraordinary piece of detective work. Anderson shows how the central way of representing—and conceiving of—sin changed dramatically within biblical times, and how this change in turn came to be elaborated in later Judaism and Christianity. This is an extremely important, indeed, mind-changing book for anyone interested in the history of these two religions."—James Kugel, Harvard University
"In an age of psychobabble and 'my bad,' Gary Anderson provides a scholarly, insightful, and needed reminder that 'sin' has been a crucial idea in humanity's moral self-understanding for millennia. 
Anderson is a master of sources and a gifted writer, ranging widely and knowledgeably over Jewish and Christian biblical and theological materials. A most impressive contribution to the recovery of the moral ballast of our culture."—George Weigel, Ethics and Public Policy Center, Washington, DC
"In addition to the valuable textual studies that make it a great resource for biblical students, Sin: A History appeals to a broader audience in the way it shows the relation of a particular understanding of sin to the meaning we give to associated concepts, such as atonement, penance, punishment, forgiveness, virtue and God."—Richard M. Gula, America
"Wonderful and surprising . . . a significant contribution both to scriptural interpretation and to theology proper, and an object lesson in how to do both well. . . . [
Anderson] brings the traditions he interprets alive and shows how Christianity and Judaism each provides a thread in a single figural fabric."—Commonweal
"Gary Anderson argues in Sin: A History that debt and payment belong to the deep grammar of sin and salvation in the Bible: an utterly basic scriptural element in Jewish and Christian liturgy, devotion, and tradition. If he's right, then several strands of recent theology are out of touch with Scripture."—Bruce D. Marshall, First Things
"Astonishing . . . compelling. . . . This book merits wide and sustained attention. . . . There are few books available that offer as many generative insights as this one."—Walter Brueggemann, Christian Century
"Impressive . . . powerfully reasoned and compelling."—Peter Lopatin, Commentary
"Scholarship at its best . . . well-argued insights and lively prose. . . . Highly recommended."—Choice
"What Anderson accomplishes in this deceptively simple book is truly remarkable, not only in tracing the history of a generative metaphor for sin and its extraordinary consequences for theology and the religious life but also in demonstrating how much conceptual common ground exists between and Christian thought and among the Orthodox, Catholic, and Protestant versions of Christianity. . . . It is altogether irresistible to conclude by saying that scholarship is deeply indebted to Anderson for his excellent inquiry into the history of sin and that it is to his credit that he has presented the results of his scholarly research in such an accessible fashion."—Carol A. Newsom, Harvard Theological Review
"Anderson tears down artificial barriers that separate historical, philoligical, descriptive scholarship on the one side from constructive theology and inter-religious dialogue on the other."—Benjamin D. Sommer, Harvard Theological Review
"Anderson's clear concise writing and solid line of argumentation on the history of sin as a debt is to be highly commended to students, scholars, and libraries as a valuable and insightful addition."—Theodore James Whapham, Catholic Books Review
"One of those rare volumes that charts new territory, that speaks new wisdom . . . fascinating . . . [and] as gripping as a detective novel."—Nicola Hoggard Creegan, Colloquium

"[A] penetrating analysis."—Micah D.
Kiel, Journal of Hebrew Scriptures
"Anderson attends to close textual, philogical, and historical matters with a keen insight for theological implications that is almost unmatched in the guild today. . . .This book's acumen, clarity, and penetrating analysis make it a must read for all biblical scholars who are in any way interested in the connection between texts and theology. It is commendable not only for its own argument, but also as a model for how crticial exegesis of biblical texts may be brought to bear on modern, pressing theological issues."—Micah D. Kiel, Journal of Hebrew Scriptures
"This book is one of those rare volumes that charts new territory, that speaks new wisdom concerning the essence of whatever it might mean that God saves us. . . . The book will be of immense interest to all Christian theologians, as well as to students and pastors. . . . It may do no less than transform our understanding of sin and of redemption. . . . The writing is lucid and learning and alluring."—Nicola Hoggard Creegan, Colloquium

"This slender volume, bearing the author's wide learning with a rare grace, addresses a significant question in Jewish and Christian thought, one with far-reaching implications for theology, ethics, and the church's work. . . . [Anderson's] work offers a learned, and in many ways spiritually liberating, alternative to both evangelical and liberal views of sin and justification while taking human obligation seriously."—Restoration Quarterly
"Anderson is entirely successful in demonstrating the significance of metaphor in shaping thoughts and actions in relation to sin and especially the importance of the debt metaphor in early Judaism and Christianity. Equally impressive in this book is the way that Anderson takes complex issues and presents them in a way that is entirely accessible to a more general audience. Such an achievement is exceedingly rare in biblical and Second Temple studies. . . . In sum, Sin: A History is erudite, informative, and accessible."—Jeffrey Stackert, The Journal of Religion
"At times Anderson's insights are breathtaking . . . This book might—and should—have enormous impact on theology."—James F. Keenan, Theological Studies
Winner of the 2010 Christianity Today Book Award in the Biblical Studies category sponsored by Christianity Today International
Selected as a Choice Outstanding Academic Title for 2010 in the Religion category
ISBN:
9780300168099
Publication Date:
August 31, 2010
272 pages, 6 1/8 x 9 1/4