The Gates of Hell
WARNING
You are viewing an older version of the Yalebooks website. Please visit out new website with more updated information and a better user experience: https://www.yalebooks.com
Sir John Franklin's Tragic Quest for the North West Passage
Andrew Lambert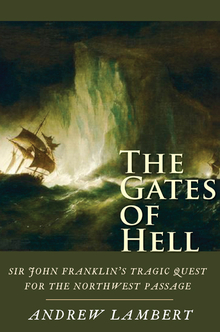 View Inside
Format:

Paper


Price:

$22.00
Also Available in:
Cloth
e-book
From one of our foremost naval historians, the compelling story of the doomed Arctic voyage of the HMS Erebus and the HMS Terror, commanded by Captain Sir John Franklin.

Andrew Lambert, a leading authority on naval history, reexamines the life of Sir John Franklin and his final, doomed Arctic voyage. Franklin was a man of his time, fascinated, even obsessed with, the need to explore the world; he had already mapped nearly two-thirds of the northern coastline of North America when he undertook his third Arctic voyage in 1845, at the age of fifty-nine.
His two ships were fitted with the latest equipment; steam engines enabled them to navigate the pack ice, and he and his crew had a three-year supply of preserved and tinned food and more than one thousand books. Despite these preparations, the voyage ended in catastrophe: the ships became imprisoned in the ice, and the men were wracked by disease and ultimately wiped out by hypothermia, scurvy, and cannibalism.
Franklin's mission was ostensibly to find the elusive North West Passage, a viable sea route between Europe and Asia reputed to lie north of the American continent. Lambert shows for the first time that there were other scientific goals for the voyage and that the disaster can only be understood by reconsidering the original objectives of the mission. Franklin, commonly dismissed as a bumbling fool, emerges as a more important and impressive figure, in fact, a hero of navigational science.
Andrew Lambert, Ph.D., is Laughton Professor of Naval History in the Depart­ment of War Studies at King's College, London, and a Fellow of the Royal Historical Society. He wrote and presented the 2004 BBC television series War at Sea.
''Andrew Lambert has written another brilliant piece of research combined with old-fashioned detective work. Franklin is a heart-breaking journey through unwarranted hope and avoidable despair and yet utterly compelling.''—Amanda Foreman, author of The Duchess
". . .an insightful, provocative, and very stimulating work."—Gary Weir, Chief Historian, National Geospatial-Intelligence Agency
"Historian Lambert . . . presents a rigorously researched examination of Franklin's life and work as a scientist, naval officer, explorer, and British colonial governor of Tasmania. . . . Lambert successfully uses extensive historical evidence to reveal Franklin's admirable leadership abilities and makes a compelling case for his view that the main purpose for the Franklin expedition was to further long-running British scientific research on the earth's magnetic field, and not just to attempt to locate the Northwest Passage."—Ingrid Levin, Library Journal
"Well-reasoned and amply documented...engagingly energetic...Lambert gives us a new way of looking at Franklin, his life, and his death."--Anne Morton, International Journal of Maritime History
"The extensively researched Gates of Hell is nonetheless valuable for its many provocative connections between Franklin, his circle, the scientific quest for data on magnetism, British imperial aspirations, and Artic voyages. . . . [A] vivid picture of the intertwined personal, political, and scientific ambitions of the men involved."—Jen Hill, Victorian Studies
ISBN:
9780300167887
Publication Date:
January 25, 2011
456 pages, 5 13/16 x 9
8 color illus.

---
Sales Restrictions: For sale in United States only