The Fall and Rise of the Stately Home
WARNING
You are viewing an older version of the Yalebooks website. Please visit out new website with more updated information and a better user experience: https://www.yalebooks.com
Peter Mandler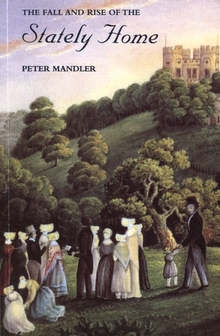 View Inside
Format:

Paper


Price:

$58.00
Also Available in:
Cloth
How much do the English really care about their stately homes? In this pathbreaking and wide-ranging account of the changing fortunes and status of the stately homes of England over the past two centuries, Peter Mandler melds social, cultural, artistic, and political perspectives and reveals much about the relationship of the nation to its past and its traditional ruling elite. Challenging the prevailing view of a modern English culture besotted with its history and its aristocracy, Mandler portrays instead a continuously changing and modernizing society in which both popular and intellectual attitudes toward the aristocracy—and its stately homes—have veered from selective appreciation to outright hostility and only recently to thoroughgoing admiration.

With great panache, Mandler adds the missing pieces to the story of the country house. Going beyond its architects and its owners, he brings to center stage a much wider cast of characters—aristocratic entrepreneurs, anti-aristocratic politicians, campaigning conservationists, ordinary sightseers and voters—and a scenario full of incident and local and national color. He traces attitudes toward the stately homes, beginning in the first half of the nineteenth century when public feeling about the aristocracy was mixed and divided. Criticism of the "foreign" and "exclusive" image of the typical aristocratic country house was widespread. At the same time, interest grew in those older houses that symbolized an olden time of imagined national harmony. The Victorian period also saw the first mass tourist industry, and a strong popular demand emerged for the right to visit all the stately homes. By the 1880s, however, hostility toward the aristocracy made appreciation of any country house politically treacherous, and interest in aristocratic heritage declined steadily for sixty years. Only after 1945, when the aristocracy was no longer seen as a threat, was a gentle revival of the stately homes possible, Mandler contends, and only since the 1970s has that revival become a triumphant appreciation. He enters today's debate with a discussion of how far people today—and tomorrow—are willing to see the aristocracy's heritage as their own.

Peter Mandler is reader in modern history at London Guildhall University.

"This marks a new 1990s genre of sophisticated commentaries on pleasure . . . among the most original books of 1997."—Jackie Wullschlager, Financial Times
"A fascinating story of the ascent of the English estate in the Victorian period, the derision and neglect they experienced in the Edwardian age, and, ultimately, their restoration in the present era. . . . Mandler writes like a dream. . . . Excellent reading."—Library Journal
"A superb book, which I read as a revelation….Here is a panorama that sweeps from the Regency to the present day….a fascinating and totally absorbing story well told."—Roy Strong, The Times (London)
"[The Fall and Rise of the Stately Home] is a valuable contribution to the history of heritage, a timely reminder that heritage is one thing and history another."—David Cannadine, Independent on Sunday
"Its scholarship is immense, and it shows. Mandler has researched into every conceivable corner."—Brian Masters, The Mail on Sunday
"A detailed and critical account of the entire history-from the mid-eighteenth century until today-of the effort to preserve England's stately homes heritage from the ravages of time, poverty and class-envy."—Paul Johnson, Sunday Telegraph
"Indispensable for students of the history of twentieth-century institutions concerned with 'the heritage' and of their complex relationship with governments of different shades, as complex as those of the relationships, often fragile, of house owners with the Treasury, each with a separate story behind it."—Asa Briggs, Times Higher Education Supplement
"Mandler is always clear and readable, and frequently entertaining, as he moves effortlessly from the eccentricities of dukes to the complexities of finance and legislation."—Mark Girouard, Spectator
"It is difficult to praise this book too highly. One need say nothing about the high 'production values' of a glossy tome with more than one-hundred illustrations, for that nowadays seems to be par for the course form Yale University Press. The writing itself is scholarly but never dull, profound but never desiccated, complex but always lucid. The author is more firmly within the idiom of Victorian culture and its nuances than any recent writer I can remember and has marshaled a remarkable array of facts and theoretical perspective to make his work a definitive study. Ranging from archives to the Public Record Office to cartoons in Punch, he has produced a little interdisciplinary classic."—Frank McLynn, The Herald (Glasgow)
"Mandler's book explains it all."—Colin Baillieu, Architects' Journal
"The book is packed with scholarly yet generally accessible information complemented by some sumptuous illustrations. There are paintings, reproductions from old magazines, posters, satirical cartoons and photographs. Much of the research is published here for the first time, and it's fascinating reading. . . . This book will be enjoyable reading for anyone with an appreciation of the history and role of the stately home in English life. . . . A fascinating account of the ups and downs of some of the most beautiful buildings in our county."—Antiques Bulletin
"In a wonderful study, Mandler subtly traces changes in our attitudes to country houses from the 19th-century attack on aristocratic privilege to the modern market-driven heritage industry. Not only does his splendid account show how the supposed 'tradition' of the country house 'hardly existed before the mid 20th century', it is an original and stimulating history of taste, class and attitudes to the past over more than a century."—Kevin Sharpe, London Sunday Times
"A scrupulously historical account of changing attitudes towards the English country house."—Charles Saumarez Smith, The Observer
"In the eyes of many commentators, the popular interest in country-house visiting symbolizes everything that is wrong with modern Britain . . . one of the many merits of Mandler's superb study is that it utterly demolishes these assumptions."—Keith Thomas, London Review of Books
"[This book] is stimulating—indeed deliberately provocative. . . . Mandler's approach is certainly refreshing."—Giles Worsley, Times Literary Supplement
"Mandler's work is well written, amply illustrated, and offers much to anyone interested in British heritage and preservation, social history, or architecture and art, all of which are well woven together in this rich and comprehensive history."—Susan Paton Pyecroft, History: Reviews of New Books
"This serious and complex comprehensive survey of taste and popular culture is also full of gems."—Landscape Architecture
"As a textbook for students of history (of all kinds) and museology??, this book is to be recommended as it provides a useful and engaging base for debate, as well as an example of how important a broad context is in the interpretation of an apparently narrow topic."—Lesley Miller, Journal of Design History
"It is copiously illustrated, and the illustrations in the last part have been chosen with a neat sense of humor. The book is well-researched, and Mandler's foray into cultural history is happily free of the oddities marking some recent cultural works."—Albion
"Peter Mandler has done a masterful job in examining England's long-standing and complex relationship between its stately homes and its people."—Nancy LoPatin, Journal of Social History
"A rich and fascinating book."—David Cast, Journal of the Society of Architectural Historians
"[Mandler] provide[s] a pioneering synthesis of the changing ways in which the English country house has been viewed and treating in the course of the past two centuries. The result is a fascinating compound of cultural, aesthetic, social, and political history."—Walter L. Arnstein, Journal of Modern History
"In his long and meticulously researched book, Peter Mandler demonstrates that conventional assumptions about country house visiting in the nineteenth century are somewhat misleading. . . . Beautifully produced, well illustrated and smoothly written."—Geoffrey Tyack, Victorian Studies
"Mandler's sophisticated argument and conclusions are solidly grounded in exhaustive and impeccable research."—David Lowenthal, Journal of Historical Geography
ISBN:
9780300078695
Publication Date:
June 10, 1999
534 pages, 6 1/4 x 9 1/4
105 b/w illus.