The Talking Book
WARNING
You are viewing an older version of the Yalebooks website. Please visit out new website with more updated information and a better user experience: https://www.yalebooks.com
African Americans and the Bible
Allen Dwight Callahan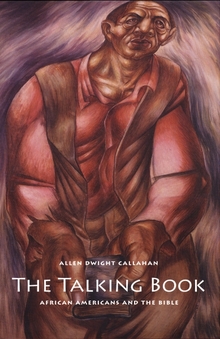 View Inside
Format:

Paper


Price:

$20.00
Also Available in:
Cloth
"A marvelous exploration of how the Bible has shaped African-American religion and culture" (Daniel J. Harrington, America), from the early days of slavery to the present

"This is a landmark book. I am not aware of any book in print that draws so many telling conclusions about African Americans and the Bible."—Mark A. Noll, University of Notre Dame

The Talking Book casts the Bible as the central character in a vivid portrait of Black America, tracing the origins of African-American culture from slavery's secluded forest prayer meetings to the bright lights and bold style of today's hip-hop artists.

The Bible has profoundly influenced African Americans throughout history. From a variety of perspectives this wide-ranging book is the first to explore the Bible's role in the triumph of the black experience. Using the Bible as a foundation, African Americans shared religious beliefs, created their own music, and shaped the ultimate key to their freedom—literacy. Allen Callahan highlights the intersection of biblical images with African-American music, politics, religion, art, and literature.

The author tells a moving story of a biblically informed African-American culture, identifying four major biblical images—Exile, Exodus, Ethiopia, and Emmanuel. He brings these themes to life in a unique African-American history that grows from the harsh experience of slavery into a rich culture that endures as one of the most important forces of twenty-first-century America.
Allen Dwight Callahan is director of the Instituto Martin Luther King, Jr. in Salvador, Brazil.
"We have waited a long time for this text, but it has been well worth it. Callahan does a masterful job of unpacking the various ways in which biblical texts and images have served as vital resources for the expression of African American thought and life. Anyone interested in the ways in which African Americans have used the 'sacred book' to explore and explain the various dimensions and nuances of life in the United States, will find this book a powerful resource. This book represents Callahan at his best. I highly recommend it."—Anthony B. Pinn, Rice University
"This searing interpretation of ongoing conversations between African Americans and the Bible probes the deepest theological and ethical questions of an amazing company of saints and sages, artists and authors, prophets and preachers. Without question, Callahan's brilliant analysis has established a new benchmark for the study of African American religion and biblical hermeneutics."—Cheryl J. Sanders, Howard University
"A powerful and evocative telling of the dynamic interpretation of the Bible in the African American community, a story that will jolt any reader into a fresh understanding and appreciation of Scripture."—Harvey Cox, author of When Jesus Came to Harvard
"This is a landmark book. I am not aware of any book in print that draws so many telling conclusions about African Americans and the Bible."—Mark A. Noll, University of Notre Dame
"In a single volume, the author takes his readers on a quest to find the heart of African-American imagination about and fascination with the Bible, from slavery to the present."—Abraham Smith, Southern Methodist University
 

"A fascinating excursion through many genres of African-American culture, as varied as spirituals and hip hop, sermons and the visual arts."—Leslie Callahan, University of Pennsylvania

 



"In this informative academic volume, Callahan examines how the music and literature of black Americans are shot through with biblical images. . . . From W.E.B. Du Bois to Toni Morrison, black writers have invoked Jesus to signify 'the suffering of black people.' Callahan's investigations will doubtless interest students of African-American religion."—Publishers Weekly
"A powerful look at the intersection of religion and African American culture."—Booklist
"Callahan's remarkable book describes the rich and intense relationship between the Bible and the African-American imagination. But even more powerfully, it suggests—without making the case directly—that the reading of the Christian tradition offered by African-Americans is as close as any to the authentic meaning of Christianity."—E. J. Dionne Jr., Houston Chronicle
"Conjoined to specific historical, sociopolitical, and cultural motifs, the author's analysis offers bold new interpretations of how African Americans have responded to and critiqued their environment via the Bible. Eminently readable, this exceptional work calls readers to celebrate anew the relevance of the Good Book. Highly recommended."—Choice
"A marvelous exploration of how the Bible has shaped African-American religion and culture."—Daniel J. Harrington, America
"The Talking Book...is a passionate and beautiful meditation from a black New Testament scholar on the African American reception of (nearly) all-Jewish narrative about losers ending up as winners." ---David Martin, Times Literary Supplement
"Callahan is to be applauded for offering an extended meditation on the centrality of the Bible in African American culture. His book is worldly, far-ranging, and even prophetic."—John M. Giggie, The Register of the Kentucky Historical Society
Selected as an Outstanding Academic Title for 2007 by Choice Magazine
ISBN:
9780300136166
Publication Date:
April 1, 2008
304 pages, 6 1/8 x 9 1/4