Does American Democracy Still Work?
WARNING
You are viewing an older version of the Yalebooks website. Please visit out new website with more updated information and a better user experience: https://www.yalebooks.com
Alan Wolfe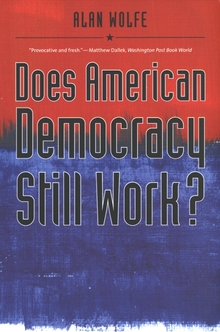 View Inside
Format:

Paper


Price:

$28.00
Also Available in:
Cloth
Why Americans should be concerned about recent changes in their democracy

The past few decades have brought a shift in the nature of American democracy—an alarming shift that threatens such liberal democratic values as respect for pluralism, acceptance of the separation of powers, and recognition of the rights of opposition parties. In this insightful book, political scientist Alan Wolfe identifies the current political conditions that endanger the quality of our democracy. He describes how politics has changed, and he calls for a democracy protection movement designed to preserve our political traditions not unlike the environmental protection movement's efforts to safeguard the natural world. Voters who know little about issues, leaders who bend rules with little fear of reprisal, and political parties that are losing the ability to mobilize citizens have all contributed to a worrisome new politics of democracy, Wolfe argues. He offers a brilliant analysis of how religion and morality have replaced political and economic self-interest as guiding principles, and how a dangerous populism promotes a radical form of elitism. Without laying blame on one party or ideology and without claiming that matters will improve with one party or the other in office, Wolfe instead suggests that Americans need to understand the danger their own indifference poses and take political matters more seriously.
Alan Wolfe is professor of political science and director of the Boisi Center for Religion and American Public Life, Boston College.

"In Does American Democracy Still Work? Wolfe revives the lost art of eloquent and judicious generalization. With deft analysis and elegant, economical and aphoristic prose, this book is a joy to read, even given the heartbreaking nature of its revelations. Assertions I found arguable were still clearly and fairly expressed. It's an indispensable book for this political moment, and may very well turn out to be a political classic."—William S. Kowinski, San Francisco Chronicle
"Wolfe is the most interesting public intellectual in the country. His disturbing book provides rich food for thought about the future of our polity."—Sanford Levinson, University of Texas Law School


"Alan Wolfe is an important scholar of American society as well as a major public intellectual. He is incapable of writing a dull or irrelevant book."—William Galston, Senior Fellow, Governance Studies Program, Brookings Institution


"Alan Wolfe has written a terse, highly critical book on the ways that American democracy works—and does not work. Above all, he urges that Americans become more politically engaged."—James T. Patterson, Brown University


"Alan Wolfe, always a keen analyst of the American scene, presents a compelling and often passionate account of how to restore genuine democracy in America."—Howard Gardner, author of Changing Minds
"Alan Wolfe, a committed democrat, with a small 'd,' has written a searing account of the state of American democracy. The growth of cultural populist politics and growing partisan polarization and unity has created an unaccountable government. He brings home the stakes in our elections; not just which party governs but whether we revive our liberal democracy."—U.S. Representative Rosa L. DeLauro
"A startling, devastating critique of contemporary American democracy from one of the country's most measured and respected social and political thinkers."—Thomas E. Mann, Brookings Institution
"Alan Wolfe argues that while the extent of American democracy has increased greatly, its quality has declined notably in recent decades. His book, Does American Democracy Still Work?, will be widely read, ardently debated, and highly influential."—Martin Shefter, Cornell University

"Provocative."—Richmond Times Dispatch
"With deft analysis and elegant, economical, and aphoristic prose, this book is a joy to read. . . . It's an indispensable book for this political moment, and may very well turn out to be a political classic."—William S. Kowinski, SFGate.com
"Wolfe's urgency is compelling."—Atlantic Monthly
"Alan Wolfe faces manfully up to the 'new politics of democracy' in which sentimental populism seems to be owned by the right. . . . He manages to make his argument for more 'quality control' in American democracy in ideologically neutral terms."—Michael Kinsley, New York Times Book Review
"In a readable style [this book] presents a balanced summary of a number of recent scholarly studies on American politics and explains how both Democrats and Republicans cultivate this new politics. . . . This book is helpful. Wolfe names our problems, tracks social and political changes, documents results and suggests future scenarios. . . . The book is filled with delightful quotations that ought to find their way into sermons."—Christian Century
"Wolfe's thesis that our civic life has been degraded by cultural warriors armed with populist bazookas is provocative and fresh. By weaving together the findings of political scientists with journalistic observations about the Iraq War and other developments, he shows that the franchise is not the only gauge of democracy's performance and captures the ways in which conservative Republicans have fostered an opaque, unjust, unrepresentative political system in recent years. He hyperbolically depicts ordinary people as lazy, naive voters and conservative ideas as the "politics of fantasy" seeking to 'return . . . to the nineteenth century.' In the end, Wolfe's argument that a toxic brew of right-wing populism and moralistic politics has riven the nation and made it more difficult for American leaders to address public problems is convincing."—Matthew Dallek, Washington Post Book World
Winner of the Bronze ForeWord Magazine Book of the Year Award in Political Science
Selected as a 2007 Association of American University Presses (AAUP) University Press Book for Public and Secondary School Libraries.
ISBN:
9780300126105
Publication Date:
September 28, 2007
224 pages, 5 1/2 x 8 1/4
1 b/w illus.