Asian Art History in the Twenty-First Century
Edited by Vishakha N. Desai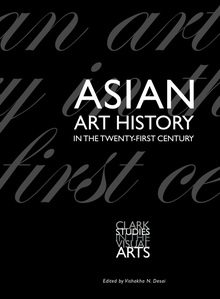 View Inside
Format:

Paper


Price:

$24.95
With essays by Frederick M. Asher, Melissa Chiu, John Clark, Gao Shiming, Yukio Lippit, Saloni Mathur, Kaja M. McGowan, Rana Mitter, Alexandra Munroe, Jerome Silbergeld, Kavita Singh, Nancy S. Steinhardt, Akira Takagishi, and Gennifer Weisenfeld
Since its beginnings in the early 1900s, the study of Asian art has dramatically changed and has constantly been shaped by shifting world politics. Asian Art History in the Twenty-First Century explores the field of Asian art and its historiography, tensions, and possible future directions. It features essays by fourteen leading authors specializing in Chinese, East Asian, Indian, and Japanese art history. They consider what is meant by the term "Asian art"; how it is manifested in museums, exhibitions, and galleries; and how it should be understood in relation to shifting geopolitics. Among the many fascinating topics discussed are the Zen portrait in medieval Japan, the influence of Asian art on American art, and public art and memory of war in contemporary China. The authors also consider what new theoretical structures must be created to suit the realities of the twenty-first century and Asian art today.
Vishakha N. Desai is president of the Asia Society, New York.
ISBN:
9780300125535
Publication Date:
March 11, 2008
Publishing Partner:
Distributed for the Sterling and Francine Clark Art Institute, Williamstown, Massachusetts
272 pages, 7 1/2 x 9 1/2
73 b/w illus.