Butterfly's Sisters
The Geisha in Western Culture
Yoko Kawaguchi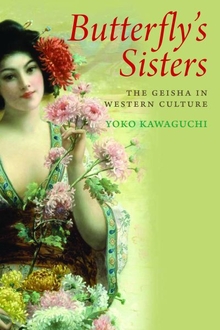 View Inside
Format:

Cloth


Price:

$55.00
In this fascinating and wide-ranging book, Yoko Kawaguchi explores the Western portrayal of Japanese women—and geishas in particular—from the mid-nineteenth century to the present day. She argues that in the West, Japanese women have come to embody certain ideas about feminine sexuality, and she analyzes how these ideas have been expressed in diverse art forms, ranging from fiction and opera to the visual arts and music videos. Among the many works Kawaguchi discusses are the art criticism of Baudelaire and Huysmans, the opera Madama Butterfly, the sculptures of Rodin, the Broadway play Teahouse of the August Moon, and the international best seller Memoirs of a Geisha. Butterfly's Sisters also examines the impact on early twentieth-century theatre, drama, and dance theory of the performance styles of the actresses Madame Hanako and Sadayakko, both formerly geishas.
Yoko Kawaguchi has written and lectured on many aspects of Japanese culture, including garden design, costume, and drama.
"This is a book to savour for the light it casts on an aspect of Japan that for so long simultaneously attracted and repelled the West."—Lee Langley, The Spectator
"Well researched, wide-ranging, lucidly written and occasionally laugh-out-loud funny."—Lesley Downer, Literary Review
"In fascinating detail, and with impressive depth in both Japanese and Western sources, Kawaguchi connects the history of Geisha, courtesans and prostitutes in Japan with the various ways in which they have been conflated by Westerners with political, social and artistic agendas of their own…..[a] beautifully written book."—Liza Dalby, Times Literary Supplement
"An outstanding book…Kawaguchi has written as insightful, sensitive, and thought provoking a book as one is ever likely to encounter on rlations across cultures and between genders."—Choice
Selected as a Choice Outstanding Academic Title for 2011 in the Social and Behavioral Sciences category.
ISBN:
9780300115215
Publication Date:
November 30, 2010
336 pages, 6 1/8 x 9 1/4
32 b/w illus.