Perilous Glory
WARNING
You are viewing an older version of the Yalebooks website. Please visit out new website with more updated information and a better user experience: https://www.yalebooks.com
The Rise of Western Military Power
John France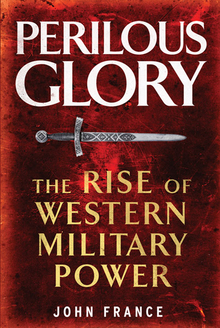 View Inside
Format:

Cloth


Price:

$40.00
Also Available in:
Paper
Out of Print
A major new history of war that challenges our understanding of military dominance and how it is achieved

This expansive book surveys the history of warfare from ancient Mesopotamia to the Gulf War in search of a deeper understanding of the origins of Western warfare and the reasons for its eminence today. Historian John France explores the experience of war around the globe, in Europe, Asia, Africa, and America. His bold conclusions cast doubt on well-entrenched attitudes about the development of military strength, the impact of culture on warfare, the future of Western dominance, and much more.
Taking into account wars waged by virtually all civilizations since the beginning of recorded history, France finds that despite enormous cultural differences, war was conducted in distinctly similar ways right up to the Military Revolution and the pursuit of technological warfare in the nineteenth century. Since then, European and American culture has shaped warfare, but only because we have achieved a sense of distance from it, France argues. He warns that the present eminence of U.S. power is much more precarious and accidental than commonly believed. The notion that war is a distant phenomenon is only an illusion, and our cultural attitudes must change accordingly.
John France is professor emeritus, Department of History and Classics, Swansea University. He lives in Swansea, UK.
'An ambitious book, written with vigour and assertiveness.' - Hew Strachan, author of The First World War
'In this magnificent work, one of the great military historians of our time surveys the conduct of warfare from antiquity to the present. John France is as much at home among the hoplites of Greece as he is on the modern battlefields of Afghanistan. With a potent mixture of erudition, wisdom, and wit, this book applies the lessons of our past to the real challenges of our troubled present. It shines a bright ray of light on the history of warfare, letting us see clearly what it is, and just as importantly, what it is not.' - Thomas F. Madden, author of Empires of Trust: How Rome Built - and America Is Building - a New World
"This is an outstanding work—the best response to date to Victor Davis Hanson's Carnage and Culture. Offering a global perspective and tour de force juxtapositions of different military cultures through the ages, France's concluding analysis of the 'new age of war' that has emerged since 1945 is eloquent and perceptive in warning that there are no opt-outs, technological or ideological. War finds its way, and has its way."—Dennis Showalter, author of Patton and Rommel: Men of War in the Twentieth Century
'Ambitious in its scope and themes, John France's Perilous Glory is far more than a survey of the development of warfare in the West and its rise to dominance. By examining the history of war as a whole, and in a global context, France evokes the disquieting thought that the present eminence of American power is more precarious and accidental than one might like to believe.' - Richard Abels
'John France has an established reputation as the leading military historian of the Crusades, and with Perilous Glory he demonstrates a mastery of the whole sweep of Eurasian warfare, from ancient times through the present, that very few historians can match. The book presents a well-written and persuasive rebuttal to those scholars who think there is a consistent "Western Way of War", or that Western culture somehow inherently produces soldiers superior to those of Asia. This is an important contribution, and deserves a wide readership.' - Clifford J. Rogers
'The human history of war is a wide canvas upon which to paint, and John France here skillfully alternates between brushes broad and fine. He is both remarkably comprehensive in his coverage and adept at the telling detail. But this is more than a mere survey. Perilous Glory provides an important corrective to the western distinctiveness school while also advancing a provoking thesis about the threats of the future. His argument is stimulating, controversial, and will no doubt generate much discussion, but it cannot be ignored.' - Wayne E. Lee, author of Barbarians and Brothers: Anglo-American Warfare, 1500-1865
"This is a powerful book, opinionated but crisply argued, and packed with information…..It's hard to think of a more impressive single-volume history of the not-only Western way of war."—Noel Malcolm, The Sunday Telegraph
"….. [A] splendidly sweeping account of warfare from the Stone Age to cyberspace…..What makes France's book so enjoyable is that he is forever questioning received wisdom….in one of his most arresting observations, he contends that technology has rarely been as important as we think. Early firearms, for example, were lighter and easier to use than bows and arrows, but they made little difference to the European reliance on close-quarter combat."—Dominic Sandbrook, The Sunday Times
"….an absorbing account of the history of warfare that does not shy away from challenging the reader's preconceptions. It would be a worthy addition to any military history collection."—Jonathan Eaton, Military Times
"This book deserves attention."—Jeremy Black, BBC History Magazine
"…a rich and thought-provoking read… this book demonstrates yet again the relevance of broad historical understanding for contemporary policy debates."—Philip Sabin, Times Higher Education
"To cover so many complex developments so clearly and concisely is a remarkable achievement."—The Good Book Guide
"….an accessible and well-argued analysis of three millennia of military history."—Hugo Berger, The National
"…an exciting and unique history."—Contemporary Review
"The most complete collection of information about warfare that exists in a small volume. It should be on the shelves of historians and students, and it is a superb source for anyone interested in the effects of warfare on human history."—Bevin Alexander, The Historian
"As military history, Perilous Glory is a triumph."—Colin S. Gray, Journal of Cold War Studies
ISBN:
9780300120745
Publication Date:
November 1, 2011
456 pages, 6 1/8 x 9 1/4
28 b/w illus.