The Culture of the New Capitalism
WARNING
You are viewing an older version of the Yalebooks website. Please visit out new website with more updated information and a better user experience: https://www.yalebooks.com
Richard Sennett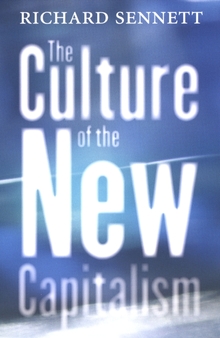 View Inside
Format:

Paper


Price:

$20.00
Also Available in:
Cloth
A provocative and disturbing look at the ways new economic facts are shaping our personal and social values.

The distinguished sociologist Richard Sennett surveys major differences between earlier forms of industrial capitalism and the more global, more febrile, ever more mutable version of capitalism that is taking its place. He shows how these changes affect everyday life—how the work ethic is changing; how new beliefs about merit and talent displace old values of craftsmanship and achievement; how what Sennett calls "the specter of uselessness" haunts professionals as well as manual workers; how the boundary between consumption and politics is dissolving.

In recent years, reformers of both private and public institutions have preached that flexible, global corporations provide a model of freedom for individuals, unlike the experience of fixed and static bureaucracies Max Weber once called an "iron cage." Sennett argues that, in banishing old ills, the new-economy model has created new social and emotional traumas. Only a certain kind of human being can prosper in unstable, fragmentary institutions: the culture of the new capitalism demands an ideal self oriented to the short term, focused on potential ability rather than accomplishment, willing to discount or abandon past experience. In a concluding section, Sennett examines a more durable form of self hood, and what practical initiatives could counter the pernicious effects of "reform."
Richard Sennett teaches sociology at the Massachusetts Institute of Technology and the London School of Economics. His recent publications include The Corrosion of Character and Respect in a World of Inequality.
"Hardly any social thinkers have given serious thought to the drastic changes in corporate culture wrought by downsizing, 're-orging,' and outsourcing. Fortunately, the exception—Richard Sennett—is also one of the most insightful public intellectuals we have. In The Culture of the New Capitalism Sennett addresses the new corporate culture with his usual vast erudition, endlessly supple intellect, and firm moral outlook. The result is brilliant, disturbing, and absolutely necessary reading."—Barbara Ehrenreich, author of Bait and Switch: The (Futile) Pursuit of the American Dream



"Reflective, studded with sharp insights, moving with grace between big ideas and specific cases. This is vintage Sennett."—Douglas W. Rae, author of City:Urbanism and Its End
"A fairly successful economy does not produce much in the way of contentment. Are there seismic rumbles that might cause cracks on the surface? Richard Sennett thinks so. Read on."—Robert M. Solow, Institute Professor Emeritus, M.I.T.
"The three remarkable lectures that make up most of this volume emphasize the impact of modern capitalism on society. . . . [Sennett] explores the implications of the transformation of capitalism with extensive references to the literature as well as his own fieldwork, and leavens his observations with keen insight and compassion. . . . This volume is extremely accessible. Highly recommended."—Choice
'...packed with thought...profound and challenging... [I am] full of admiration for the subtlety and originality of Richard Sennett's work...' - Madeleine Bunting, New Statesman
'[Sennett] has brilliantly pushed his thinking...[a] triumph...' - Will Hutton, The Observer
"The academic rigour and creativity of the ideas…cannot be faulted…" - Sam Mendelson, Financial World Magazine
Richard Sennet is the winner of the 2010 Spinoza Prize, sponsored by the International Spinoza Award Foundation
ISBN:
9780300119923
Publication Date:
January 31, 2007
224 pages, 5 1/2 x 8 1/4