What Stalin Knew
WARNING
You are viewing an older version of the Yalebooks website. Please visit out new website with more updated information and a better user experience: https://www.yalebooks.com
David E. Murphy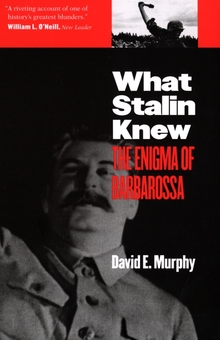 View Inside
Format:

Paper


Price:

$34.00
Also Available in:
Cloth
"A riveting account of one of history's greatest blunders."—William L. O'Neill, The New Leader

This extensively researched book illuminates many of the enigmas that have surrounded the Nazi invasion of the Soviet Union, offering keen insights into Stalin's thinking and the reasons for his catastrophic blunder. 

"If, after the war, the Soviet Union had somehow been capable of producing an official inquiry into the catastrophe of 6/22—comparable in its mandate to the 9/11 commission here—its report might have read a little like [this book]. . . .  Murphy brings to his subject both knowledge of Russian history and an insider's grasp of how intelligence is gathered, analyzed and used—or not."—Niall Ferguson, New York Times Book Review

"A fascinating and meticulously researched account of mistaken assumptions and errors of judgment that culminated in Hitler's invasion of Russia in June 1941. Never before has this fateful period been so fully documented."—Henry A. Kissinger
David E. Murphy, now retired, was chief of CIA's Berlin base from the early 1950s to 1961 and then became chief of Soviet operations at CIA headquarters in the U. S. He is coauthor of Battleground Berlin: CIA vs. KGB in the Cold War, also published by Yale University Press.


"David Murphy brings the incisive eye of a former intelligence professional to the dramatic story of Operation Barbarossa. The result is a significant addition to our understanding of Stalin and the Second World War."—David Stafford, author of Churchill and Secret Service and of Roosevelt and Churchill: Men of Secrets
"David Murphy has written a valuable and detailed account of the intelligence from Soviet sources warning Stalin of Hitler's invasion of the Soviet Union on June 22, 1941, that helps to explain his costly refusal to heed their warnings."—Donald Kagan, Yale University
"What Stalin Knew is a fascinating and meticulously researched account of mistaken assumptions and errors of judgment that culminated in Hitler's invasion of Russia in June 1941. Never before has this fateful period been so fully documented."—Henry A. Kissinger
"This is a masterly book, very well documented and composed. It casts a clear and strong light on what is (and remains) the enigma of June 1941 and of the two or three months preceding it: what Stalin knew, and, perhaps more telling: what Stalin did not want to know. David Murphy's knowledge and his reading of Russian papers, books, and articles is the fundament of this extraordinary reconstruction. It should be of high interest, well beyond the ranks of Russian and Soviet specialists, for every serious reader about the Second World War."—John Lukacs
"Fascinating and shrewd, this intelligence officer's investigation throws new light onto Stalin's colossal blunder, one of the war's greatest mysteries—as well as tells the story with the suspense of a wartime thriller."—Simon Sebag Montefiore, Author of Stalin: The Court Of The Red Tsar and Potemkin: Catherine The Great's Imperial Favourite
"David Murphy has provided a complete indictment of the purblind prejudice and fixed ideas which prevented Stalin from crediting the terrible truth being offered him by many sources. The result was 'The Great Fatherland War of the Soviet People' and the deaths of still untold millions of Soviet citizens."—William J. Spahr, author of Zhukov: The Rise and Fall of a Great Captain
"Meticulously researched and annotated, What Stalin Knew is a thorough addition to the body of literature surrounding Operation BARBAROSSA. . . . Any reader will conclude that Stalin acted recklessly and that he was willing to sacrifice millions in order to recover. This book is highly recommended for students of intelligence operations and the war in the western USSR."—Maj Jeffrey Megargel, Marine Corps Gazette
"This is an excellent treatment, in enormous detail."—New York Military Affairs Symposium Review

"If, after the war, the Soviet Union had somehow been capable of producing an official inquiry into the catastrophe of 6/22—comparable in its mandate to the 9/11 commission here—its report might have read a little like David E. Murphy's What Stalin Knew. The former chief of Soviet operations at C.I.A. headquarters, Murphy brings to his subject both knowledge of Russian history and an insider's grasp of how intelligence is gathered, analyzed and used—or not."—Niall Ferguson, New York Times Book Review


"Never before has there been an effort as meticulous as this one to learn exactly what the Soviets really did know on the eve of Barbarossa. . . . [Murphy] lays out in incredible detail Soviet intelligence about German plans. . . . Murphy puts together pieces of a jigsaw puzzle that has baffled historians for more than half a century. The picture that emerges is flabbergasting. . . . Murphy also masterfully portrays the atmosphere within the Soviet intelligence community and provides interesting insights into the workings of Stalin's inner circle. . . . A compelling read for anybody interested in the history of the Second World War."—Levon Sevunts, The Gazette (Montreal)


"A riveting account of one of history's greatest blunders."—William L. O'Neill, The New Leader


"An absorbing account on several levels—tactical, psychological, and moral. The result is a devastating indictment of the Soviet tyrant on all grounds. . . . Murphy's book should put to rest the myth that Stalin was a great tactician, the brilliant savior of his country. Before he saved it, he almost destroyed it."—Andrew Nagorski, The Weekly Standard



"Murphy's work is essential reading, and not just because it offers new material and interpretations of a crucial aspect of Soviet history. An honest confrontation with history is an essential part of the cleansing process that former totalitarian and authoritarian regimes have to undergo."—Parameters
"It is . . . a new and unusually serious elaboration of an old and familiar story. . . . A serious contribution to the subject, and it will make quite interesting reading even for a nonspecialist audience."—Hugh Ragsdale, Slavic Review
"This book provides the most recent and detailed account available in English of the way in which the Soviet intelligence services reported on the German threat from 1939 until 22 June 1941." - A. H. Walker, Slavonic & East European Review
"Illuminatingly detailed chapters. . . . [Murphy's] extraordinary tale greatly illustrates the nature of Stalin, and of the Soviet system that took his imprint. Murphy has done a remarkable job on an important stratum of the past."—Robert Conquest, American Historical Review
"Murphy . . . proves beyond a doubt on the basis of solid archival evidence what some others have earlier less convincingly contended."—R.C. Raack, Russian Review
"An excellent study."—Michael Parrish, Journal of Slavic Military Studies
"Murphy, a former C.I.A. chief of Soviet operations, brings his knowledge of Russian history and intelligence gathering to this analysis of the Soviet Union's incredible passivity before Operation Barbarossa, the Nazi invasion of 1941."—New York Times Book Review (Paperback Row)
"Murphy has done an excellent job of laying out the evidence to prove his case against Stalin. The documentation supporting his contentions is both extensive and very convincing."—Allen Blitstein, The Journal of Military History
"The book could serve as a useful introduction to Soviet intelligence and Nazi counterintelligence on the eve of the Second World War."—David Brandenberger, The Historian
"Murphy should be credited for tackling one of the questions that shook Soviet politics and historical scholarship for so long, and which will surely continue to do so in post-Soviet Russia for quite a while to come."—Jean Lévesque, Canadian Journal of History
Selected for AAUP Books for Public and Secondary School Libraries, 2006
ISBN:
9780300119817
Publication Date:
December 1, 2006
352 pages, 6 1/8 x 9 1/4