Absolute Monarchy and the Stuart Constitution
WARNING
You are viewing an older version of the Yalebooks website. Please visit out new website with more updated information and a better user experience: https://www.yalebooks.com
Glenn Burgess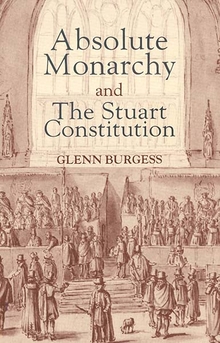 View Inside
Format:

Paper


Price:

$24.00
Also Available in:
Cloth
In this ambitious reinterpretation of the early Stuart period in England, Glenn Burgess contends that the common understanding of seventeenth-century English politics is oversimplified and inaccurate. The long-accepted standard view holds that gradual polarization between the Court and Parliament during the reigns of James I and Charles I reflected the split between absolutists--who upheld the divine right of monarchy to rule--and constitutionalists--who resisted tyranny by insisting the monarch was subject to law--and resulted inevitably in civil war. Yet, Burgess argues, the very terms that have been used to understand the period are misleading: there were almost no genuine absolutist thinkers in England before the Civil War, and the "constitutionalism" of common lawyers and parliamentarians was a very different notion from current understandings of that term.

Burgess turns to the great body of common law that enshrined many of England's liberties and institutions. Examining the political opinions of such key figures as Sir Edward Coke and Sir Francis Bacon, he concludes that the laws of the land represented a civilization no monarchist would have attacked. Further, absolutism was a rare creed at the time and, while it was accepted that the king was next to God in authority, this detracted nothing from the insistence that he rule under the law. Rather than a polarization of ideas fueling political division, says Burgess, it was Charles I's inappropriate exploitation of agreed prerogatives that exposed tensions, forged divisions, and ruptured the "pacified politics" of which the early modern English were so proud. Burgess's new perspective sets the political thought of Hobbes, Locke, and others into contemporary context, revises the distorted view of pre-civil war England, and refocuses discussion on the real conflicts and human complexities of the period.

Glenn Burgess is lecturer in history at the University of Hull and a fellow of the Royal Historical Society.

"Absolute Monarchy successfully challenges our long-accepted view of seventeenth-century absolutism. While oriented primarily toward a professional audience. Burgess's work would also appeal to the general reader who enjoys following a well-crafted, deliberate, and thoughtful argument."—David B. Mock, History: Reviews of New Books
"This is an excellent book, which . . . chimes very well with the wider mood in the history of early modern political thought, as well as revisionist histories of the various political crises of the seventeenth century. . . . It certainly provides a mine of material for anyone wishing to pursue their own researches in the area. The sources seem to be exhaustive. As befits such an exhaustive study, it will certainly be essential reading for anyone wishing to get to grips with early modern constitutional and political thought."—Ian Ward, Legal History
"Burgess presents contemporary common law and legal thought to argue that almost no one was a pure absolutist or constitutionalist and that the conflict was generated much more by personalities and particular events than by philosophical positions."—Reference & Research Book News
"Burgess reconsiders the categories scholars of later centuries have sued for understanding the politics and political thought of the early seventeenth century. He attempts with care and precision to recapture the meaning of key words and concepts used by contemporaries in order to understand better the way England was governed and the rationale behind its political and legal institutions. The result is a book that every student of English history, politics, and culture should ponder."—W.B. Patterson, Albion
"This is an important book, essential reading for anyone wishing to come to terms with the vexed issues of political and 'constitutional' discourse in England in the half-century before the Civil War."—J.C. Davis, Parliamentary History

"A clever and thought-provoking work which re-ploughs some of the author's earlier writing in a reflective and engaging manner."—J.A.I. Champion, English Historical Review
"Absolute Monarchy and the Stuart Constitution is a careful, subtle, and scrupulous investigation into the tropes of early Stuart political thought. . . . [It] is a highly valuable contribution to the study of the insular 'mind' of the early modern English political class."—David J. Baker, University of Hawaii
ISBN:
9780300217285
Publication Date:
May 26, 2015
240 pages, 6 1/8 x 9 1/4