The Eighties
WARNING
You are viewing an older version of the Yalebooks website. Please visit out new website with more updated information and a better user experience: https://www.yalebooks.com
America in the Age of Reagan
John Ehrman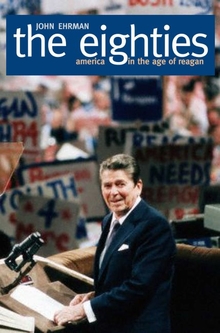 View Inside
Format:

Paper


Price:

$32.00
Also Available in:
Cloth
A decade—and a president—that transformed America.

During the Reagan years, Americans witnessed an extraordinary array of changes, from major technological advances to sweeping revisions of the tax code to the deregulation of major industries and the advent of the culture wars. America emerged from the decade completely transformed: political and social arrangements derived from post–World War II liberalism had given way to the highly competitive, fast-changing, technology-driven society we know today.

In The Eighties, John Ehrman tracks this transformation in the context of Ronald Reagan's policies and convictions and examines the broader trends that enabled Reagan to achieve so much of his agenda. At a time when most Americans remained fairly centrist in their political commitments, Reagan was able to shift policy toward the right by building support for a few key policies. His gradualist approach met with little opposition from Democrats, who failed to mount a coherent response. Based on a broad range of primary source material, The Eighties offers an accessible and balanced account of a watershed decade in American history.
John Ehrman is a foreign affairs analyst for the federal government. He was formerly a lecturer in history at George Washington University and writes on modern American conservative politics. His previous book, The Rise of Neoconservatism, was published by Yale University Press.
"Ehrman's Eighties is a strikingly successful book and a pleasure to read—it's scrupulously fair-minded, equally nuanced and perceptive in its discussion of cultural and political matters—and (above all) it provides a lucid, convincing, enormously valuable picture of the Reagan administration. Many (probably most) thoughtful, educated Americans still haven't got a clue who Reagan was, what he did and why he became and remains a revered figure in this country. They need to read Ehrman, the sooner the better."—David Gelernter, Yale University
"In the 1980s, America moved Right, Left, and forward at the same time. Ehrman examines the currents and crosscurrents of this remarkable era with judiciousness and discernment. A commendable book." —George H. Nash, author of The Conservative Intellectual Movement in America Since 1945
"John Ehrman combines meticulous research, intellectual honesty, originality, and common sense to produce an interpretation of the Reagan era that is illuminating, refreshing, and highly readable."—Glen Jeansonne, professor of history, University of Wisconsin-Madison.
"Ehrman demonstates an impressive mastery and distillation of massive political detail."—James E. McWilliams, Austin American-Statesman
"Ehrman does a superb job telling the story of the decade. . . . His discussion of policy changes, from tax cuts to deregulation, is first rate."—Gregory L. Schneider, Conservativenet
"An excellent guide to the decade. . . . Anyone interested in Reagan or his era ought to pay close attention to Ehrman's first-rate analysis."—Martin Morse Wooster, Crisis Magazine


"An accessible and balanced account of the eighties."—Forecast
"This book serves admirably as an introduction to the 1980s for the ever-increasing number of students for whom the Age of Reagan is as remote as the fall of the Roman Empire. . . . [A] quietly devastating book."—Walter Russell Mead, Foreign Affairs
"Ehrman makes a convincing argument that Reagan was the political chef that made conservative thinking into a palatable dish for mainstream America."—Josh Green, San Francisco Chronicle
"A worthy addition to the nation's expanding library of books about Ronald Reagan and his presidency. . . . Being a historian, economist and political analyst all together, Mr. Ehrman has engaged his subject with intellectual honesty and produced a fascinating tableau of the Reagan era, weaving a vast canvas of change throughout the Reagan years. . . . A brilliant new book, fully deserving its place on the Reagan bookshelf."—Robert M. Smalley, Washington Times
"Along with his supple political judgments, Ehrman offers a lucid and balanced assessment of economic issues. . . . For his careful judgment of economics alone, Ehrman's work deserves to become one of the standard reference works for the Reagan period."—Steven F. Hayward, Weekly Standard
"Ehrman writes very clearly and simply and it is obvious that his intended audience is wider than academia. Consequently his book will be a useful addition to course reading lists and will provide a very readable introduction for students to America during the 1980s."—Nathan Abrams, Journal of American Studies
"An honest, scholarly, and well-written book that evaluates the Reagan presidency from a conservative point of view. Both liberals and conservatives can benefit from reading this analysis, which summarizes the changes of an important decade."—John W. Sloan, The Historian
ISBN:
9780300115826
Publication Date:
June 13, 2006
304 pages, 6 1/8 x 9 1/4
7 tables