The Fate of Marxism in Russia
WARNING
You are viewing an older version of the Yalebooks website. Please visit out new website with more updated information and a better user experience: https://www.yalebooks.com
Alexander N. Yakovlev; Introduction by Thomas Remington; Translated from the Russian by Catharine A. Fitzpatrick; Foreword by Alexander Tsipko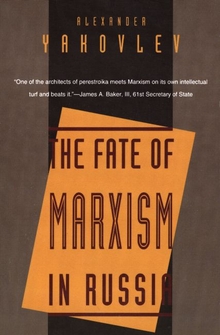 View Inside
Format:

Paper


Price:

$29.00
Also Available in:
Cloth
Alexander Yakovlev, a major architect of perestroika and a leading sponsor of glasnost, was a senior Soviet official who worked at the highest echelon of government side by side with Mikhail Gorbachev. In this powerful book, Yakovlev acknowledges the decay of his country and reveals his painful intellectual and political odyssey as he progressed from stalwart Party ideologist and propagandist to disillusioned critic of Marxism and Communism.

Yakovlev vividly describes the ways that Marxism has proven to be not only wrong but ruinous to Russia, as it demolished civil society and ruthlessly replaced it with immorality and state-supported atheism. He discusses the pervasive, historical roots of the Russian "authoritarian consciousness" that helps explain why Russian society was so susceptible to the totalitarian implications of Marxism. He describes the triumvirate structure of power in the USSR before and during perestroika, the political reforms that were initiated, the ways that Soviet attitudes toward glasnost and perestroika evolved in both the reformist and conservative wings of the Party, and the reasons for the seemingly final swift collapse of the old ruling structures—the crushing defeat of the Party—in August 1991.
Assessing the situation in Russia now that Marx's teachings and the Communist Party have been rejected, Yakovlev warns that if the economic situation worsens further, Russian society will be prepared to sacrifice democracy for even modest economic growth. He urges the restructuring of Soviet society on a new basis of democracy, morality, common sense, and economic efficiency.
The book includes as appendixes five speeches given by Yakovlev in the West between November 1991 and January 1992 that provide further insight into his thinking after the collapse of the Communist Party.
Alexander Yakovlev was in charge of the Propaganda Department of the Central Committee of the Communist Party of the Soviet Union in the early 1970s. From 1973 to 1983, he was Soviet Ambassador to Canada, and in 1983 he was appointed director of the Institute for World Economy and International Relations at the USSR Academy of Sciences. In 1985 Yakovlev returned to work for the Central Committee and was elected its Secretary and member of the Politburo. Later he was appointed to the Presidential Council. In August of 1991 Yakovlev was expelled from the CPSU for what were called "activities detrimental to the interests of the Communist Party" and for attempting to set up another party. Yakovlev currently lives and works in Moscow.
"In The Fate of Marxism in Russia, Alexander Yakovlev, one of the architects of perestroika, meets Marxism on its own intellectual turf and beats it, repudiating Marx, Lenin, and Stalin and embracing freedom and democracy. We can all benefit from his reasoned insights."—James A. Baker, III, 61st Secretary of State 
 

"One of the architects of perestroika, meets Marxism on its own intellectual turf and beats it."—James A. Baker, III, 61st Secretary of State

"Alexander Yakovlev belongs to the high priesthood of Marxism: as such, he is probably the most highly placed among the intellectuals who have assaulted Marxism from within....[He] offers fascinating insights into the thinking of the enlightened wing of the Party leadership during the perestroika  era."—Thomas F. Remington, from the introduction

"Here, for the first time in Russia, a Soviet scholar tells the truth about Marxism and the disastrous effects of its application. No other book either in Eastern Europe or the Soviet Union has shown what Marxism proved to be in real life and how dearly our peoples had to pay for Marx's prejudices and illusions."—Alexander Tsipko, from the foreword
 

"[A] searching self-examination."—Susan Jacoby, New York Newsday

"A former Communist Party senior official turned heretic offers an impassioned and devastating indictment of Soviet communism."—Publishers Weekly

"[Yakovlev's] abstractions signify the intellectual undermining of Marxism—a development the complete collection of Sovietica will not want to exclude."—Gilbert Taylor, Booklist

"The first hundred pages contain the most devastating critique of communist ideology that has ever been written. . . . The substantiality of his finished theoretical work cannot be denied."—Choice

ISBN:
9780300105407
Publication Date:
September 10, 1993
256 pages, 6 1/8 x 9 1/4