Jazz in Search of Itself
WARNING
You are viewing an older version of the Yalebooks website. Please visit out new website with more updated information and a better user experience: https://www.yalebooks.com
Larry Kart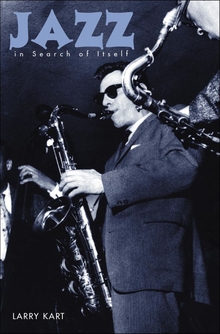 View Inside
Format:

Cloth


Price:

$66.00
Also Available in:
e-book
In this engaging and astute anthology of jazz criticism, Larry Kart casts a wide net. Discussing nearly seventy major jazz figures and many of the music's key stylistic developments, Kart sees jazz as a unique perpetual narrative—one in which musicians, their audiences, and the evolving music itself are intimately intertwined.
Because jazz arose from the collision of specific peoples under particular conditions, says Kart, its development has been unusually immediate, visible, and intense. Kart has reacted to and judged the music in a similarly active, attentive, and personal manner. His involvement and attention to detail are visible in these pieces: essays that analyze the supposed return to tradition that the music of Wynton Marsalis has come to exemplify; searching accounts of the careers of Miles Davis, Thelonius Monk, Bill Evans, and Lennie Tristano; and writing that explores jazz's relationship to American popular song and examines the jazz musician's role as actual and would-be social rebel.
Larry Kart has been music critic, editor, and book editor for the Chicago Tribune and Down Beat magazine.
"For over 35 years, Lawrence Kart has been one of the best and most insightful critics writing about jazz and popular music. A collection of his work is a long-overdue treat from an important voice in contemporary-music criticism."—Bill Kirchner, Composer-arranger, saxophonist, bandleader, jazz historian, producer, educator, and editor of The Oxford Companion to Jazz      
"Unlike many who've cogitated publicly about the great music called jazz, Larry Kart can hear, think and write. It's an unbeatable combination, and this long overdue book is cause for rejoicing."—Dan Morgenstern, Director, Institute of Jazz Studies at Rutgers University and author of Living with Jazz: A Dan Morgenstern Reader
"With great feeling, one of jazz's most far-reaching and influential critics illuminates what jazz is, what it means (to its creators and to us listeners) and, crucially, what is valuable about it—what a joy to have this collection of essays at last."—John Litweiler, author of The Freedom Principle: Jazz After 1958
"A generous grab bag of essays and reviews by a shrewd listener with curious ears and an open mind."—Terry Teachout
"The essays, interviews and reviews assembled in this book demonstrate [Kart's] enduring love of the music and fine critical ear for it. . . . Jazz in Search of Itself touches on nearly all the major issues and figures to appear in jazz over the past fifty years and then some. . . . Kart shares with other reputable critics the qualities of regular insight and contagious enthusiasm. His writing invariable sends readers to the music, whether for the first time or a repeat listen, with a better understanding and appreciation for it."—E.J. Iannelli, AllAboutJazz.com


"Kart mixes a strong historical awareness with insightful observations about aesthetics and the psychology of jazz players. His writing is well-referenced and reverential. He doesn't mask an unadorned love for the music and the musicians, but he is no sycophantic pushover. . . . Jazz in Search of Itself deepens a reader's respect for and appreciation of jazz players, their lives, their search and what their journey can teach all of us. Kart makes an undeniable case. . . . It's a primer not only for jazz lovers but also for anyone who wants to live his or her own life as an individual."—David Bloom, Chicago Tribune
"This is an essential book. . . . A book of love, of responsibility and rare intelligence. As others have said, hearing the music and then reading Kart is like hearing the music again. . . . Kart is appreciating what today's authentic musicians are creating. Jazz tells us 'of the need to keep writing openly and honestly in the book of life'—we need the music, and we certainly need the rare critic like Larry Kart who keeps us and the music honest."—John Litweiler, Coda Magazine
ISBN:
9780300104202
Publication Date:
October 11, 2004
352 pages, 5 1/2 x 8 1/4